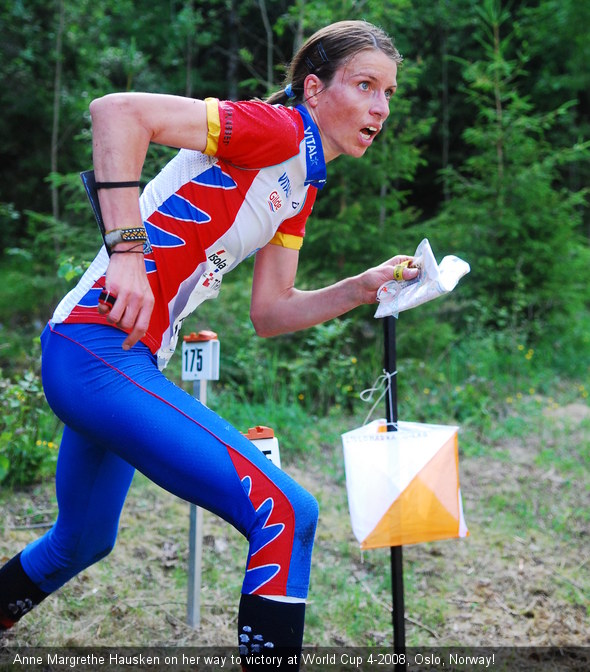 Victories went to Anne Margrethe Hausken and Anders Nordberg at todays middle distance race which counted as the fourth race in this years orienteering World Cup. For Hausken, this was the best international middle distance race – a discipline which has been difficult for Hausken in the past. For Nordberg – this was a very welcome triumph after a miserable European Champs in Latvia.
Taking over after Simone
Simone Niggli-Luder has been the queen of women orienteering for the last years – and now it seems like Hausken is taking over. Hausken was World Cup leader already before the World Cup round started here in Oslo – and with her victory today, the Norwegian is increasing her lead.
Results men
1 Nordberg, Anders NOR 38:28 00:00
2 Ikonen, Pasi FIN 39:10 +00:42
3 Gueorgiou, Thierry FRA 39:21 +00:53
4 Lauenstein, Marc SUI 39:43 +01:15
5 Haldin, Mats FIN 40:02 +01:34
6 Wingstedt, Emil SWE 40:14 +01:46
Results women
1 Hausken, Anne Margrethe NOR 35:55 00:00
2 Johansson, Sofie SWE 36:51 +00:56
3 Jansson, Helena SWE 37:10 +01:15
4 Billstam, Annika SWE 37:53 +01:58
5 Engstrand, Emma SWE 38:18 +02:23
6 Jukkola, Heli FIN 38:19 +02:24
Full results
For full results see: