Todays leg in 'Route to Christmas 2008' is an extremely long leg from the Highlands Open Long Distance in Cesuna di Roana, Italy – August 31st 2008. Thank you very much to Cristian Bellotto for providing both map and routes of the best runners for this interesting leg. Please provide comments to the leg in the comment section below.
The leg is as usually first provided without routes – you may take a look at it and think about how you would attack this leg (if the image is too small, you may click on it to get it larger – or even open it in a new window by clicking here):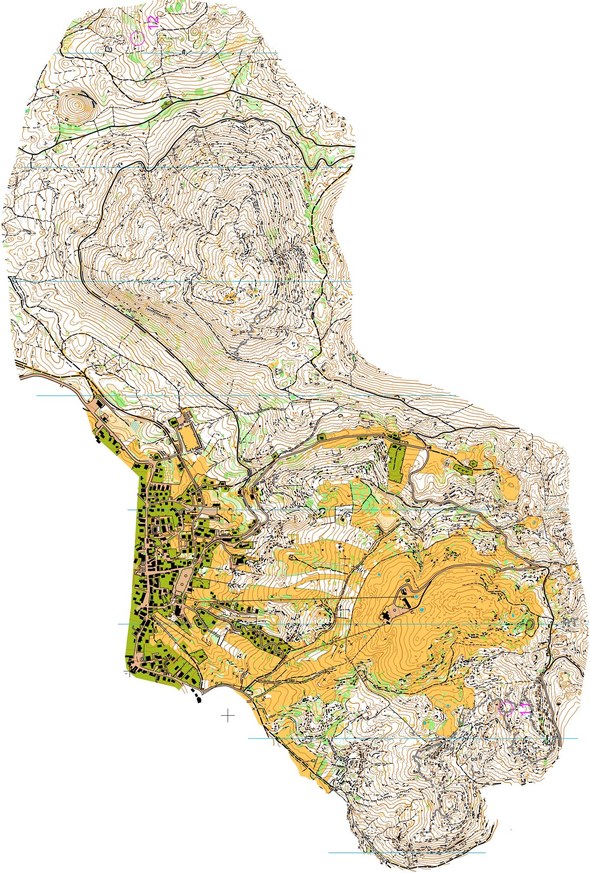 Update 2020: WebRoute
Back in 2007 there was no WebRoute in Route to Christmas – this has now been added to all old 'Route to Christmas' in March 2020. You can draw your own route using the 'Webroute' below. Think through how you would attack this leg, and draw the route you would have made.
There were a number of different route choices for this leg. Benny Schuler had the best time with a variant to the right. Michal Mamleev – the overall winner of the race – lost 2 minutes after going right around the first hill, and then going left in a S-shape. Simion's route choice was very impressive. He ran far to the right – about 400 meter longer than the route of Schuler, but still had about the same time. Corona run a shorter direct route, but lost time due to all the ups and downs. Michal Mamleev won the race with a regular run in the first carstic zone, good route choices, and a very good last part of the race.
Then you can take a look at how some of the runners solved this leg (open in new window):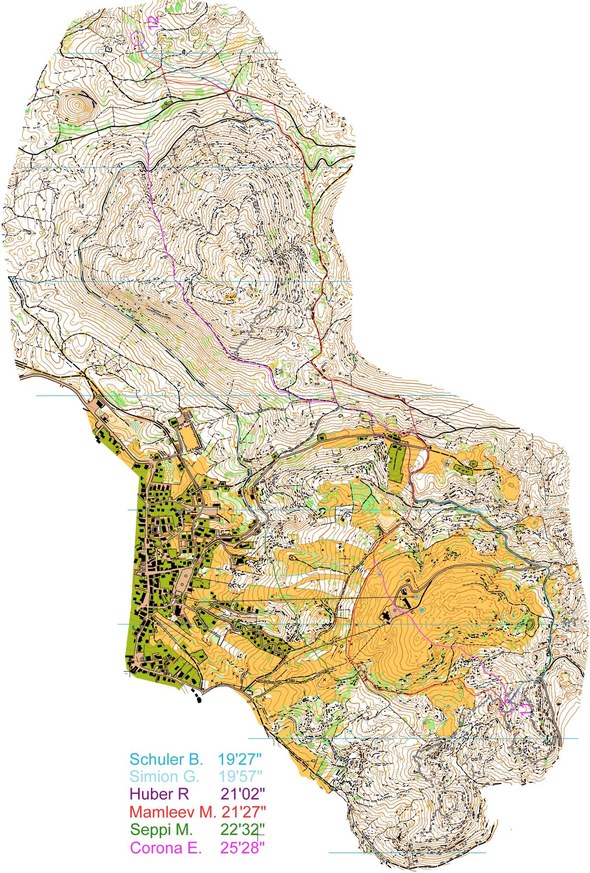 This year Highlands Oped will be held on May 16-17 2008 (http://highlandsopen.com/) in very detailed terrains and will be a good chance to take confidence with North-East Italian terrains, used for JWOC and Italian 5 days too (http://www.jwoc2009.it).
Source: Cristian Bellotto.
Update! Route of Zinca Ionut (4th overall) with leg time of 20:10 is shown below. Thanks to Zinca for sending in his route: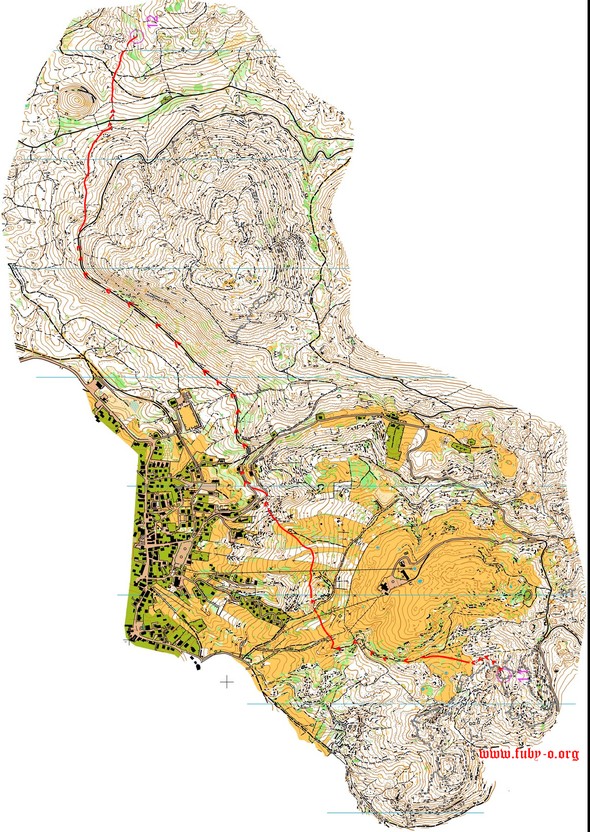 Overall results

1 2 01:29:22 MAMLEEV Mikhail 1975 0628 SPORTCLUB MERAN A.S.D. ITA 100,000
2 7 01:30:22 SCHULER BENNO 3006 SWISS RES SUI 97,800
3 30 01:32:30 HUBER RAFFAEL 3006 SWISS RES SUI 93,340
4 4 01:33:25 ZINCÀ ALIN IONUT 2004 TEAM ROMANIA ROM 91,520
5 42 01:34:11 HODEL THOMAS 3006 SWISS RES SUI 90,030
6 5 01:34:39 SCHGAGULER Klaus 1980 0573 GRONLAIT ORIENTEERING TEAM AIT.SA.D. 89,150
7 11 01:36:24 MÜLLER ANDREAS 2005 TEAM SWISS SUI 85,940
8 10 01:36:43 TENANI Alessio 1979 0175 GRUPPO SPORTIVO FORESTALE ITA 85,380
9 1 01:37:08 DLABAJA TOMAS 3002 SK ZABOVRESKY CZE 84,650
10 3 01:38:30 MÜLLER MATTHIAS 3001 TV FÜRSTENFELD AUT 82,310
11 6 01:38:58 ROGER CASAL FERNANDEZ 2003 TEAM ESPAÑA ESP 81,540
12 15 01:39:35 CARAGLIO Michele 1983 0275 C.U.S. BOLOGNA A.S.D. ITA 80,530
13 9 01:39:40 HÄGLER SEBASTIAN 3003 OLJG HOLDE SUI 80,400
14 24 01:41:16 SIMION GIANCARLO 2001 TEAM ITALIA ITA 77,880
15 13 01:42:44 CORONA Emiliano 1983 0478 CENTRO SPORTIVO ESERCITO ITA 75,670
16 8 01:43:00 SEPPI Marco 1980 0275 C.U.S. BOLOGNA A.S.D. ITA 75,280
17 14 01:44:52 SEPPI Andrea 1988 0392 A.S.D. SEMIPERDO ORIENTEERINGIT AMANIAGO 72,620
18 17 01:45:08 PAGLIARI Daniele 1975 0175 GRUPPO SPORTIVO FORESTALE ITA 72,260
19 26 01:45:12 ROCKE JOHN 1002 LEIOC GBR 72,160
19 25 01:45:12 LOMBRISER STEFAN 3003 OLJG HOLDE SUI 72,160

About Route to Christmas
The 'Route to Christmas' series at World of O was very popular last year – and I've therefore decided to continue the series this Christmas as well. Based on tips from YOU, we'll see if Route to Christmas comes all the way to Christmas Eve, or if we stop earlier. If you have got any good legs in RouteGadget from 2008 competitions, please email me the link at Jan@Kocbach.net, and I'll include it in Route to Christmas if it looks good.
There will be no analysis about the best routechoice for each leg in this years Route to Christmas – you can provide that yourself in the comments. Not all legs are taken for the interesting routechoice alternatives – some are also taken because the map is interesting – or because it is not straightforward to see what to do on a certain leg. Any comments are welcome – especially if you ran the event chosen for todays leg!