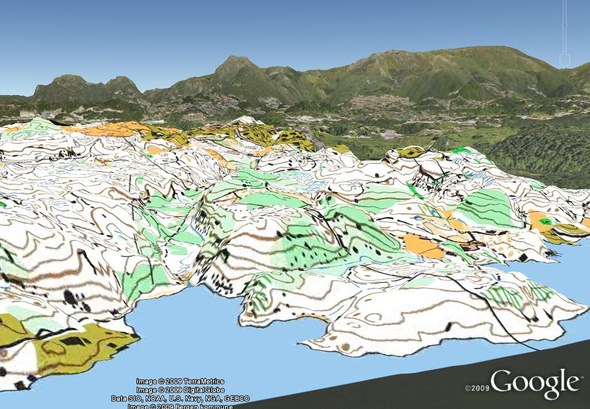 Fantastic news from QuickRoute & Mats Troeng: Now you can see all your maps and routes in 3D using Google Earth with the new QuickRoute version 2.3. You can proceed just as you always did with adjusting your route to your map – and without any extra work, you can view the map at its correct position in 3D in Google Earth.
Only seconds away
Previously you had to use at least 10-15 minutes adjusting the map this accurately in Google Earth (and most people didn't bother at all) – now you can do it in 5 seconds with no extra work. I have been testing this feature for some time now in a development version of QuickRoute, and I can only say that this is really great for visualization. We tested live GPS tracking at a local relay two weeks ago, and the 3D Google Earth visualization of runners positions on the map in real time (OK – we had a 90 seconds lag) really impressed the viewers. The positioning of the map was done in QuickRoute by just uploading a random route from the area – and the same positioning was also exported to RouteGadget for the positioning of the map in RouteGadget which was used as a server for the tracking.
QuickRoute 2.3 even includes replay-functionality where you can replay your route (or the routes of several runners) in Google Earth. This kind of replay-functionality has been asked for numerous times – and now it is finally here, and even in 3D….
Everyting an orienteer wants
QuickRoute has gone a long way since its first version (see interview with Mats Troeng when QuickRoute 2.0 was released in July last year) – and now has almost all of the functionality you could want from such a program. You find maps exported from QuickRoute at most elite runners websites these days – so Troeng has really made a program which is used a lot – and helps a lot of orienteers to improve their technique. If you have a GPS watch and have not checked out QuickRoute – you should do it now. It you haven't got a GPS watch yet – you won't regret getting one. QuickRoute can read data directly from several GPS units (Forerunner 305/405) without requiring to use any other softwarel. Typically you will use around 5 minutes for the complete procedure (scanning or photographing map, loading map and GPS data into QuickRoute, adjusting route). And then another 10-15 minutes to analyze your training or race if you plan on improving your o-technique…
An excellent companion to QuickRoute is another piece of software by Troeng – DOMA (Digital Orienteering Map Archive). With DOMA, you can export your maps to a digital map archive directly from QuickRoute.
New export functionality
Another new feature in QuickRoute is the possibility to export the map position for each second for a track. This makes it possible to e.g. use this data to make a "real-time" video of the route (or of several routes). The below videos are made using this export-functionality and a perl/perlmagick-script which generates a movie of tracks. I will release the code necessary to make this kind of videos shortly (although you will need some technical knowledge to apply it):
Download now
Please consider donating money for the further development of QuickRoute if you are a QuickRoute user.
Please add a link to your DOMA map archive in the comments below if you have one.