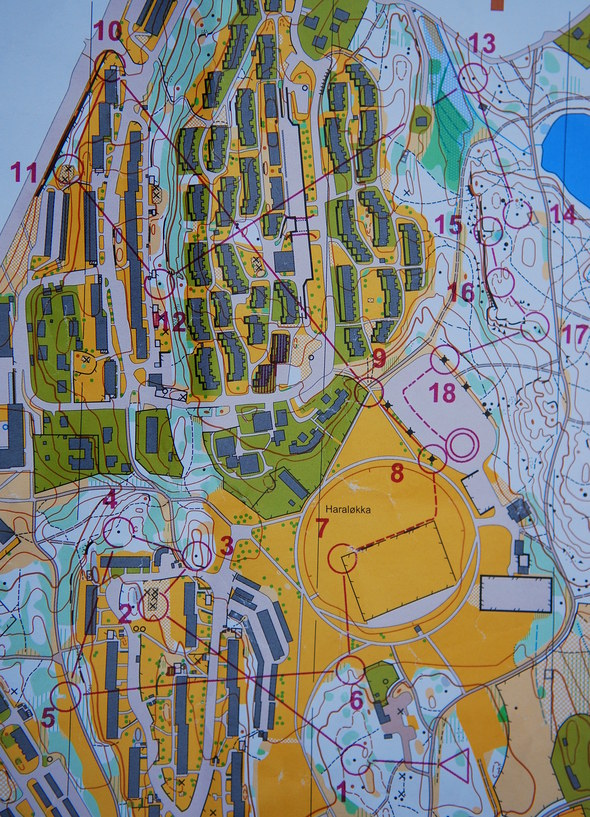 Marianne Andersen and Anders Skarholt won the Norwegian NOC test race over the sprint distance held just outside Oslo today. Andersen was only 3 seconds ahead of Anne Margrethe Hausken – the two being more than 20 seconds ahead of Elise Egseth in third spot. In the mens class, Skarholt took a clear victory, 16 seconds ahead of Anders Nordberg and Carl Waaler Kaas in split second place.
The NOC test races continue with middle distance Saturday and long distance Sunday. For the weekend, the Swiss national team with Simone Niggli and Daniel Hubmann will also participate in the races.
Below you find a webroute from one of the most interesting route choices in the mens race in todays NOC test races – above you see the complete course for the men.
Results men
1 Skarholt,Anders Södertälje Nykvarn Orientering 13:59 + 00:00
2 Nordberg,Anders Halden SK 14:15 + 00:16
2 Kaas,Carl Waaler NTNUI 14:15 + 00:16
4 Lundanes,Olav Halden SK 14:21 + 00:22
5 Skjeset,Lars NTNUI 14:31 + 00:32
5 Østerbø,Øystein Kvaal Wing OK Trondheim 14:31 + 00:32
7 Tiltnes,Anders Tyrving, IL 14:36 + 00:37
8 Karlsson,Mattias Halden SK 14:41 + 00:42
9 Nilsen,Audun Bjerkreim Kristiansand OK 14:48 + 00:49
10 Pedersen,Jon Halden SK 14:50 + 00:51
Results women
1 Andersen,Marianne Konnerud IL 14:04 + 00:00
2 Hausken,Anne Margrethe Halden SK 14:07 + 00:03
3 Egseth,Elise Wing OK Trondheim 14:29 + 00:25
4 Bagstevold,Heidi Østlid Kongsberg OL 14:52 + 00:48
5 Nilsen,Betty Ann Bjerkreim Lillehammer OK 15:00 + 00:56
6 Fasting,Mari NTNUI 15:06 + 01:02
7 Nilsen,Inger Liv Bjekreim Lillehammer OK 15:08 + 01:04
8 Ulvestad,Siri Heming/Njård OL 15:10 + 01:06
9 Hagman,Line NTNUI 15:38 + 01:34
10 Moe,Lene Nydalens SK 15:40 + 01:36
Results men junior
1 Indgaard,Jo Forseth Frol IL 13:55 + 00:00
1 Indgaard,Ulf Forseth Frol IL 13:55 + 00:00
3 Bjugan,Mathias Wing OK Trondheim 14:19 + 00:24
4 Ravnan,Sigurd Toten-Troll, OL 14:53 + 00:58
5 Westergård,Morten Jarvis Halden SK 14:54 + 00:59
6 Vister,Martin Indre Østfold OK 14:55 + 01:00
7 Juveli,Jonas Sommerstad Lillomarka OL 14:56 + 01:01
8 Døhl Mostad,Fredrik Fossum IF 14:57 + 01:02
9 Ruttenborg,Vegard Løten O-Lag 15:00 + 01:05
9 Steiwer,Gaute Hallan Lillomarka OL 15:00 + 01:05
Results women junior
1 Nydal,Britt Ingunn Lillomarka OL 13:29 + 00:00
2 Wennemo,Oda Raumar OL 14:19 + 00:50
3 Hokholt,Linn Kolbotn & Skimt OL 14:28 + 00:59
4 Haare,Therese Konnerud IL 14:39 + 01:10
5 Myhre,Ingjerd Kongsberg OL 14:52 + 01:23
6 Skjerve,Elen Katrine Frol IL 15:00 + 01:31
7 Maurset,Silje Uhlen Ås-UMB Orientering 15:06 + 01:37
8 Bjørhei,Ingvild Kolbotn & Skimt OL 15:07 + 01:38
8 Sund,Gøril Rønning Frol IL 15:07 + 01:38
10 Baklid,Anette Konnerud IL 15:12 + 01:43
Webroute – control 9-10
Powered by WebRoute – WorldofO.com