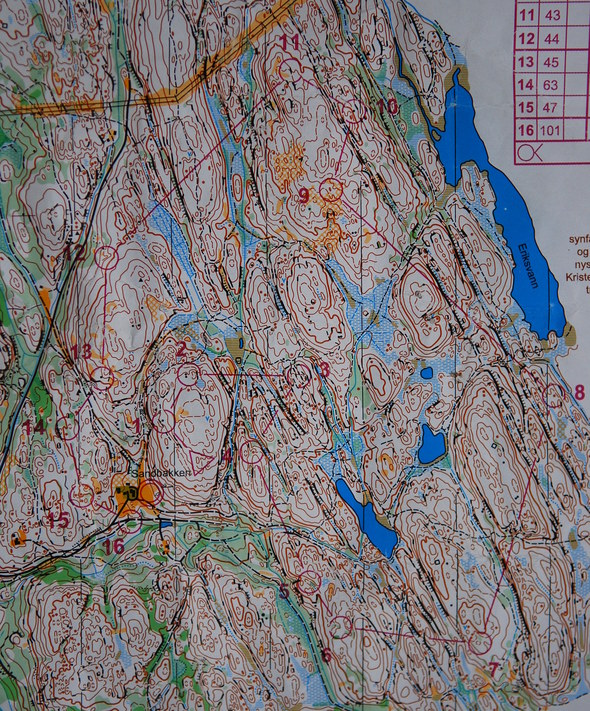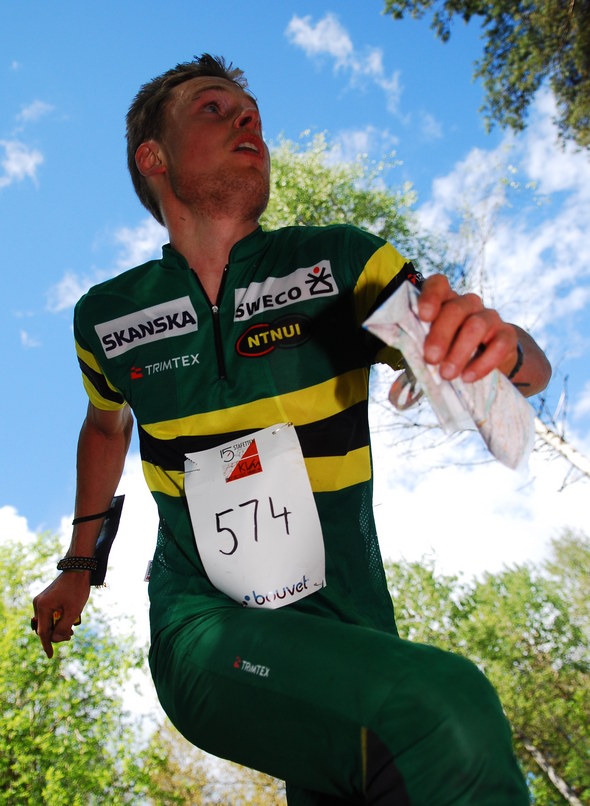 [Updated 1800] Carl Waaler Kaas and Anne Margrethe Hausken took victories today – Swiss Simone Niggli and Daniel Hubmann where left far behind. In the mens class Waaler Kaas took a very clear victory – more than a minute ahead of Olav Lundanes – and with another minute down to Jonn Are Myhren. In the womens class, Hausken won before Kajsa Nilsson and Simone Niggli.
The Swiss teams take the Norwegian NOC Test Races as part of their training camp in Norway – whereas the races are important for the Norwegians – thus the 2.23 up to Carl Waaler Kaas for Daniel Hubmann and the 1.32 up for Simone Niggli are nothing to put too much weight on a few weeks before the Nordic Champs in Finland. – I am very happy to be back running again, Niggli commented after her race today.
Though race
Above you see the mens course for todays middle distance – a physically challenging course. Below you see three webroutes from some few of the routechoice legs. Please add your comments to let others get the possibility to learn from the leg. I hope to put up an analysis of some of these legs in a new post if I get some comments/splits for the times below. You'll probably find the routechoices of Jon Pedersen, Daniel Hubmann, Olav Lundanes and others at their personal webpages within a few days time as well.
Results men
1 Kaas,Carl Waaler NTNUI 37:15 + 00:00
2 Lundanes,Olav Halden SK 38:22 + 01:07
3 Myhren,Jonn Are Lidingö SOK 39:35 + 02:20
4 Hubmann,Daniel Swiss Orienteering 39:38 + 02:23
4 Vågsnes,Sigve Nydalens SK 39:38 + 02:23
6 Lucasen,Håvard Ås-UMB Orientering 39:56 + 02:41
7 Hott,Holger Kristiansand OK 40:01 + 02:46
8 Tiltnes,Anders Tyrving, IL 40:14 + 02:59
9 Rollier,Baptiste Kristiansand OK 40:15 + 03:00
10 Andersen,Jostein Kristiansand OK 40:16 + 03:01
Results women
1 Hausken,Anne Margrethe Halden SK 35:22 + 00:00
2 Nilsson,Kajsa Eva Maria Halden SK 36:50 + 01:28
3 Niggli,Simone Swiss Orienteering 36:54 + 01:32
4 Andersen,Marianne Konnerud IL 37:19 + 01:57
5 Fasting,Mari NTNUI 38:28 + 03:06
6 Wild,Angela Swiss Orienteering 39:16 + 03:54
7 Hagman,Line NTNUI 39:55 + 04:33
8 Jahren,Silje Ekroll Sävedalens AIK 40:14 + 04:52
9 Nilsen,Betty Ann Bjerkreim Lillehammer OK 40:43 + 05:21
10 Ulvestad,Siri Heming/Njård OL 40:52 + 05:30
Powered by WebRoute – WorldofO.com
Powered by WebRoute – WorldofO.com
Powered by WebRoute – WorldofO.com