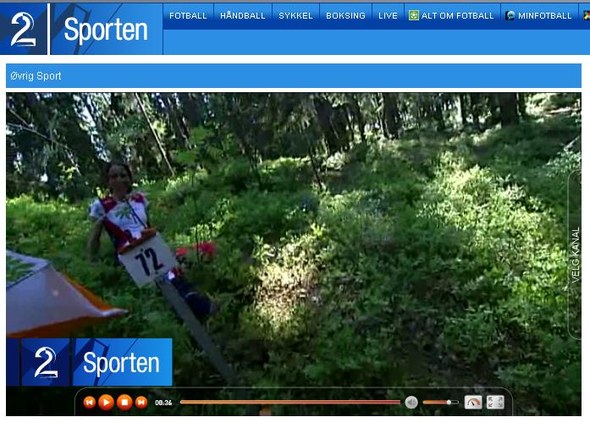 The tabloid title is copied from the Norwegian Broadcaster TV2. With the Open Nordic Champs and the start of the World Cup season coming up on Saturday, Norwegian TV2 – the biggest Norwegian private Broadcaster – gets some focus on orienteering again. The title above is from their short preview video/article where they've taken Anne Margrethe Hausken and Anders Nordberg out to make an interview and show some running in the forest.
It is good to see that the Nordic Champs get some TV-coverage – you can see the video here. There will be extensive TV-coverage in Finland from the Nordic Champs, and the Swedish Orienteering Federation reports that NOC 2009 Middle and Sprint Finals will be broadcast live on Swedish TV4 Sport on Tuesday and Wednesday.
If somebody knows it there will be any TV-coverage available on the Internet, please add a comment below, and I'll update the text accordingly.
Some preview articles for NOC 2009
Program NOC 2009
June 4th – Arrival of teams
June 5th – Model event: Long and Middle distance and Relay
June 6th – Long distance (NOC 2009)
June 7th – Relay (NOC 2009)
June 8th – Model events: Middle distance and Sprint
June 9th – Middle distance (NOC 2009 & World Cup race 1)
June 10th – Sprint, Qualification and Final (NOC 2009 & World Cup race 2).