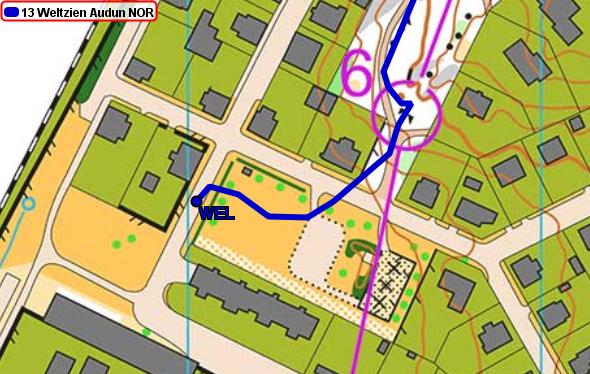 A small drama involving Audun Weltzien after the NOC Sprint Finals yesterday: As everybody could see during the GPS-tracking (see screenshot above – full tracking here), Weltzien ran through a hedge marked with 'Impassable vegetation' between controls 6 and 7. Thus he was disqualified by the organizers. However, a protest from Weltzien made the organizers revert the DSQ.
– Note that the hedge looks to be drawn with thickness of about 0.2 mm [Note! According to comment below, the hedge was drawn with thickness 0.3 mm on the map], while the minimum width of a hedge of this type is 0.4 mm according to the ISSOM, Håvard Tveite – leader of the Norwegian mapping group – comments. – Thus it is very difficult to see that this hedge is drawn as impassable. It looks like several other runners have been tricked by the same, as several others have also started in this direction.
– Audun Weltzien called me, and I advised him to deliver a protest on the disqualification, Tveite continues. According to Tveite, the protest was followed, and Weltzien is now in the official results of the organizers in the 19th spot for the World Cup. The official results at the IOF page – including WRE and World Cup points are however not posted yet (thus no updated Fantasy World Cup standings as of yet).