Todays leg in Route to Christmas is a long leg from sandstone terrain with deep valleys in Czech Republic – making some interesting routechoice options. The chosen leg is leg number 7 in the Men 21E course from a national race in the Novy Bor area at June 6th 2010.
The leg is as usually first provided without routes – you may take a look at it and think about how you would attack this leg (if the image is too small, you may click on it to get it larger). You may also take a look at a scanned version of the map with the complete course here (not including route choice on the leg in question). Full results with splits are available here.


Webroute
Next you can draw your own route using the 'Webroute' below. Think through how you would attack this leg, and draw the route you would have made. Some comments about why you would choose a certain route are always nice for the other readers.
Then you can take a look at how the runners who have drawn their route choice solved this leg. Note that the fastest runners have not drawn their route for this particular leg – Martin Janata who is best of the runners listed here finished 6th overall. Update: I just received an email from the winner of the race Jacek Morawski, who had not drawn his route in Routegadget. He run the leg in 11:08 by following a route similar to Vojtich Kral in the first half of the leg, but then choosing a more southern route for the last part of the leg (not shown below).
See also maps from this race and nearby races in omaps.worldofo.com. If you participated in the race and know more about the route in question, please add a comment below!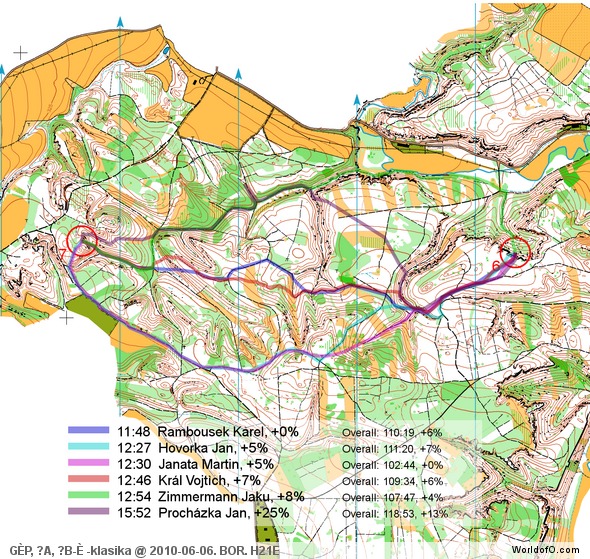 Complete map in Omaps.worldofo.com
You find the complete map and Routegadget info in omaps.worldofo.com at this location.
Omaps.worldofo.com
The 'Route to Christmas' series at World of O was very popular the last years – and I've therefore decided to continue the series this Christmas as well. If you have got any good legs in RouteGadget from 2010-competitions – or old forgotten ones which are still interesting – please email me the link at Jan@Kocbach.net, and I'll include it in Route to Christmas if it looks good. Route to Christmas will not be interesting if YOU don't contribute.
Note that there may be some errors in the Routegadget data (sometimes somebody draws a route for another runner just for fun). Please add a comment below if you spot en error.