Posted by Jan Kocbach, 28 Apr 2011@22:00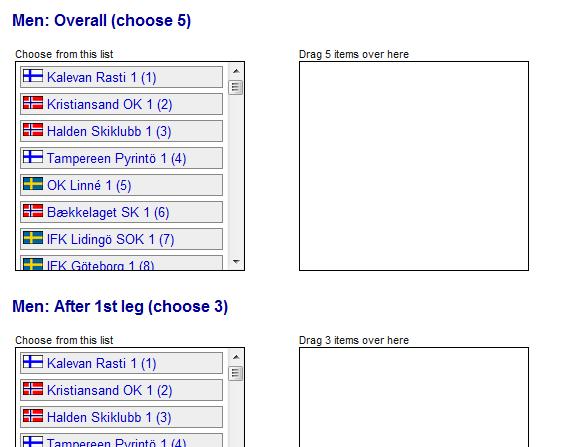 Who will be the top teams in 10Mila 2011? Submit your tip for the results in 10Mila 2011 here, and win prizes worth more than 100 Euros (2 transferable starts for the complete OOCup 2011) if you can set up the best predictions! Requested are tips for the Top 5 men and women teams, and intermediate results after the 1st leg and "Långa natten".
Can Kalevan Rasti repeat their 2010 win in the mens class? In 2010 the margin down to Kristiansand OK was more than 6 minutes. Can Anton Sjökvist of Stora Tuna win the first leg again? Can IFK Lidingö take another win in the womens class? And is Ulricehamn ready for another first leg victory?
Prizes:

1st prize: 2 transferable starts for the complete OOCup 2011
2nd prize: (looking for more sponsors – please e-mail jan@kocbach.net)

More than 50 Tips are already in (as of April 28th 21:00 CET)
See results 10Mila men 2010 and results women 2010 to help you out in your tips.
About 10Mila Tips 2011 Sponsor: OOCup
OOCup is a popular Slovenian event which is famous for its interesting karst orienteering and great nature. OOCup 2011 is organized from July 22th until July 26th. See maps from some of the terrains of OOCup 2011 in omaps.worldofo.com for example from Xtremor 2009 here, here or here.
2 transferable starts for the complete OOCup 2011 is awarded to the winner of the 10Mila Tips 2011 (worth 130 Euros)