Posted by Jan Kocbach, 06 May 2012@16:00


More than 230 people set up their tips in the 10Mila Tips 2012.  According to the preliminary unofficial results, Alexander Lubina won the 10Mila 2012 Tips with 784 points – 23 points ahead of Johan Runesson. Congratulations to the winners!
The key to Lubina's (unofficial as of now) victory was very good knowledge of women orienteers. His women tips got him 457 points – after hitting correctly with the top 5 on the results: Halden on top, Tisaren in second,  Tampereen Pyrintö in 3rd, OK Linnè in 4th and Domnarvets in 5th were all correct. A small disappointment maybe that Göteborg-Majorna finished only 8th instead of 6th, but still not bad! In the men's class Lubina got only 327 points – but still enough to take the overall victory in the 2012 10Mila Tips!
Here you find the unofficial results – please add a comment if you spot any errors.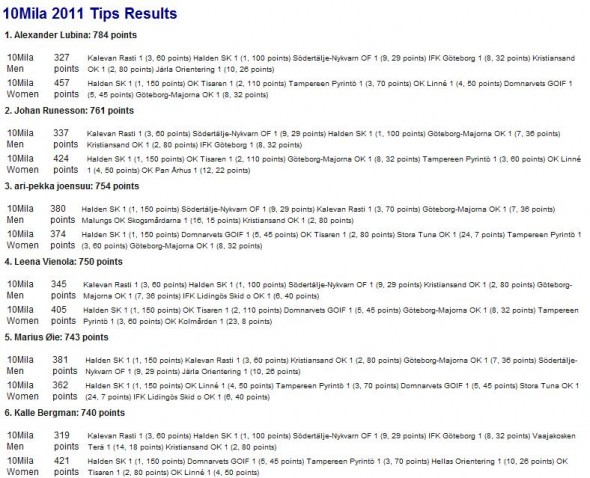 Possibly related posts