Posted by Jan Kocbach, 26 Jun 2012@20:45
On the WOC neighbour terrain – with big parts of the world elite on the start – Sara Lüscher and Baptiste Rollier took the victories in the last WOC middle test ahead of the World Championships – which also were Swiss and Finnish WOC selection races. Tomorrow we are ready for the WOC long test races – online results will be available here.
The map above shows the route choice of Gustav Bergman who finished 6th.
Triple for the Swiss men
The Swiss team showed very strong performance – taking the three top places in the mens class with Rollier ahead of Matthias Kyburz and Fabian Hertner. Best non-Swiss runners were Valentin Novikov in 4th and Peter Öberg in 5th. Note that the race was a selection race for WOC for Switzerland and Finland, and thus the Swiss runners had an extra incentive to give it all today.
Looking at the performance index, Rollier had a very constant race – adjusting his technique to the difficulties. Other runners with very high performance in part of the course are included below. Note how Kyburz, Hertner, Öberg and Marc Lauenstein all have parts of the course were they perform better than Rollier – but Rollier's performance is much more consistent. Especially Hertner's performance seems to be exceptional in large parts of the course – but the speed might have been just a tick to high in parts of the terrain which was described as tricky and "more green than expected". Now the question is if Hertner has performed well enough this spring to make it into the Swiss team ; the long distance race tomorrow will be very important for the Swiss European Champion sprint from 2010.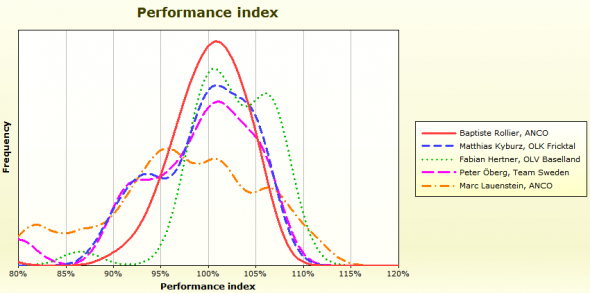 Surprise by Lüscher
In the women's class there was also a Swiss victory – surprisingly it was not "the queen" Simone Niggli who finished on top – but rather Sara Lüscher.  Lüscher won ahead of Tatiania Ryabkina, Tove Alexandersson and Simone Niggli.
Looking at the performance index for the women, you can not how Minna Kauppi has done an exceptionally good race for about a third of the race – but doing several big mistakes. The race of Sara Lüscher is very impressive – with performance far ahead of  Simone Niggli in significant parts of the course. Note however that Niggli did not have to show anything to qualify for the World Championships – while Lüscher has everything to prove.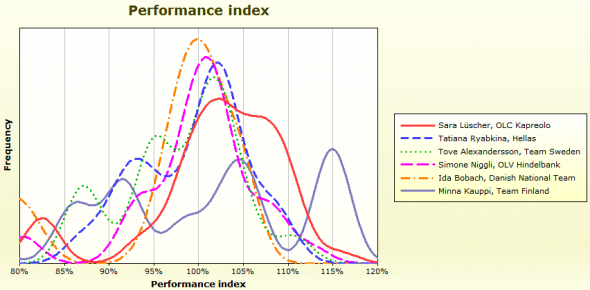 Results
Men Elite (HE), 6 200 m (74)
1 Baptiste Rollier ANCO SUI 37.13 +0.00 6.00
2 Matthias Kyburz OLK Fricktal SUI 37.23 +0.10 6.01
3 Fabian Hertner OLV Baselland SUI 37.28 +0.15 6.02
4 Valentin Novikov Delta RUS 37.47 +0.34 6.05
5 Peter Öberg Team Sweden SWE 37.49 +0.36 6.05
6 Gustav Bergman Team Sweden SWE 38.07 +0.54 6.08
7 Olav Lundanes Team Norway NOR 38.15 +1.02 6.10
8 Philippe Adamski DEN 38.28 +1.15 6.12
9 Carl Waaler Kaas Team Norway NOR 38.40 +1.27 6.14
10 Hannu Airila Team Finland FIN 38.49 +1.36 6.15
Women Elite (DE), 5 100 m (55)
1 Sara Lüscher OLC Kapreolo SUI 37.26 +0.00 7.20
2 Tatiana Ryabkina Hellas RUS 38.18 +0.52 7.30
3 Tove Alexandersson Team Sweden SWE 39.08 +1.42 7.40
4 Simone Niggli OLV Hindelbank SUI 39.38 +2.12 7.46
5 Ida Bobach Danish National Team DEN 39.42 +2.16 7.47
6 Saila Kinni Team Finland FIN 40.07 +2.41 7.51
7 Minna Kauppi Team Finland FIN 40.48 +3.22 8.00
8 Ines Brodmann OLG Basel SUI 40.54 +3.28 8.01
9 Bettina Aebi OLG Herzogenbuchsee SUI 41.10 +3.44 8.04
10 Riina Kuuselo Team Finland FIN 41.59 +4.33 8.13
Possibly related posts