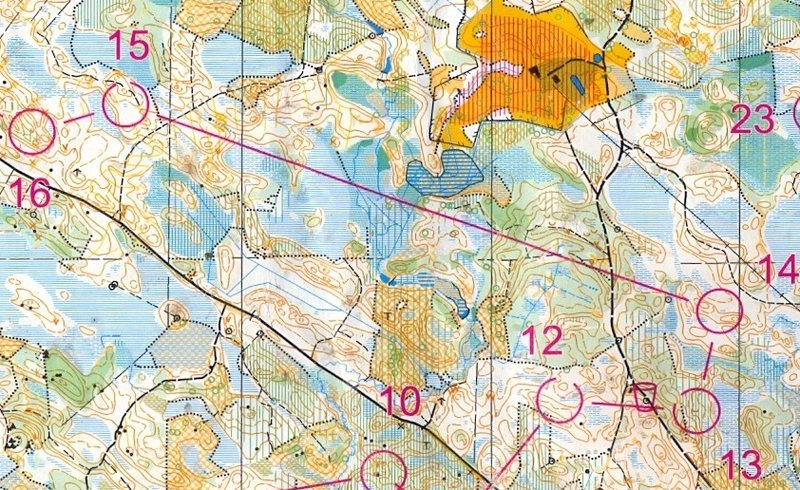 Edgars Bertuks and Liga Valdmane win Latvian Championships long distance on Sunday. Bertuks won with nearly 6 minutes – building on a 3rd place in the Latvian Sprint Champs on Saturday.
From Bertuks' official Facebook page: Sundays long distance was "ultimate survival" experience – terrible terrain (the map was surprisingly good though) and terrible TERRIBLE weather! Good thing – organizers had underestimated athletes and I only had to be out there for bit more than 82 freezing minutes. Running pace could have been higher, but that wouldn't change much since there were only few places where it was really possible to run. Navigation was rather smooth for conditions – I did 2 small mistakes costing me around 1′. Performance rating 7 (out of 10).
Bertuks did also a good race on 10Mila for TuMe – and is on track for top performances in the World Cup and World Champs later this season.
Latvijas čempionāts garajā distancē 2015

» See map in omaps.worldofo.com
Results men
| | | | | | | |
| --- | --- | --- | --- | --- | --- | --- |
| 1 | 808 | Bertuks Edgars | | Alūksne-Ape OK | 1:22:57 | 0:00 |
| 2 | 523 | Pauliņš Artūrs | | Azimuts OK-Sm BJSS | 1:28:50 | +5:53 |
| 3 | 359 | Kivlenieks Andris | | Ogre OK/SC | 1:32:53 | +9:56 |
| 4 | 1145 | Tamužs Jānis | | Ozons | 1:33:35 | +10:38 |
| 5 | 26 | Krūmiņš Jānis | | Briksnis SK | 1:33:53 | +10:56 |
| 6 | 88 | Tarasovs Anatolijs | | Ozons | 1:35:06 | +12:09 |
| 7 | 707 | Jubelis Andris | | Mežmalas / Madona | 1:35:18 | +12:21 |
| 8 | 413 | Jaudzems Kristaps | | Saldus OK | 1:35:35 | +12:38 |
| 9 | 3298 | Aleliūnas Vilius | | Azimuts OK-Sm BJSS | 1:37:03 | +14:06 |
| 10 | 575 | Ozoliņš Kristaps | | Madonas BJSS/OK Arona | 1:39:02 | +16:05 |
Results women
| | | | | | | |
| --- | --- | --- | --- | --- | --- | --- |
| 1 | 877 | Valdmane Līga | | ZVOC-VBSS | 1:16:53 | 0:00 |
| 2 | 81 | Ārniece Līga | | Ozons | 1:23:14 | +6:21 |
| 3 | | Paužaitė Sandra | | Dainava OK | 1:23:44 | +6:51 |
| 4 | 255 | Arama Una | | Madonas BJSS/OK Arona | 1:23:56 | +7:03 |
| 5 | 682 | Bertuka Kristīne | | CPSS/Meridiāns/Pārgauja | 1:28:17 | +11:24 |
| 6 | 1877 | Svilpe Elīna | | Mežmalas / Madona | 1:34:40 | +17:47 |