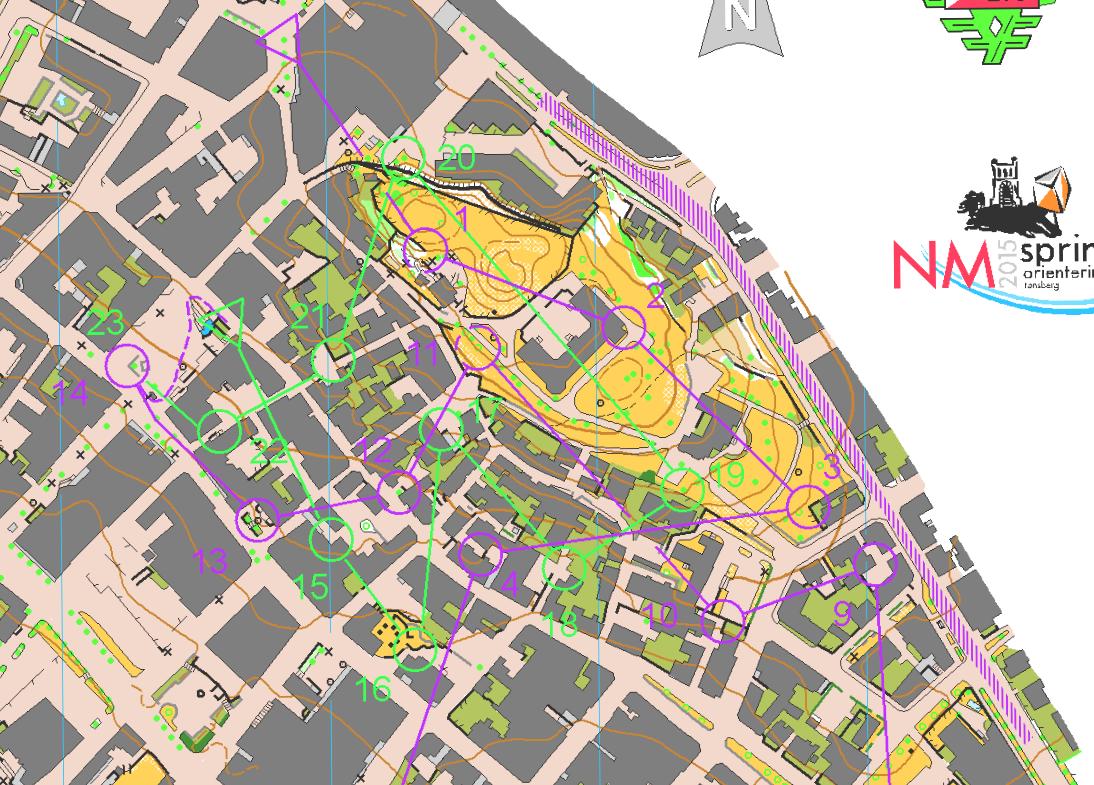 A day for the veterans in Norway: Swedish Emil Wingstedt (40) won the Norwegian Championships sprint in the men's class ahead of another Swede – Mattias Karlsson. The women's class was won by Anne Margrethe Hausken (39).
Hausken won ahead of Elise Egseth, who has not been competing the last years, and is back on the national orienteering scene this spring. Egseth was one of the best Norwegian sprinters with a 5th place in the World Championships Sprint in Trondheim in 2010 as her best result. Egseth has indicated that she is not planning to race on top international level this year, but the good results this spring may maybe make her think twice? See a video interview with Hausken here (Norwegian text).
Hausken also ran the last leg on Nydalen's team winning the Sprint Relay on Sunday – deciding the relay.
– Not a strength
Wingstedt did not have the highest speed in the start field, but as always his orienteering was safe and his finish strong.
– It is not a strength for Norwegian Orienteering that I win the Norwegian champs ahead of Mattias Karlsson – none of us would be good enough for the Swedish Team, Emil Wingstedt commented after winning the Norwegian Sprint championships on Saturday. Wingstedt is also one of the coaches in the Norwegian team, and thus it looks like he still has not managed to bring his magic sauce over to the Norwegians. See a video interview with Wingstedt here (Norwegian text).
Emil Ahlbäck was best of the Norwegian runners in third with Gaute Hallan Steiwer in 4th. Øystein Kvaal Østerbø run a time which was only a few seconds slower than Wingstedt, but passed the 13th control without punching.
One of the key controls in the sprint was the leg from control 3 to 4 shown below. Many runners – of those Gaute Hallan Steiwer with good speed – run left and lost valuable time.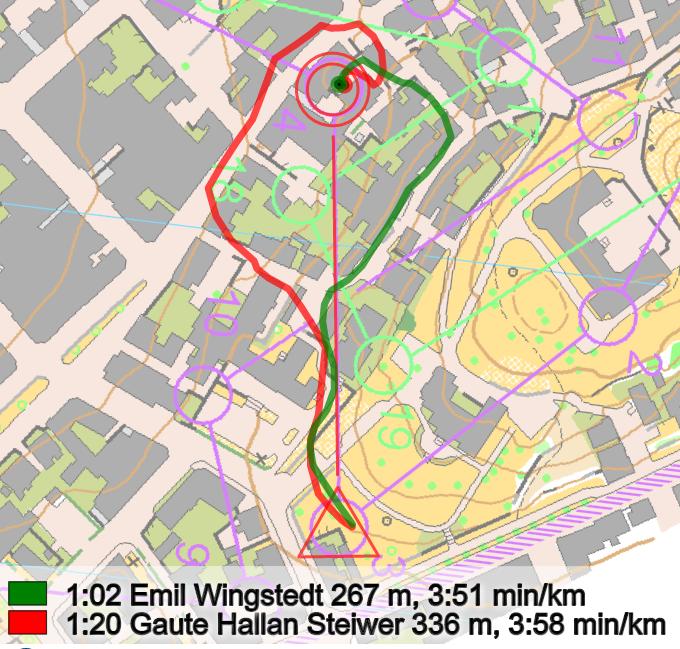 Results
Women
| | | | |
| --- | --- | --- | --- |
| 1. | Anne M Hausken Nordberg | Nydalens SK | 16:12 (+0:00) |
| 2. | Elise Egseth | Nydalens SK | 16:31 (+0:19) |
| 3. | Ida Marie Næss Bjørgul | Halden SK | 16:55 (+0:43) |
| 3. | Anne Johanne Lind | Nydalens SK | 16:55 (+0:43) |
| 5. | Silje Ekroll Jahren | Raumar Orientering | 17:15 (+1:03) |
| 6. | Emma Johansson | Fredrikstad SK | 17:22 (+1:10) |
| 7. | Nikoline Ekeberg Schjerve | Bækkelagets SK | 17:23 (+1:11) |
| 8. | Lone Brochmann | Bækkelagets SK | 17:32 (+1:20) |
| 9. | Runa Fremstad | Larvik OK | 17:44 (+1:32) |
| 10. | Ingjerd Myhre | Kongsberg OL | 17:47 (+1:35) |
Men
| | | | |
| --- | --- | --- | --- |
| 1. | Emil Wingstedt | Halden SK | 16:55 (+0:00) |
| 2. | Mattias Karlsson | Halden SK | 16:57 (+0:02) |
| 3. | Emil Ahlbäck | Fossum IF | 17:09 (+0:14) |
| 4. | Gaute Hallan Steiwer | Lillomarka OL | 17:16 (+0:21) |
| 5. | Carl Petter Lyngen | Frol IL | 17:18 (+0:23) |
| 6. | Trond Einar Moen Pedersli | OL Trollelg | 17:24 (+0:29) |
| 7. | Lars Sandstad Skjeset | Frol IL | 17:25 (+0:30) |
| 8. | Espen Weltzien | IL Tyrving | 17:30 (+0:35) |
| 9. | Anders Vister | Nydalens SK | 17:34 (+0:39) |
| 10. | Audun Weltzien | IL Tyrving | 17:38 (+0:43) |
Twitter
Disq. in NM Sprint. Same time as winner Wingstedt, but passed 13th control without punching. http://t.co/8sdvQFuK4g http://t.co/JyffOJwLQ7

— Øystein K. Østerbø (@Kvaal_Osterbo) May 31, 2015
Double Sweden in Norwegian Champs sprint – "Old Swede" Wingstedt takes gold https://t.co/d5CcmgkEb8 pic.twitter.com/GL9PjFbmJt

— WorldofO.com (@worldofo) May 30, 2015
Norwegian Champs sprint qual: Nice to see Marianne Andersen and Elise Egseth running fast & orienteering well again! pic.twitter.com/3t38xR4Sec

— WorldofO.com (@worldofo) May 30, 2015