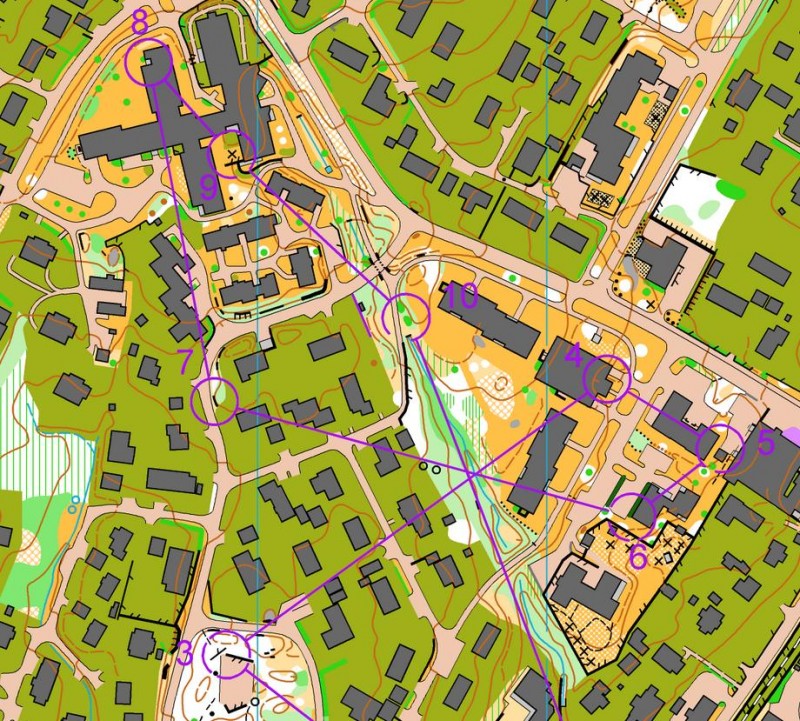 Elise Egseth won a clear victory in the Norwegian WOC test race sprint Thursday – 34 seconds ahead of Silje Ekroll Jahren. The winner on Wednesday's Middle distance, Anne Margrethe Hausken Nordberg, finished 4th, 38 seconds behind Egseth.
Egseth is now working full time and had not expected to reach this level and fight for a place in the Norwegian World Championships team this year. However, according to orientering.no Egseth now eager to get into the Norwegian WOC team at the sprint distance. Egseth has a 5th place in sprint at WOC in Trondheim in 2010 as her best international result.
In the men's class Gaute Hallan Steiwer took the victory 24 seconds ahead of Håkon Jarvis Westergård with Øystein Kvaal Østerbø in third. Ulf Forseth Indgaard was disqualified from a good result due to running in a forbidden area.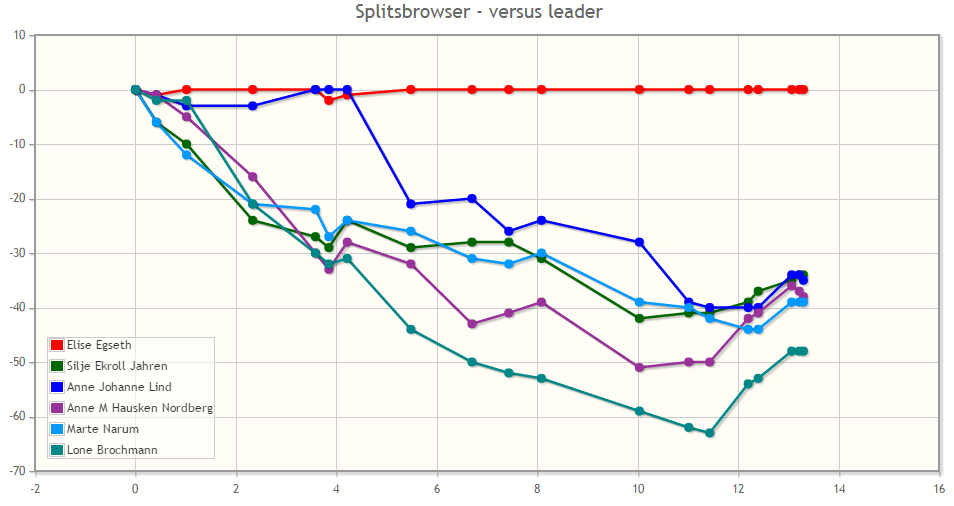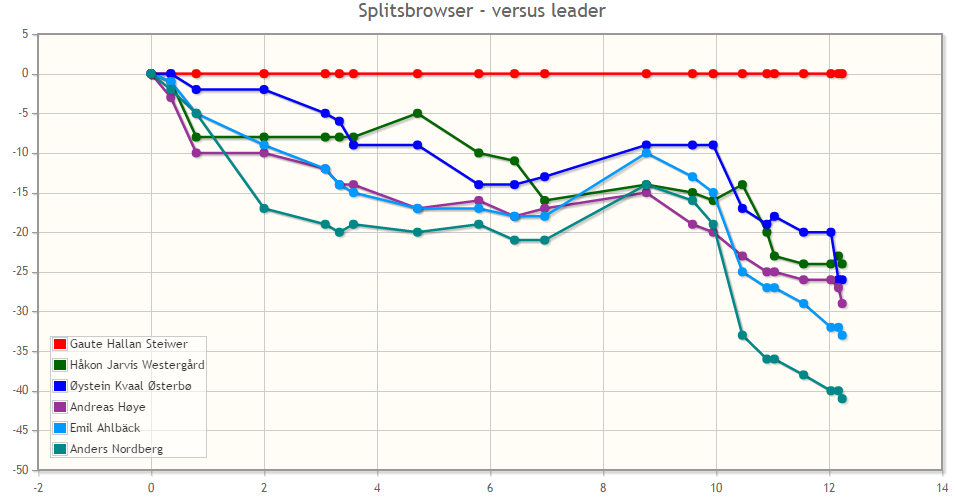 Maps and GPS-tracking
Sprint H21

» See map in omaps.worldofo.com
Sprint D21

» See map in omaps.worldofo.com
Results
Women
| | | | | |
| --- | --- | --- | --- | --- |
| 1. | Elise Egseth | Nydalens SK | 13:18 | (+0:00) |
| 2. | Silje Ekroll Jahren | Raumar Orientering | 13:52 | (+0:34) |
| 3. | Anne Johanne Lind | Nydalens SK | 13:53 | (+0:35) |
| 4. | Anne M Hausken Nordberg | Nydalens SK | 13:56 | (+0:38) |
| 5. | Marte Narum | Nydalens SK | 13:57 | (+0:39) |
| 6. | Lone Brochmann | Bækkelagets SK | 14:06 | (+0:48) |
| 7. | Nikoline Ekeberg Schjerve | Bækkelagets SK | 14:18 | (+1:00) |
| 8. | Ingjerd Myhre | Järla Orientering | 14:38 | (+1:20) |
| 9. | Sigrid Alexandersen | Fossum IF | 14:40 | (+1:22) |
| 10. | Siri Ulvestad | Nydalens SK | 14:45 | (+1:27) |
| 11. | Ida Marie Næss Bjørgul | Halden SK | 14:52 | (+1:34) |
| 12. | Heidi Mårtensson | Modum OL | 14:56 | (+1:38) |
| 13. | Lene Godager Kaas | Bækkelagets SK | 14:59 | (+1:41) |
| 14. | Emilie Westli Andersen | Løten o-lag | 15:08 | (+1:50) |
| 15. | Linn Hokholt | NTNUI | 15:10 | (+1:52) |
Men
| | | | | |
| --- | --- | --- | --- | --- |
| 1. | Gaute Hallan Steiwer | Lillomarka OL | 12:14 | (+0:00) |
| 2. | Håkon Jarvis Westergård | Järla Orientering | 12:38 | (+0:24) |
| 3. | Øystein Kvaal Østerbø | IFK Lidingö SOK | 12:40 | (+0:26) |
| 4. | Andreas Høye | Fredrikstad SK | 12:43 | (+0:29) |
| 5. | Emil Ahlbäck | Fossum IF | 12:47 | (+0:33) |
| 6. | Anders Nordberg | Nydalens SK | 12:55 | (+0:41) |
| 7. | Morten Jarvis Westergård | Järla Orientering | 13:14 | (+1:00) |
| 8. | Antonio Martínez Pérez | Halden SK | 13:15 | (+1:01) |
| 9. | Anders Vister | Nydalens SK | 13:16 | (+1:02) |
| 10. | Carl Petter Lyngen | Frol IL | 13:17 | (+1:03) |
| 10. | Carl Godager Kaas | Bækkelagets SK | 13:17 | (+1:03) |
| 12. | Paul Sirum | Frol IL | 13:25 | (+1:11) |
| 12. | Simen Aamodt | NTNUI | 13:25 | (+1:11) |
| 14. | Sindre Johannessen | Freidig | 13:29 | (+1:15) |
| 15. | Trond Einar Moen Pedersli | OL Trollelg | 13:32 | (+1:18) |