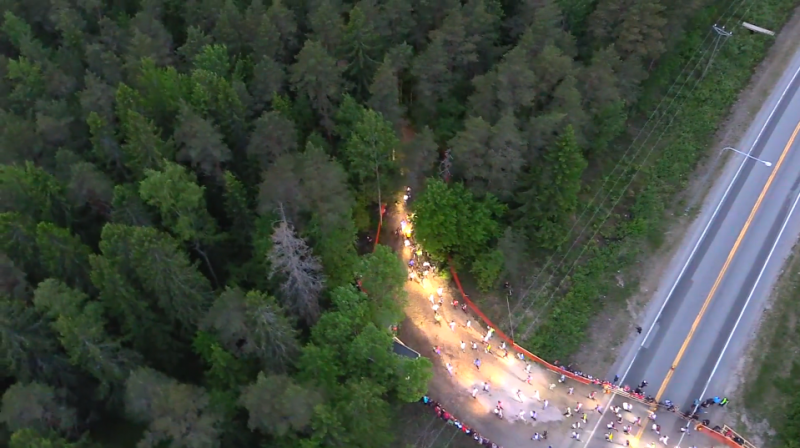 – It is completely feasible that in a few years, we will be up in the air for more than an hour, plus also have a lot of smaller kopters chasing the leading teams from above, David Brickhill-Jones, CEO of KopterCam, says when asked about the future for the technology.
Seeing the Jukola start from high above LIVE – more than 1700 lights spreading out into the forest – at this year's Jukola relay was a very special experience for many. Below you can read  the story behind the footage which was delivered by the company KopterCam.
Long journey
– It has certainly been a long journey to get this far, but that said, back at the Oslo World Cups, we were trying to do things that were not really possible at the time, Brickhill-Jones explains when asked about how the technology has developed the last years.
– We've always figured though, that we would try anything, and if it didn't succeed we would just keep at it until it did, Brickhill-Jones continues – and although this year's Jukola was a great success, this is only a step on the way. The future looks even brighter.
Brickhill-Jones is a former British elite orienteer who has a silver medal from WOC in 2005 as his top result. Below the sample video footage you find an interview with Brickhill-Jones giving you interesting background material.
Sample video: Clips from 2015, 2014 and 2013
2015 – Live HD Kopter Footage, Live HD RunningCam and Live HD 350m CableCam 
2014 – Ultra HD 4K Kopter Footage and Live HD RunningCam 
2013 – HD Kopter footage 
Interview with KopterCam's David Brickhill-Jones
Q: What exactly was your job at Venla and Jukola?
Our job at Venla and Jukola was to be providing some of the specialist cameras for use in the YLE TV broadcast. All our systems were linked up with HD transmitters, to provide a Live link straight to the OB Van. We had 5 guys from KopterCam on site, and were in charge of the Kopter for the mens start, the CableCam for the entire event, and myself as a RunningCam, basically going wherever the director told me too. Given the layout of this years Jukola, the large power lines overhead, and the TV requirements our start shot was a little different to the previous years, but i think certainly it still showed the sport in the aspect that we all want to see.
We have tried to upgrade every year in terms of what we can provide for Jukola.

Q: How long can your drone stay in the air – and how do you see the future?
We have a massive range of different Kopters in the company now, and their flight times range from between 7-25 minutes. For our big Cinema and Live rigs, we are only getting about 7-8 minutes though. For normally jobs, 7-8 minutes is easily enough to get our shots, but of course for Live sport, much longer flight time would be better. Battery technology is improving every day though. And it is completely feasible that in a few years, we will be up in the air for more than an hour, plus also have a lot of smaller kopters chasing the leading teams from above. We see some transmitters being incorporated into the GPS system that the top runners need to wear on their back, to let us essentially have a "follow me" kopter.
Over the years, we have continued to try and bring new camera systems into the sport as well. At least for myself personally, orienteering is a great testing ground for our new systems, plus my way of giving back to the sport. In 2014 we bought in the RunningCam and in 2015 the CableCam. We have a few new surprises that will be ready be 2016 as well, and we won't stop trying to push the boundaries. YLE, the Finnish Orienteering Federation and Jukola have also been very receptive in letting us try to increase the TV aspect of the sport.

Q: I remember when you started this years ago, working hard for hours without getting a single second live at the World Cup races in Oslo. How has the road from there been?
Yes our first attempt at a true Live HD transmitting kopter was back at some World Cup races at Holmenkollen in 2012. However it didn't quite go to plan. Essentially we were trying to do something, that wasn't really possible at the time. That said, it was one of those learning curves, than only pushed us further to see what was actually possible. It was great to have the likes of Karel Jonak (TV Director) and Bjørnar Valstad (General secretary in the Norwegian Orienteering Federation) willing to give it a go, though, and have the vision that orienteering really can be a TV sport.
In 2013 we linked up with YLE the Finnish national broadcaster, to work out ways to continue to pursue ways of streaming live from the kopters. With their knowledge of RF systems, and our knowledge of the Kopters, we have come along in leaps and bounds. These days we are present at all YLE sport events, providing the specialist cameras.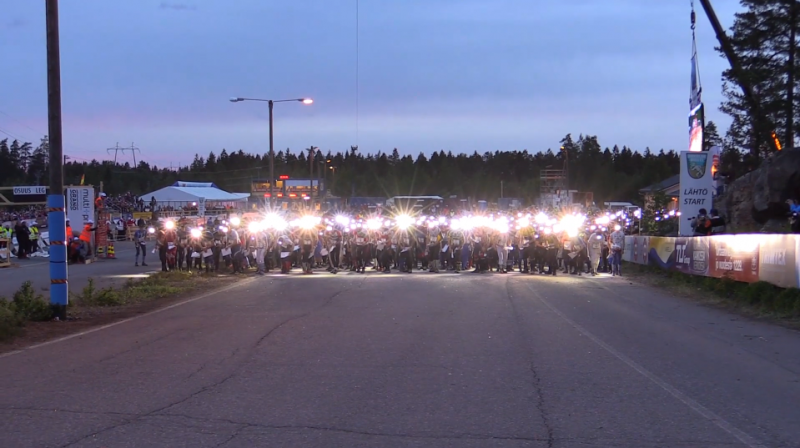 Q: How important is orienteering for KopterKam – financially?
Orienteering is a very small percentage of KopterCam's work. That said, it is important for me, plus also one of the key sports for the YLE summer sport TV broadcasting. As i said previously though, it is a great testing ground for any new camera systems that we are producing, and all the orienteering organisations are very receptive to trying new things. I could go further and say, that some of the opportunities that KopterCam were given back in the early days, due to the fact that I was an orienteer myself, have greatly lead to the position that we are in now as a market leader in the drone industry.
As for where KopterCam is going now, it is hard to say. But we have certainly put ourself in a great position. These days I would say that 20% of our work, is Live Sport Broadcasting, and the rest is TV, Movies and Advertising. We have gone from filming very small jobs in Finland 4 years ago, to filming feature films all over the world. I think we have been to 12 countries this year so far. This is just the beginning for us;)
Q: Thanks a lot for your answers – and good luck with the future for KopterCam!