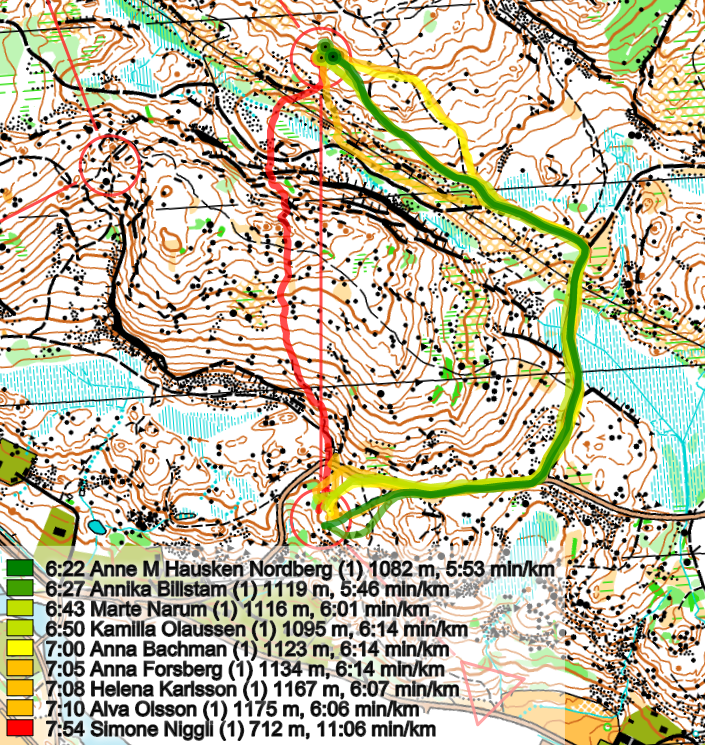 [With animations] WOC runners William Lind (Sweden) and Anne Margrethe Hausken Nordberg (Norway) won O-Ringen overall in two exciting chasing starts.
William Lind fought a tight fight with Olle Boström (also in the Swedish WOC team) all the way until the last control, and decided with a few seconds in the run-in.
In the women's race the fight between Hausken Nordberg and Simone Niggli (Switzerland) was decided already to the first two controls. Niggli started 2 minutes behind – but after a mistake at the first control and a wrong routechoice to the second control (see illustration at the top of the page), Niggli was nearly 5 minutes behind and out of the fight. The animation below shows Niggli against Hausken Nordberg with simulated mass start to the first two controls.
With Niggli out, the fight was between Hausken Nordberg and Annika Billstam (in the Swedish WOC-team). Billstam however never managed to get much closer than the 2 minutes gap at the start – but the Swede had a clear lead on Niggli until nearly the end – but then this happened:
Maps and GPS-tracking
Maps and GPS-tracking are available in Livelox:
Results
Men
Women