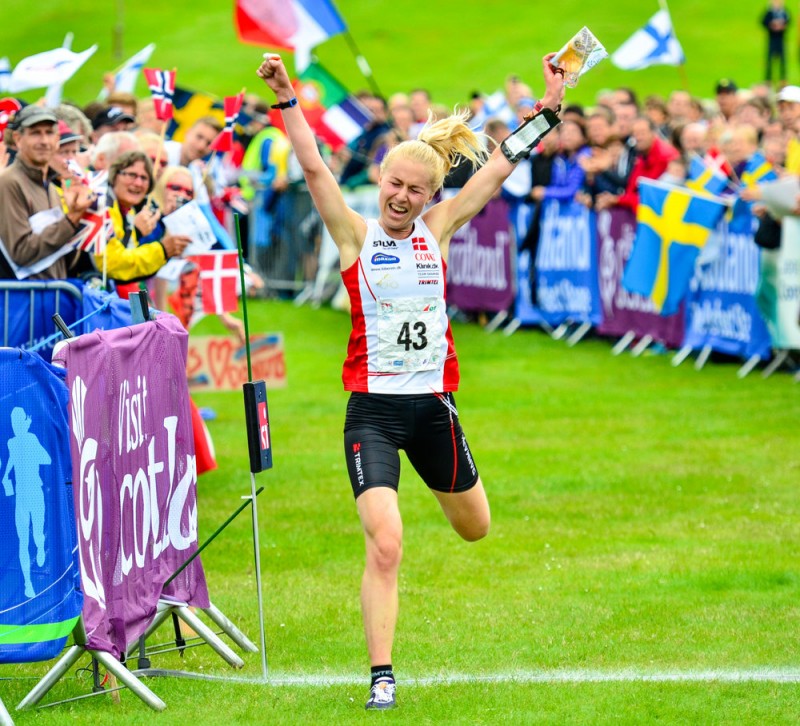 – For us it is all about winning at the World Orienteering Championships and at the European Championships – everything else is training, head coach of the Danish national team Lars Lindstrøm explained at the International Orienteering Coach Conference in Faak am See, Austria.
Just having returned from the World Championships in Scotland with 4 Gold medals – by far the best result ever in Danish orienteering history – it is no wonder that the participants at the conference listened with great interest when Lindstrøm gave some insight into the story behind the success.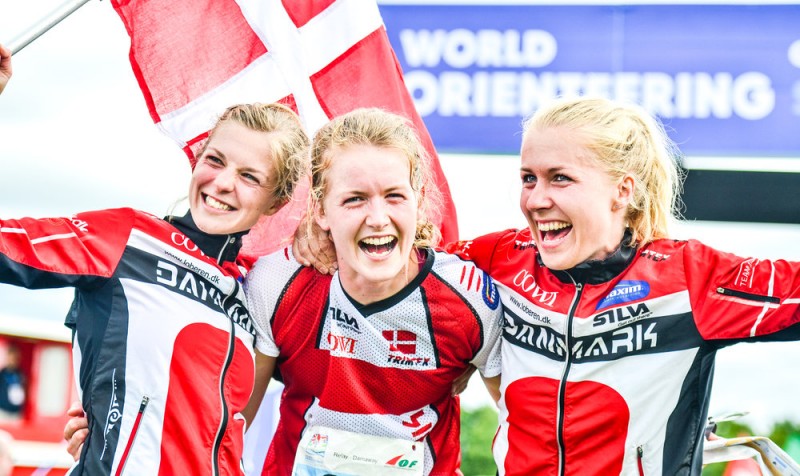 A look back in time: Two important decision points
Going back in time, Lindstrøm highlights two decision points which in his opinion are crucial for the Danish success today. The first is the drastic change in the structure of the national team in 2009.
– We decided that we would only support athletes who we believed had the potential to become World Champions. Other athletes were no longer supported by the national team. This decision was partly due to budget cuts, the Danish coach explains.
The second decision came two years later – the establishment of an elite center in Århus. – Without the elite center in Århus we would not have achieved the same success in Scotland, Lindstrøm explains. 
– If you would have asked me in 2009, I would have said that you needed to live in Sweden, Norway or Finland in order to become World Champion in orienteering. Now the answer would be No! The training environment is more important than the terrain availability.
Today all national team members are required to live and train at the elite center in Århus, but this is a recent decision to further increase quality. There are three orienteering coaches employed at the training center – two of them 100%. The athletes have access to all facilities they need on their road to medals at the World Orienteering Championships (see facts about the training center at the bottom of this article).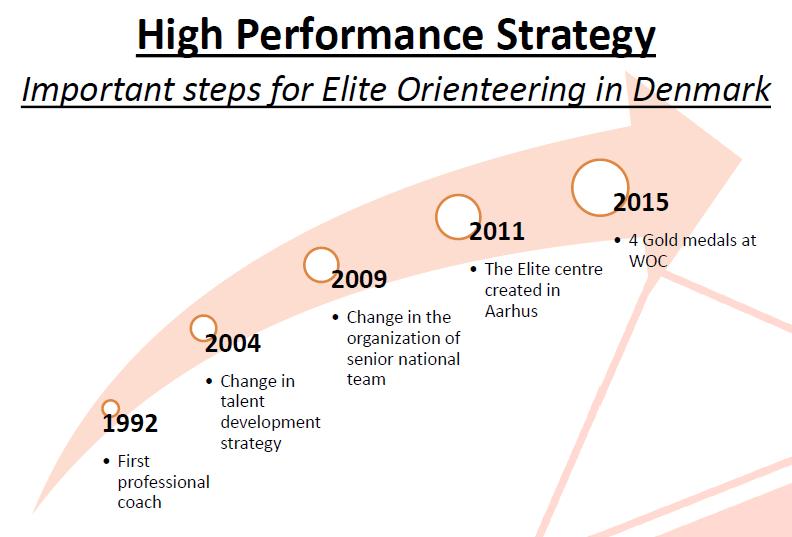 Preparation for WOC 2015: Four key factors for success
When describing the preparations for the World Orienteering Championships in Scotland, Lindstrøm names four key factors for the success: Team spirit, new training camp scheme, physical training and o-technical training. These four key factors are further elaborated below.
Factor 1: Team spirit
Started as a project in 2010. Value based. The athletes came up with the values themselves, BUT nobody talked about winning. Lindstrøm introduced the value of winning, and athletes accepted the value. The 4 values: "We are training to win, we live professionally, we make each other better, we are a team"
End every day by telling positive stories to eachother about the values. Done for 5 years now.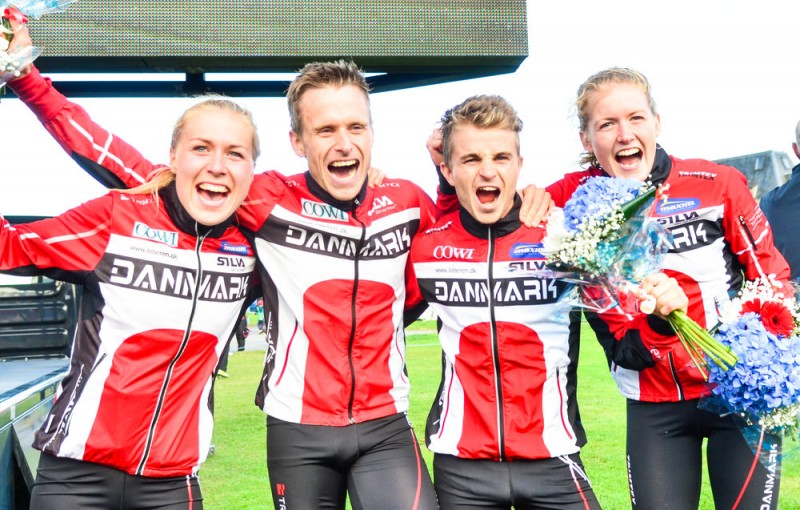 Factor 2: Training camps
Experience from 2014 -> training camps need to be longer (2-3 weeks). Never have time to recover and evaluate on "traditional" training camps of ~1 week. Longer training camps give less stress
2015

Feb: 2 weeks in Spain -> Test out focused training schedule. Learned a lot, and found out that this is really good.
April: 2 weeks starting in Denmark, continuing in JK/Scotland -> Started the training camp in Denmark as more relevant terrains for middle/relay in Denmark then second part in JK + Scotland. This was a bad idea. Too much stress.
July: 3 weeks in Scotland. Worked very, very well.

"A lot of time to recover on the long training camps"
More focus on smart training than on volume
Skipped focus on long distance for everybody except Ida Bobach (as realized that she was the only one with real chances)
Avoid hotel style accommodation to simulate daily routines like at home (cooking etc. done by athletes, even at WOC).
Allow time for recovery! Even travel time is not recovery.
"Scotland was perfect – there was no internet connection". For most of the athletes it was a relief, for some athletes it was a bit stressful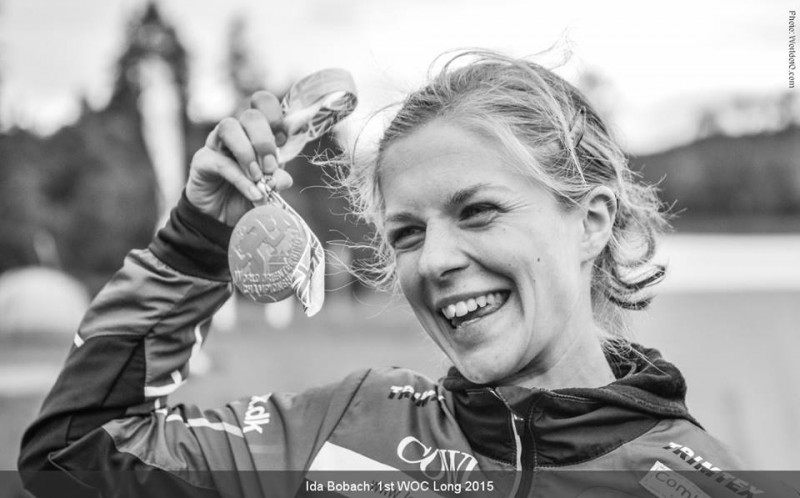 Factor 3: Physical training
"Training longer than 90 min = Waste of valueable time" – Lars Lindstrøm 2009 Coaching conference. Still behind this statement.

Ida Bobach has not run any sessions longer than 105 minutes
Maja Alm has not run any trainings longer than 90 minutes in as long as I can remember
Rather train twice a day

Any training should target a specific physical capability i.eg. VO2Max, local capacity, running economy, recovery, running technique, etc
Volume in it self is not a goal, but a measure of progression in training load (but remember volume is not the only factor of training load)
It is not about recovering from training, but preparing for training (change of approach)
Development monitored in testing lab

Starting speed 11 km/h (13 km/h for men). Each stage 4 min followed by 1min breaks
Speed increases by 0,5 km/h. Continue until exhaustion
Factor 4: Orienteering technical training
Observed that there would be a lot more controls in Scotland than in Italy (even for sprint) -> a lot of training with shorter legs
Several specific trainings to be best possible prepared for Scotland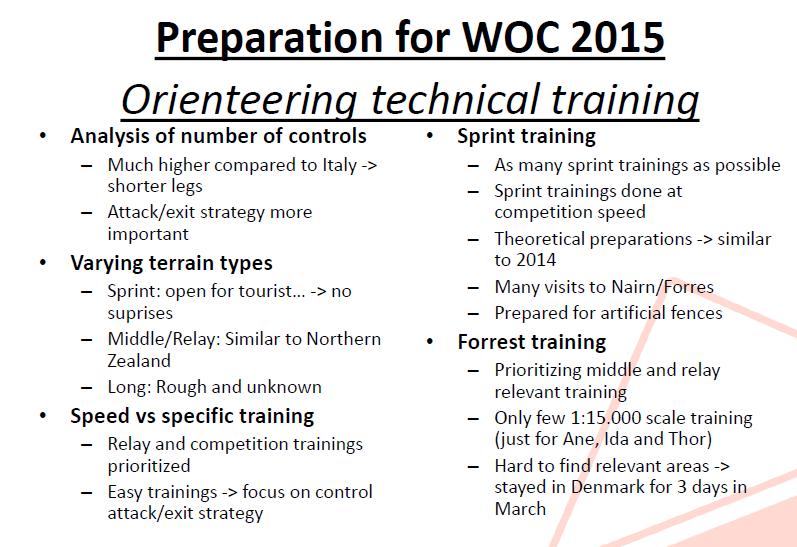 Facts about the Elite Center in Århus
Elite center in Århus is key to Danish success: All national team athletes live and train with excellent conditions for developing high performance.
3 coaches employed at the elite training center in Århus, two of them full time (Lindstrøm 100%, Gasbjerg 100%, Ruud 50%)
Weekly training program – training each morning and two evenings every week. Strength training done by the sprint coach of Team Denmark (orienteering coaches not always present at strength training sessions)
Interval training: Tuesday on hard surface; Thursday in forest. When getting closer to WOC split the group for more specific interval training.
Took time before "dared" to introduce morning training – now it works very well, even hard trainings
Most athletes live in elite sport apartments very close to the training center – extremely compact
No athletes from other countries at the training center, but "everybody is welcome"
Why Århus?

Elite sport program at University = flexible studies (you are not required to study 100%, possible to get exam moved or taken abroad, etc.. Interesting: Study says that students on the elite sport program take more study points than the average student. Note that elite sport program is also available to foreigners).
All education types present in Århus
Short distance to Team Denmark services
Everything within 3-5 km
Many terrains within 60 min driving from Århus (20 maps, no technically demanding)
More of the story in the LiveBlog from the conference
You can find more details about the Danish team's success in the LiveBlog from the conference here.