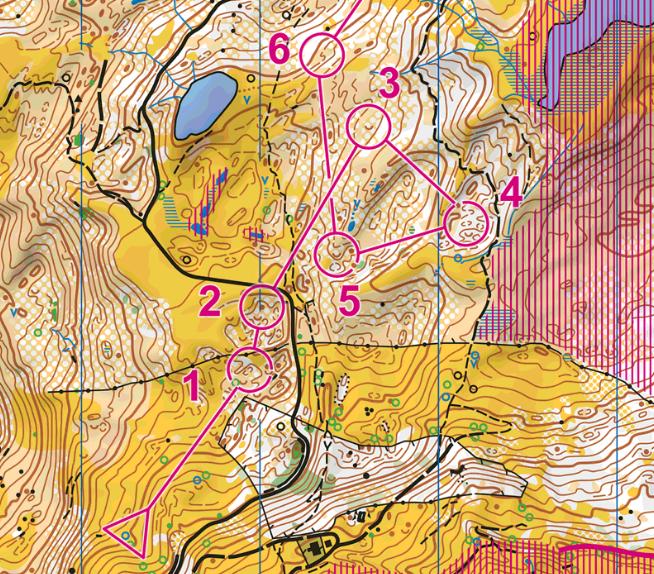 The tricky orienteering in the slopes of Arosa made the World Cup final middle distance a very interesting race. Many of the top favourites struggled – especially in the women's class. The mix of open areas and forested areas was a big challenge for the runners.  
In the end Daniel Hubmann (Switzerland) and Catherine Taylor (Great Britain) where the strongest. For Hubmann this was the second victory of the weekend – and he also secured his 6th overall World Cup victory. For Taylor it was the first World Cup victory – after getting closer and closer to the absolute elite the last years.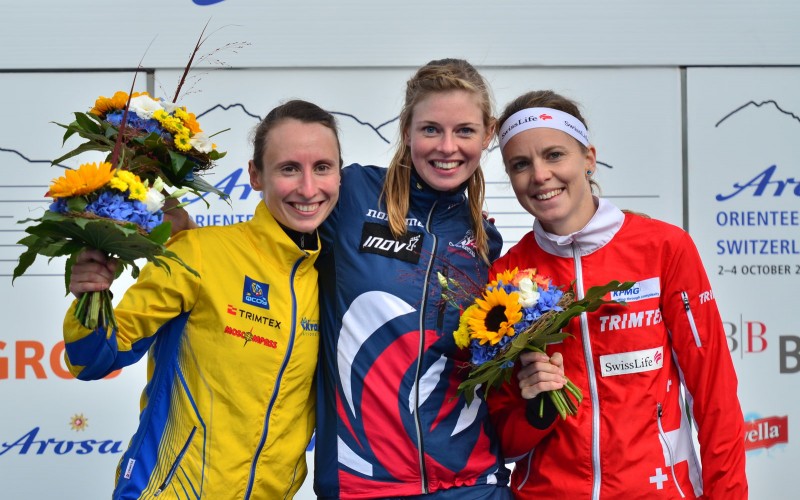 Photo: Top 3 in the women's class: Cat Taylor, Nadiya Volynska, Sara Lüscher
Compared to the podium on the long distance with only Switzerland and Norway in the top 6 in both the men's and the women's class, today's middle distance had more colors on the podium: 6 times Switzerland, 3 times Ukraine, 1 time Great Britain, 1 time Russia and 1 time Denmark. Interestingly neither Norway nor Sweden managed to run into the top 6 in today's middle distance.

Photo: Top 3 in the men's class. Daniel Hubmann, Ruslan Glibov, Baptiste Rollier.
Women: Quick Analysis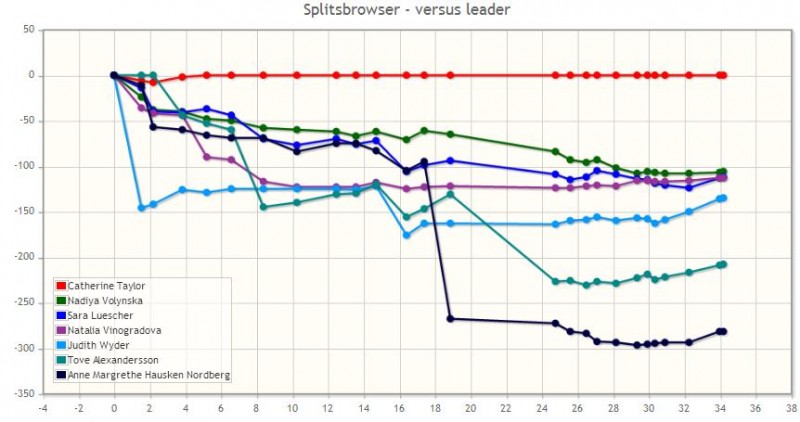 Catherine Taylor (Great Britain) won 1:46 minutes ahead of Nadiya Volynska (Ukraine) with Sara Luescher (Switzerland) in 3rd at 1:52. Taylor had a very stable race and lost 16 seconds or less to the leg winner on all legs – that was least of all runners in this race.
In addition to these three, three other runners were very much in the fight for victory:
Judith Wyder has been out with injury trouble since the World Orienteering Championships. Today she had a horrible start of her race, losing 2:26 already at the first leg. After a great race from there until the finish she finished 5th – only 2:15(!) behind. So it looks like Wyder is back physically!
Yesterday's winner Anne Margrethe Hausken had a good race until she did a big mistake at control 13 – taking her from a third place and out of the fight for Top 6.
Tove Alexandersson had several quite big mistakes (control 3, 6 and 14) – but in the rest of the course she was faster than anybody else. Note that Alexandersson got the wrong map at the start, did not notice until coming to the first control in the men's course, and then started again 13 minutes later. Not easy to handle the pressure in that situation!
Looking at the race development, Tove Alexandersson took the lead at the first control and stayed in front until control 2. Then Emma Johansson (leading at the 3rd control, losing 57 seconds at the 4th control and falling down to 16th place) was at the front before Catherine Taylor took over the lead at control 4 of 25 controls and kept it until the finish.
Taking a look at were the top runners did mistakes (see graph below), the first control (due to Wyder's mistake), the 13th control (due to Hausken Nordberg's mistake) and the 4th, 6th and 19th control were the most problematic.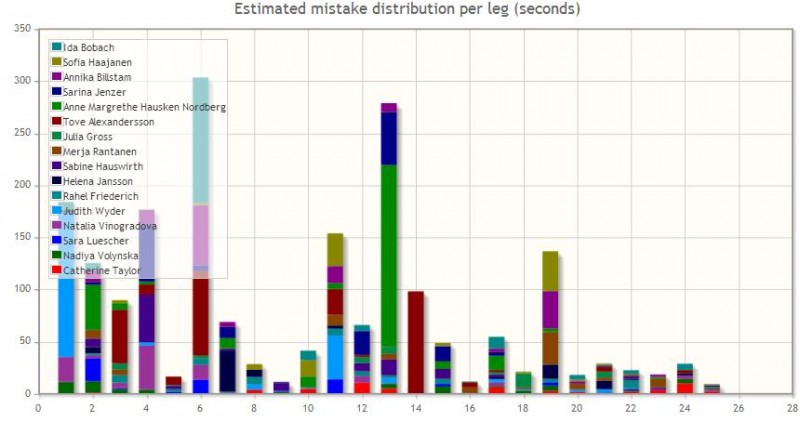 Looking at grouping among the top runners, Catherine Taylor (1st) was in contact with Natalia Vinogradova (4th) for 20 controls (9 controls behind). Sara Luescher (3rd) was in contact with Emma Johansson (14th) for 13 controls (1 controls behind).
Men: Quick Analysis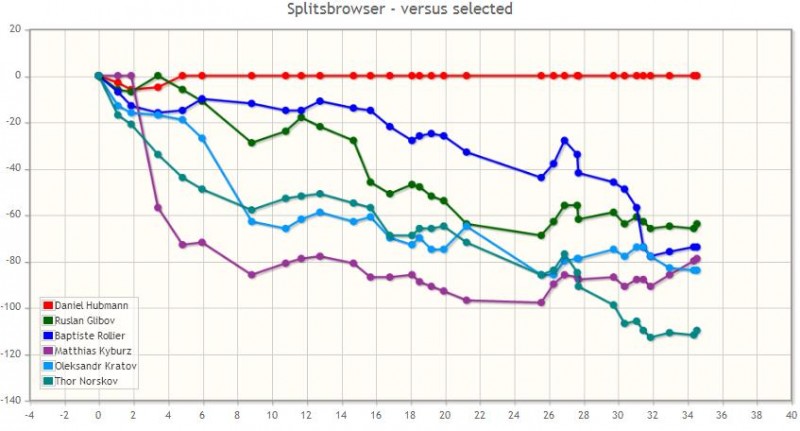 Daniel Hubmann (Switzerland) won 1:04 minutes ahead of Ruslan Glibov (Ukraine) with Baptiste Rollier (Switzerland) in 3rd at 1:14. Hubmann had – as usually – the most stable race – losing 9(!) seconds or less to the leg winner on all legs. Another great race by Daniel Hubmann for sure.
There were two other runners who were close to Daniel Hubmann's level today,
Norwegian Carl Godager Kaas was in a shared lead with Hubmann at the 21st control – but then the big misfortune happened for the Norwegian as he could not find neither control code nor punching unit at the control. Without this, he would have been in the fight for victory. More about that further below.
Matthias Kyburz had the speed of Hubmann, but again did too many mistake. In the end he finished fourth at +1:19, but his time loss at the 3rd and 4th controls was exactly 1:19. Thus in the rest of the race he had the speed and technique of Hubmann.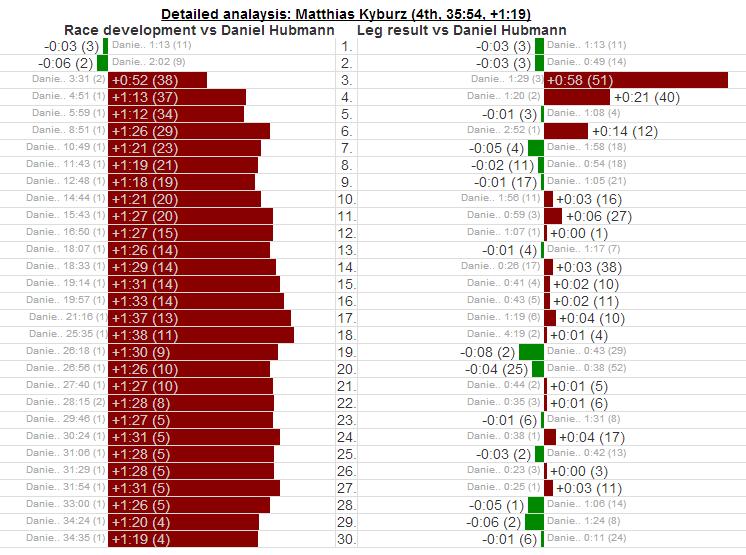 Rusland Glibov's level was also not far from Hubmann's, but Glibov seems to have ran with a bit higher risk – doing some smaller mistakes from time to time.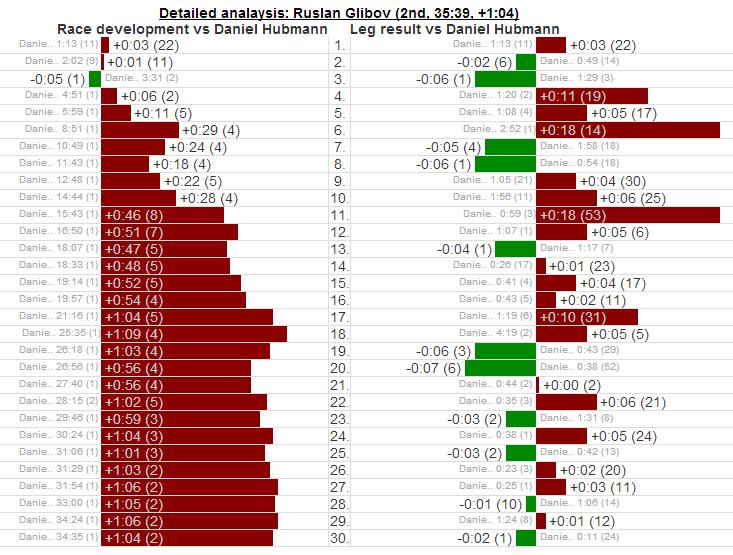 See below for an AutOanalysis of Hubmann versus Glibov.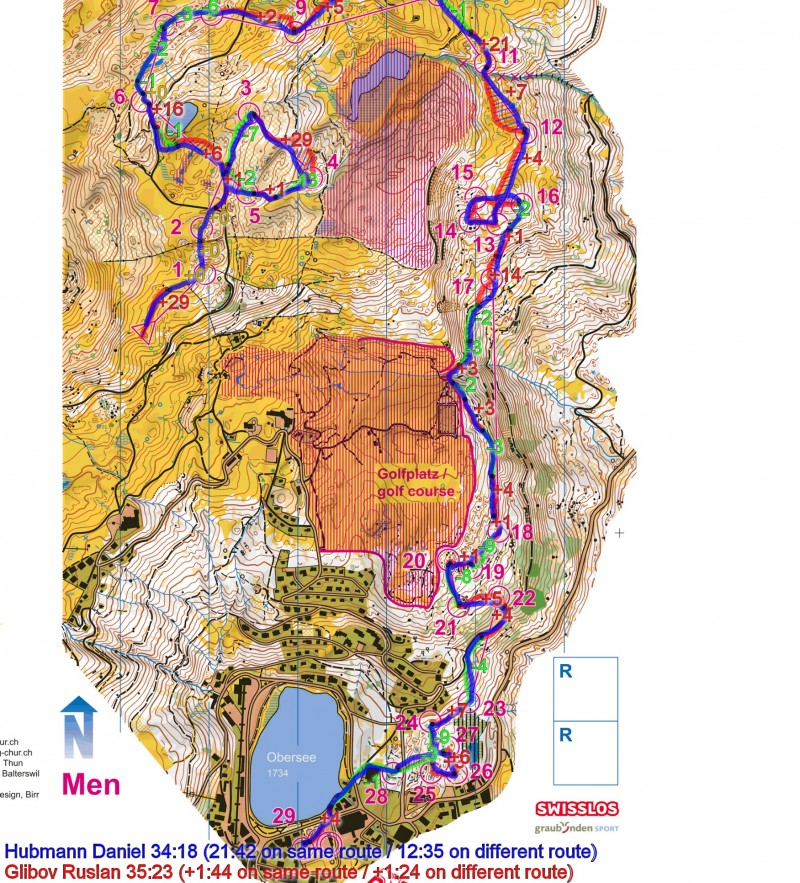 Godager Kaas's misfortune
When arriving at the 22nd control together with Florian Howald, there was a flag there, but there was no punching unit and no code number at the control. Godager Kaas though that this might be a control for the spectator race as there was no code there, searched around for 3 minutes, then arrived at the same control again. Still nowhere to punch and still no control code – so he had to run on with only the reserve punch.  In the end Godager Kaas was only 3:07 behind Hubmann, and would at least have been second and maybe even given Hubmann fight for victory without this unfortunate episode. Later another runner arrived at the control and found the punching unit (with code) some meters away from the control point – so in the end only Godager Kaas and Howald lost time due to this episode. A complaint and protest was delivered due to missing control code, but this was dismissed.
22nd control: No SI punching unit (found on ground by later runner), no control code number. Destroyed my perfect race #disappointed #pissed

— Carl Godager Kaas (@carlwk) October 3, 2015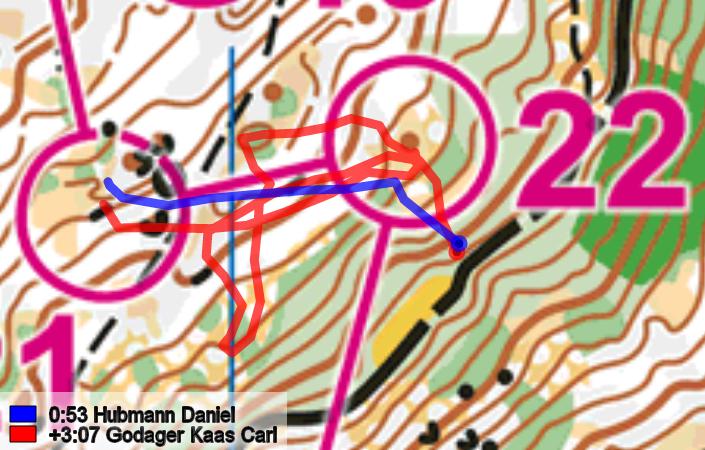 See below for an AutOanalysis of Hubmann versus Godager Kaas.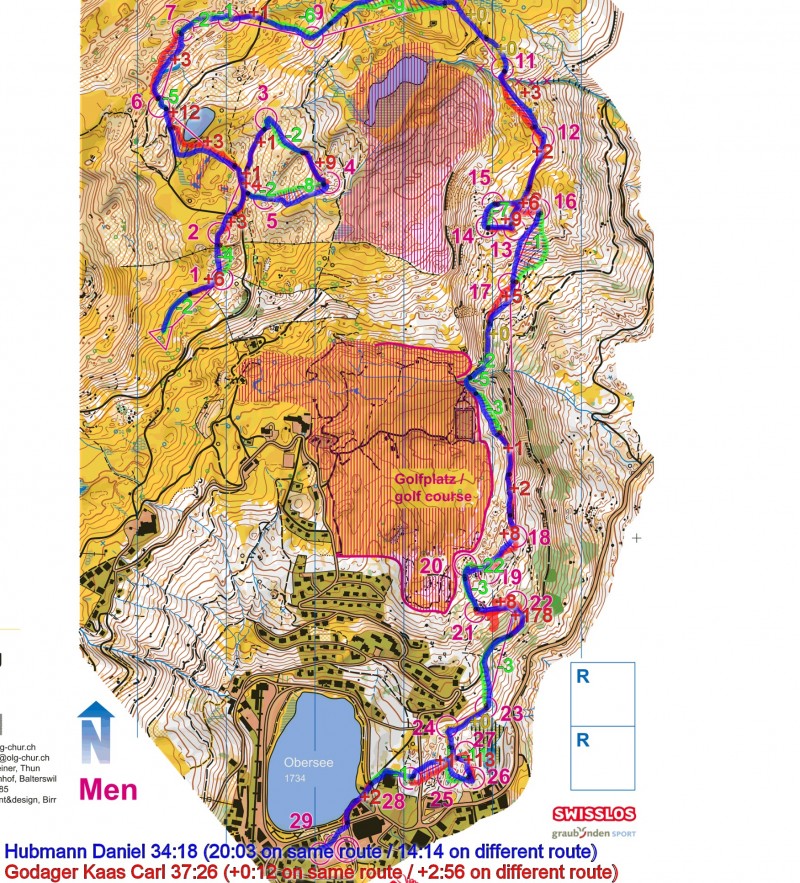 Some selected mistakes/time losses in the men's race

Maps and GPS-tracking
WC-Final 2015, Arosa - Middle Distance Men

» See map in omaps.worldofo.com
WC-Final 2015, Arosa - Middle Distance Wome -13:30

» See map in omaps.worldofo.com
Results
Men
| | | | | |
| --- | --- | --- | --- | --- |
| 1. | Daniel Hubmann | Switzerland | 34:35 | (+0:00) |
| 2. | Ruslan Glibov | Ukraine | 35:39 | (+1:04) |
| 3. | Baptiste Rollier | Switzerland | 35:49 | (+1:14) |
| 4. | Matthias Kyburz | Switzerland | 35:54 | (+1:19) |
| 5. | Oleksandr Kratov | Ukraine | 35:59 | (+1:24) |
| 6. | Thor Norskov | Denmark | 36:25 | (+1:50) |
| 7. | Gustav Bergman | Sweden | 36:26 | (+1:51) |
| 8. | Jan Prochazka | Czech Republic | 36:28 | (+1:53) |
| 9. | Albin Ridefelt | Sweden | 36:34 | (+1:59) |
| 10. | Magne Daehli | Norway | 36:38 | (+2:03) |
| 10. | Bjorn Ekeberg | Norway | 36:38 | (+2:03) |
| 10. | Johan Runesson | Sweden | 36:38 | (+2:03) |
| 13. | Florian Howald | Switzerland | 36:54 | (+2:19) |
| 14. | Olav Lundanes | Norway | 37:09 | (+2:34) |
| 15. | Gernot Kerschbaumer | Austria | 37:20 | (+2:45) |
Women
| | | | | |
| --- | --- | --- | --- | --- |
| 1. | Catherine Taylor | Great Britain | 34:13 | (+0:00) |
| 2. | Nadiya Volynska | Ukraine | 35:59 | (+1:46) |
| 3. | Sara Luescher | Switzerland | 36:05 | (+1:52) |
| 4. | Natalia Vinogradova | Russia | 36:06 | (+1:53) |
| 5. | Judith Wyder | Switzerland | 36:28 | (+2:15) |
| 6. | Rahel Friederich | Switzerland | 36:42 | (+2:29) |
| 7. | Helena Jansson | Sweden | 36:45 | (+2:32) |
| 8. | Sabine Hauswirth | Switzerland | 36:59 | (+2:46) |
| 9. | Merja Rantanen | Finland | 37:06 | (+2:53) |
| 10. | Julia Gross | Switzerland | 37:12 | (+2:59) |
| 11. | Tove Alexandersson | Sweden | 37:41 | (+3:28) |
| 12. | Alva Olsson | Sweden | 37:52 | (+3:39) |
| 13. | Kamilla Olaussen | Norway | 38:11 | (+3:58) |
| 14. | Emma Johansson | Sweden | 38:16 | (+4:03) |
| 15. | Lilian Forsgren | Sweden | 38:37 | (+4:24) |
| 15. | Saila Kinni | Finland | 38:37 | (+4:24) |