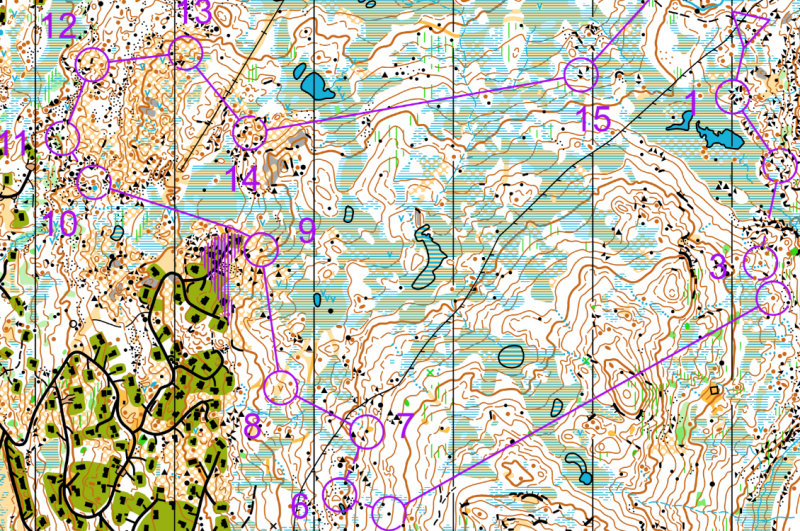 –  Even though it can look a little unreadable on the map  beforehand, I found it even cooler to run in it when you actually were able to spot the right passages between the cliffs, Kamilla Olaussen explains about her favourite orienteering terrain this year. 
Read on for an interview with new Norwegian orienteering star Kamilla Olaussen where she tells us about her favourite courses and terrains in 2018. Olaussen is a runner who has struggled a lot with for injuries for years,  but when she finally came back to orienteering she did it at a new and higher international level, and that nearly without doing any orienteering technical sessions! A 5th place at WOC Long in Estonia and a second place at the World Cup long distance in terrain close to next year's WOC terrain in Norway shows clearly that she is among the top favourites for the World Champs on home ground next year.
I barely run any orienteering sessions during this year, because of a surgery
This interview is part of the "Course of the Year 2018″ contest organized by World of O. In the introduction article you can suggest YOUR favourite course for "Course of the Year 2018″ – there are prizes to be won worth more than 6000 Euro.
Q: What was the best forest course you ran in 2018 – and why?
The course/competition that first pops up in my head is the middle distance at Rauland (Norwegian Cup) the 18th of August in Norway. I think there are two reasons why; the first one because I think it was a good middle distance course with a few a bit longer legs, and some short legs with a lot of changes in direction. The second reason is that it was lovely terrain all the way. It was also a plus that the terrain changed (a bit) during the course.
Q: What was the best sprint course you ran in 2018 – and why?  
I only ran three sprint races in 2018, two of them in the World Cup final in Czech Republic. So I don't have that many to choose among. I did like the World Cup final course, though. I found it interesting with some quite big route choices and some elevation differences (not just a flat course). I also think that the course included many varieties from park to long legs and short legs.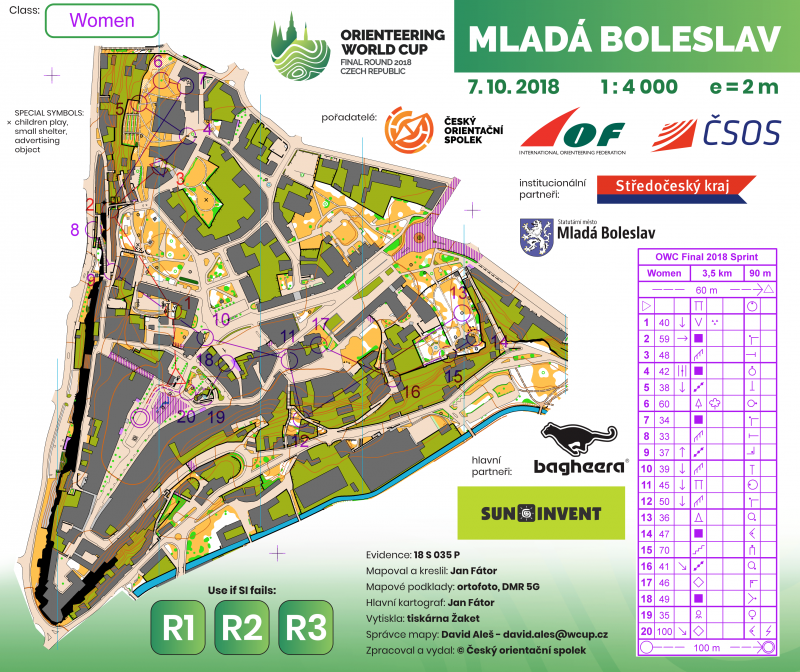 #GPSanimation: Tove Alexandersson 🇸🇪 wins the last #orienteering World Cup race of the year ahead of small surprise Maija Sianoja 🇫🇮 and Judith Wyder 🇨🇭. Results: https://t.co/5hQjxcIJZm GPS: https://t.co/YT8gXbaCAY pic.twitter.com/Dw9ZMdev73

— WorldofO.com (@worldofo) October 7, 2018
Q: What was the most interesting orienteering terrain you run in in 2018 – and why?
I for sure have to say the middle distance terrain at the World Cup final In Czech Republic, Turnov. The steep slopes with big sandstone formations were really interesting and gave most of us some new challenges. Even though it can look a little unreadable on the map  beforehand, I found it even cooler to run in it when you actually were able to spot the right passages between the cliffs. Taking the right route choices is crucial in this type of terrain, something I think you need to practice a lot if you should be able to take the right choice all the time.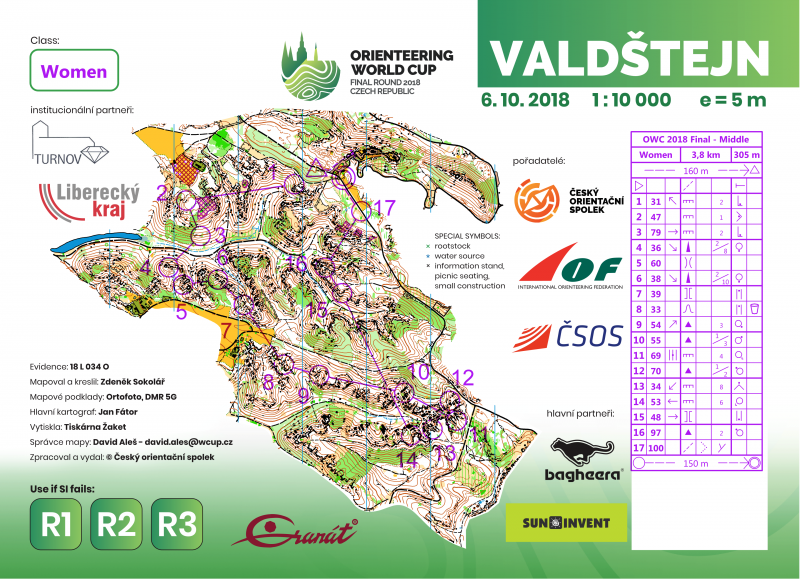 This #GPSanimation shows how Karolin Ohlsson 🇸🇪 wins her first World Cup #orienteering victory in highly technical Czech sandstone terrain. Julia Jakob 🇨🇭finished 2nd and Lina Strand 🇸🇪 third. Again technical trouble for @ToveAlexanderss. Results https://t.co/mmifjUijB1 #owcup pic.twitter.com/q508vMPoxi

— WorldofO.com (@worldofo) October 6, 2018
Q: What is the most interesting course you ran (or saw) in your own home country in 2018?
I think I will say the men's course in the Norwegian long distance at Vegårdshei September 13. I believe it was a good long distance course, with some long interesting route choices. The reason why I choose the men and not women course is that they had longer and more interesting route choices that gave bigger time differences.
Q: What is the most interesting routechoice leg you remember from 2018? Did you take the right choice?
The long leg from the Norwegian Ultra distance at Rauland, mainly because it was so long, and the longest I have ever ran. I remember I firstly needed to decide which side of the water I would go for, and thereafter divide the leg up into two/three parts. I chose to run an alternative to the right. For the men it was fastest to run right, but the fastest women went left. Often the most important thing is to execute the choice you took well, which I did not manage…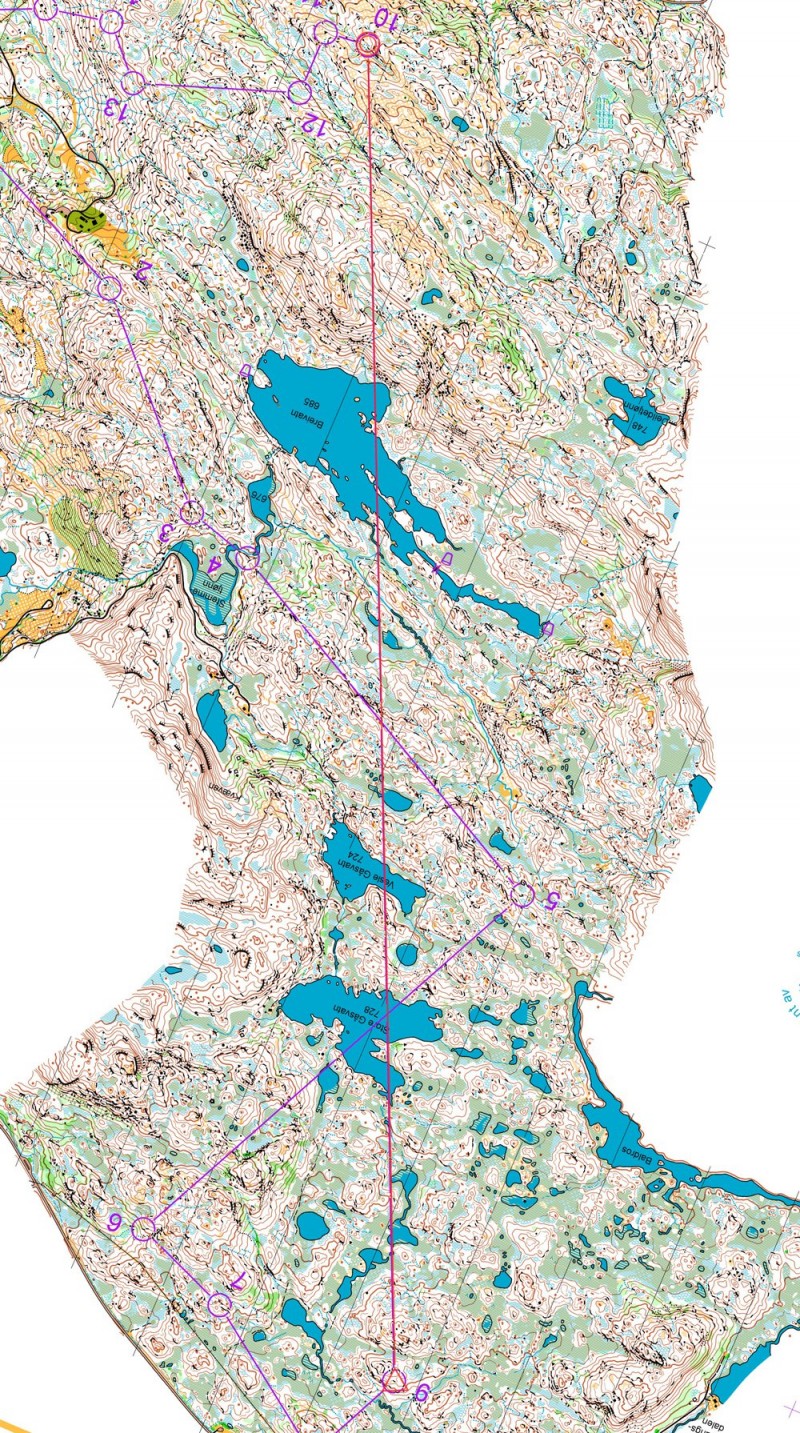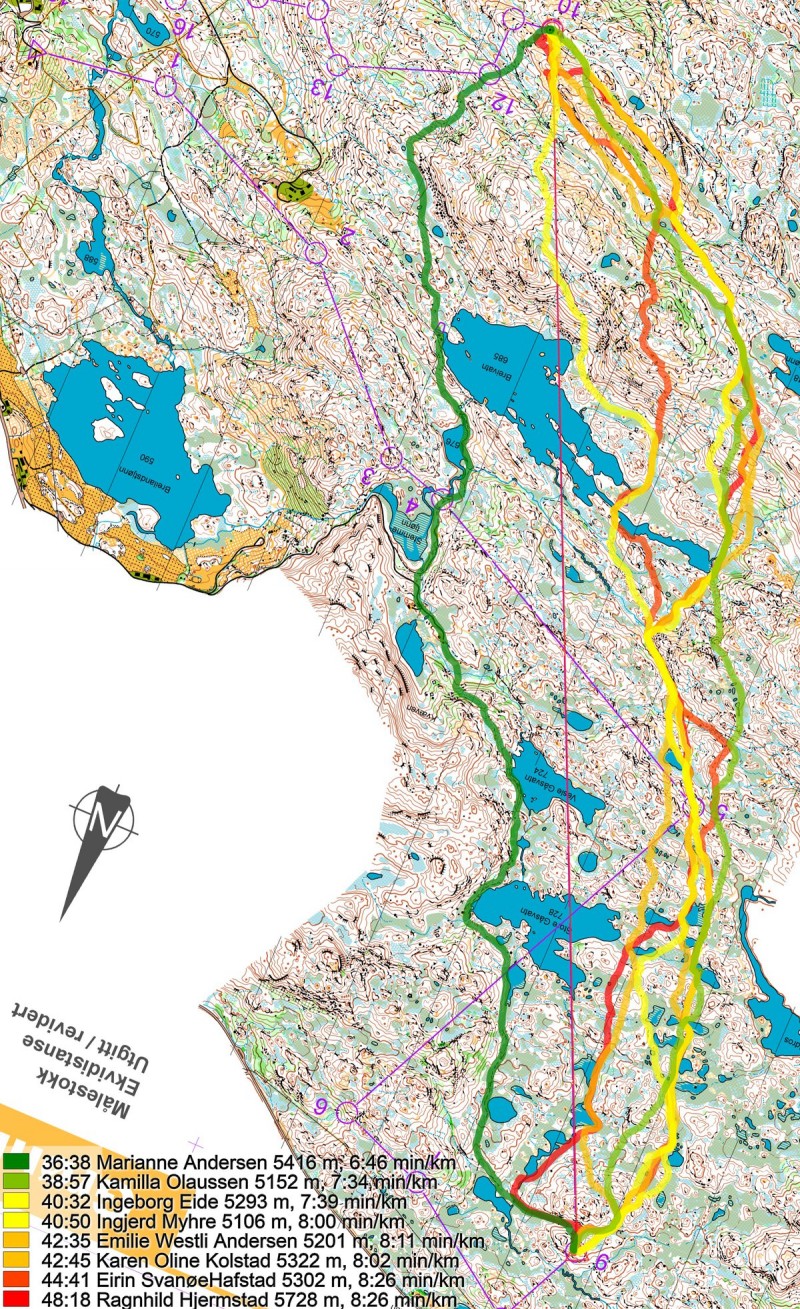 Q: Did you set any courses in 2018? If so, is it possible to share the best (in your opinion) with World of O's readers?   
I barely run any orienteering sessions during this year, because of a surgery. The few I ran where competitions or mainly some trainings in Latvia with the Norwegian national team. I did, however, prepare for WOC together with Gaute, and we made some specific trainings for that together at home in Fredrikstad. The plan behind the course was to train for both the physical and the technical challenge we thought we would meet at WOC in Latvia. Therefore we made a interval session with some running on paths and then straight into steep uphill/downhill with orienteering, or the opposite.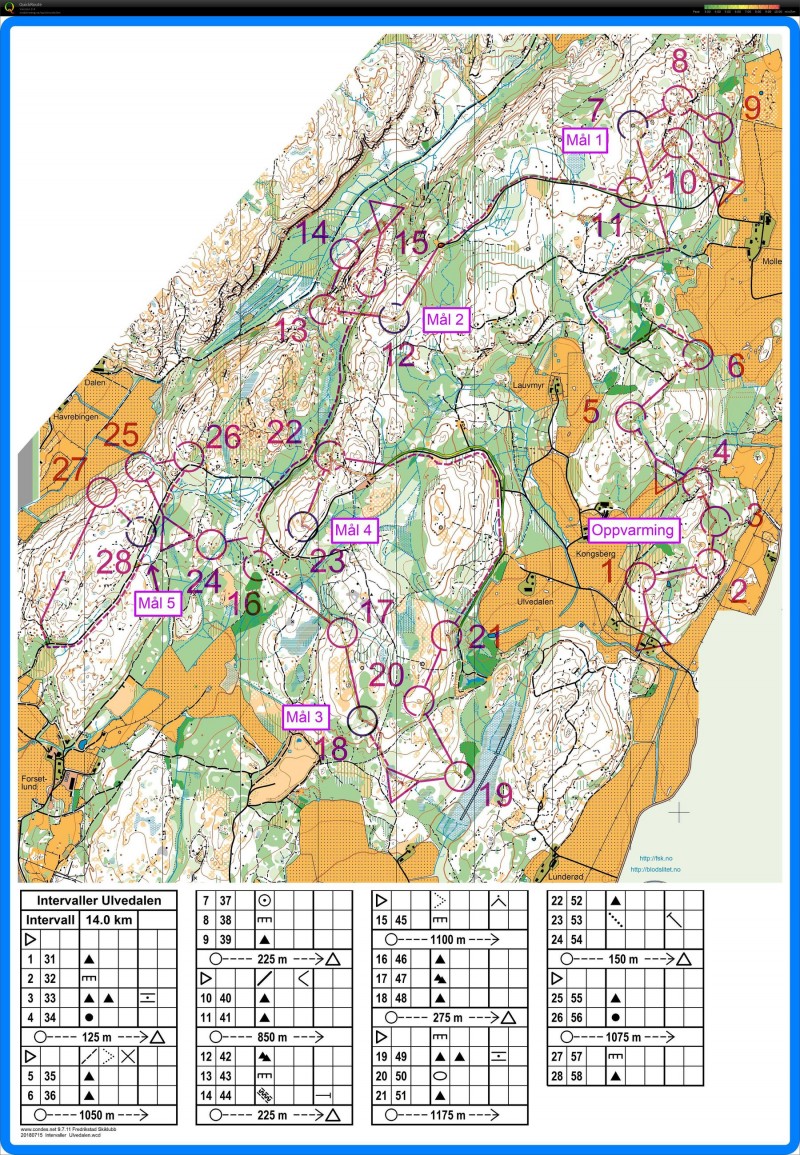 Q: What is the race you look most forward to in 2019?
Is it for sure the WOC long distance!
Q: What are your goals for next year – and do you plan to change your training and/or focus in order to reach your goals in 2019?
The personal development goal is to be better and more stable technically. Because of the surgery in the winter, I was not able to run at all until late March 2018. The focus will therefore be orienteering in high speed and to execute longer legs well. I will do a lot of the same physical training (I do a lot of alternative training), but I am aiming to run on all the hard sessions, and 3-4 sessions with orienteering per week.
Q: Thanks a lot for the interview – and good luck in the coming season!
Prizes from our Sponsors
Prizes from our Sponsors always makes it more fun! There will be a prize for the first one suggesting the course which ends up becoming "The course of the Year 2018″, and prizes drawn among the ones suggesting and voting. All prizes are transferable to other persons (you don't have to travel yourself).
Event sponsor: WMOC 2019 Public Race. July 4th – 12th (Latvia)
Prize offered: Competition + accommodation package for 2 persons including: 5 races (two sprints in Riga, 3 forest races),  accommodation 8 nights with breakfast in twin/double room, 4-12 July 2019 . Total prize value: EUR 820.
Watch the world's best master runners in action and find out how good you are in the same terrains! Be equally prepared for a maze of narrow streets in Riga and a fast run in a perfect dune forest. Watch out – it may be 8 nights! And, certainly, enjoy the sun and beach immediately after your run! Read more: www.wmoc.2019.lv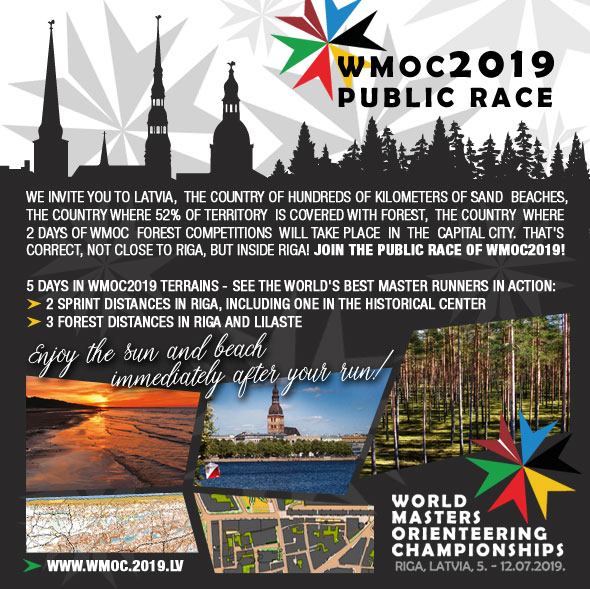 Event sponsor: 52nd Kainuu Orienteering Week (KOW)

, June 30th – July 5th 2019 (Finland)
Prize offered: 4 packages, each consisting of 2 free participations for the whole week in any class (competition classes or open courses) at Kainuu Orienteering Week 2019. Total value up to 800 EUR. Transferable to other persons.
Open and International Orienteering Week in Finland, Sotkamo, Tipasoja (WOC2013 terrain)
More information: Kainuu Orienteering Week is the Finlands's biggest orienteering week and the world´s second oldest orienteering week, as it has been held annually since the year 1966. Kainuu O-Week is held in the Kainuu region of Finland and traditionally the event is held in the beginning of July the week 27. In 2019 Kainuu Orienteering Week will go back to perfect pine forrest and moor terrains of the WOC2013 events. Come to enjoy the orienteering and holiday week for the whole family in the great sceneries and terrains and pure and beautiful nature of Kainuu region in Finland. First entry period will be closed on 30th of november 2018. For more information see www.rastiviikko.fi.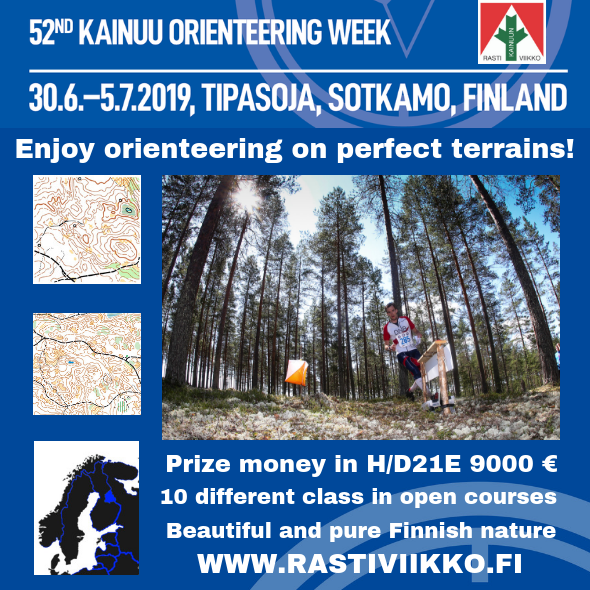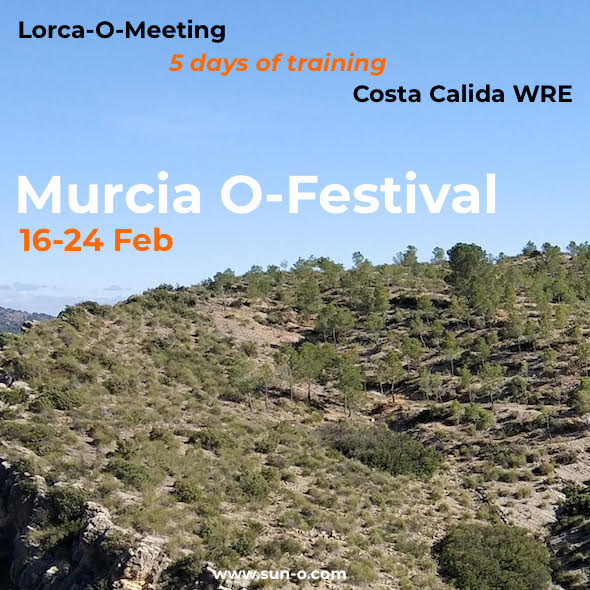 Event sponsor: MOC 2019 – March 15th – 17th 2019 (Malta)
Prize offered: Competition and hotel package for two persons: Entry for two  person at the 15th anniversary of MOC Mediterranean Orienteering Championship in Malta, including 3 nights accommodation half board. Value about 650 EUR. Transferrable to other persons.
You are welcome to MOC 2019! The 15th anniversary Mediterranean Open Championship Orienteering 2019 is organized on March 15th – March 17th. Great events with World class runners with 3.000 euro of prize money! Follow the sub! Read more at the competition web-page and on www.orienteering.it and www.facebook.com/pwtorienteering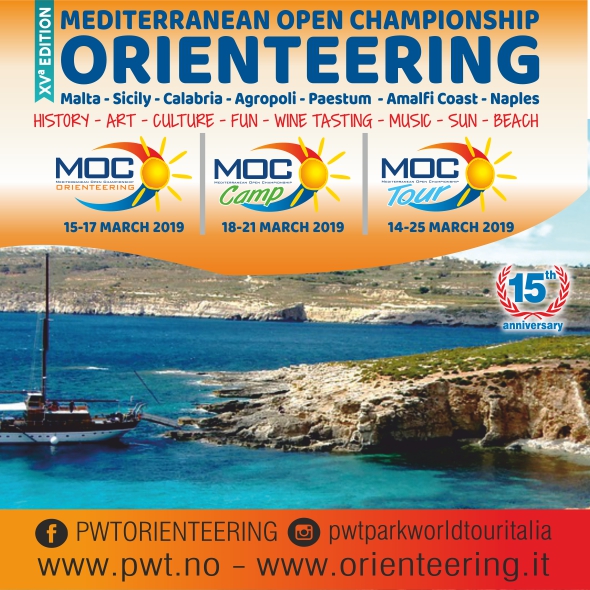 Event sponsor: Durmitor Orienteering Challenge 2019. August 27th – 31st 2019 (Montenegro)
Prize offered: 2 packages – each for 2 people– consisting of: Entry to complete 5 Day Durmitor Orienteering Challenge, + 2 x 2 special T shirts "My life, my sport-Orienteering" product of Oland. Total value about 620 EUR. Transferable to other persons.
At the end of summer 2019, after WOC in Norway, you can visit the exceptionally nice and beautiful 5 Days of orienteering in the Montenegro mountain pearl Durmitor. For most orienteers this is a new area, offering much more than orienteering. Also excellent conditions for club trainings with new maps and terrains at 1500 meters altitude. More infomation: Dochallenge.me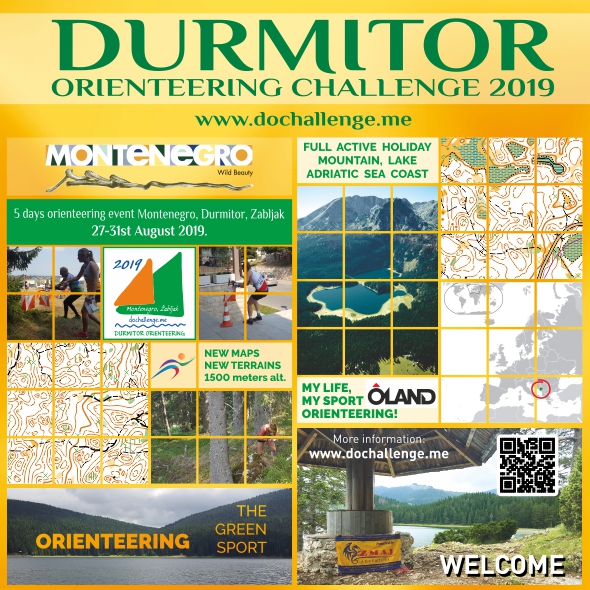 Event sponsor: 5th Antalya Orienteering Festival 2018 – October 27th– November 3rd
Prize offered: One Big Antalya O-Meeting package consisting of 1 complete Antalya Orienteering Festival package: Accommodation + Entry for all 6 races for one person. Value about 540 Euro. Transferable to other person.
Antalya Orienteering Festival will be held for the 3rd time in Side by the Mediterranean coast of Antalya, Turkey. We provide 6 different terrains and challenging courses, good maps and good weather for orienteering holiday. See more at www.antalyaofest.com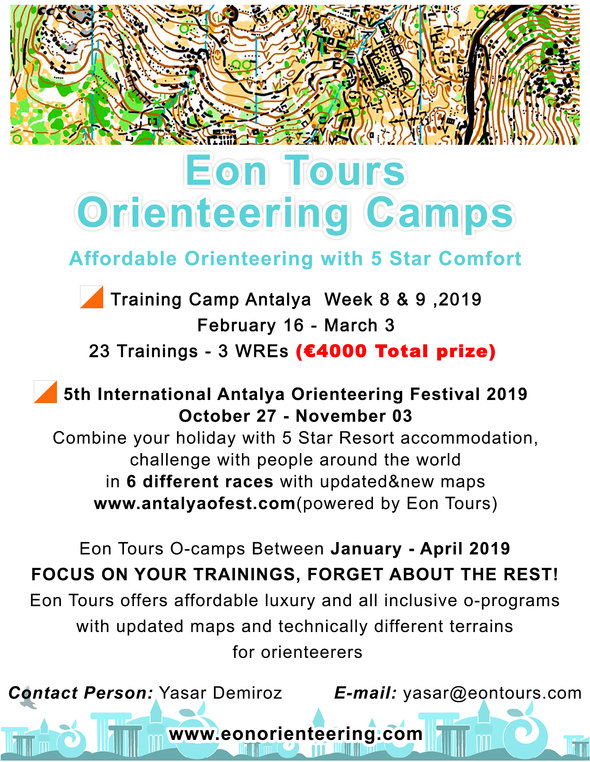 Event sponsor: Sprint Scotland, June 20th-23rd 2019 (Scotland)
Prizes offered – 2 complete packages for 2 people each – All training / races + event t-shirt. Total value around 400 EUR. Transferable to other persons.

Sprint Scotland will again host 

4 days of high quality sprint orienteering in the Stirling/Edinburgh area

. 2 training days with warm-up sprint races, followed by a weekend with 3 sprint/urban races (WREs), as well as 

three talks about sprint orienteering

. Short travel from Edinburgh and Glasgow. More information here: 

http://sprintscotland.co.uk

Software sponsor: OCAD Orienteering 3-year license
Prize offered: One 3-year licence for the software "OCAD Orienteering″.  Value about 350 EUR. Transferable to other person (before activation).
More information: OCAD 2018 Orienteering – Perfect to Produce Orienteering Maps. This edition is dedicated for orienteering map making with a step-by-step wizard for analyzing of LiDAR data, mobile geodata capturing, smart editing and drawing tools, generalization tools, desktop publishing, course setting and much more. Read more at ocad.com.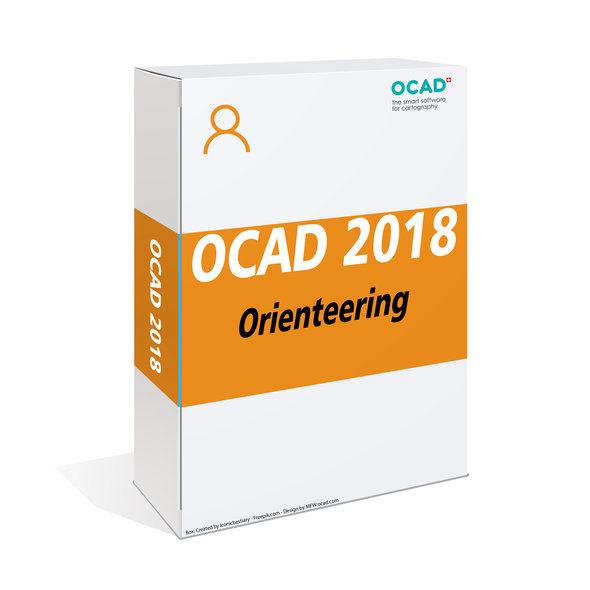 Event sponsor: OOCup 2019 – July 24th – 28th (Slovenia)
Prize offered: 2 packages – each for 2 people – consisting of: Entry for the complete 5 days OOCup competition plus OOCup 2019 T-shirt for each competitor. Total value around 325 EUR. Transferable to other persons.
In 2019 OOcup goes back to where it all started back in 2002. Stunning orienteering areas around Soriška planina will deliver memorable orienteering challenge for everyone. Even though Soriška planina is well known among orienteers, we've mapped a lot of new exciting areas, so there will be plenty of unseen for all participants.  Gorenjska region with Lakes Bohinj and Bled and Triglav national part is considered as the most beautiful part of Slovenia by many. More at oocup.com.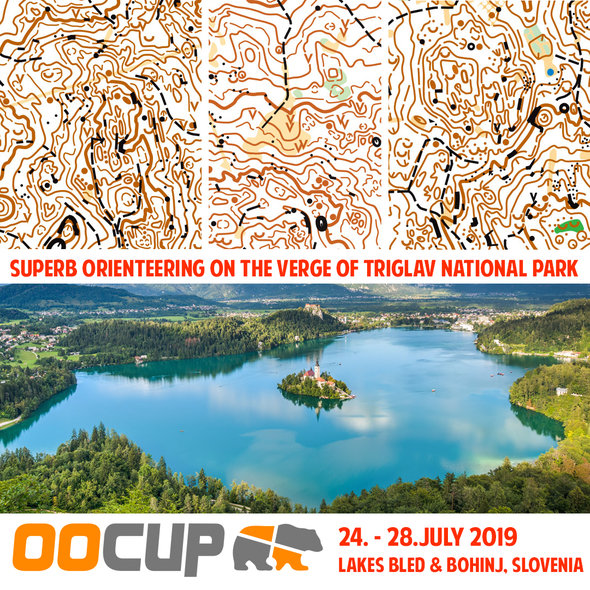 Event sponsor: 22. International Thuringian 24-Hour relay. May 31st – June 2nd 2019 (Germany)
Prize offered: Two packages, each package consists of one 6-person team for the 24-Hour-Orienteering Relay (min age 15) and one 4-person team for the youth relay. Included in the 24-Hour Relay is also opening party, parking, camping and open-air swimming pool.  Total value about 300 EUR. Transferable to other persons.
Description. Be part of the world's longest orienteering relay starting on Saturday June 1st 2019 at 9:00 AM and finishing on Sunday 2nd of June 2019 at 9:00 AM. The competition takes place in a typical German low mountain range in the middle of beautiful nature. More information here: https://www.24h-ol.de/en/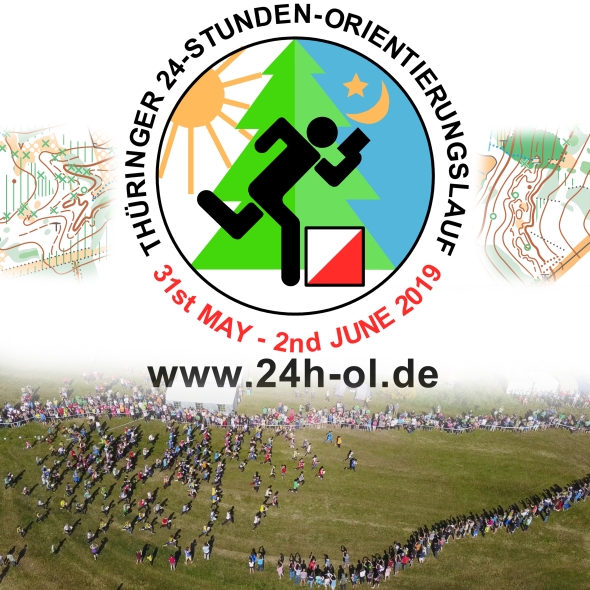 Event sponsor: VARIANT 5 DAYS – August 13th – 17th 2019 (Bulgaria)
Prize offered: Package for two persons consisting of entry fee and accommodation for Variant 5 Days 2019 – 5 days of orienteering in Stara planina mountains, Kalofer, Bulgaria. Value about 270 EUR. Transferrable to other person.
Enjoy an unforgettable orienteering holiday in the beautiful nature of Bulgaria.Five races in mountain terrain including a chasing start. Variant 5 Days is an affordable way to experience and explore the Stara Planina mountain region near Kalofer, just below the highest peak of the mountain – Botev, 2376m asl. Besides the great terrains there are many sightseeing options around including mineral pools, which makes it a perfect place to visit during the summer of 2019. Plan a trip to Bulgaria now and you will have a splendid vacation in August. Find out more at http://5days.variant5.org or email us at teamcontact@variant5.org. Visit also our facebook page at: com/variant5cup.
Event sponsor: Kapa 2019 – June 28th – 30th (Latvia)
Prize offered: Two family entry packages to Kapa 3days, where each package includes entry for two adults and one child, space for a tent at the event camping and a car parking voucher. Total value around 250 EUR. Transferable to other person.
More information: Kapa 3-days is the largest orienteering event in Baltics with 2000 participants from around 20 countries. It is a nice, long o-weekend for families – from Friday to Sunday. The best new maps and terrains are available, kindergarten at the event centre, fantastic prizes and great atmosphere, including live music in the evening. Just come with your family and relive WOC 2018 as the course planners are the same! This year's event page: 2019.kapa.lv. Facebook page: facebook.com/Kapa3days, Facebook event page: https://www.facebook.com/events/912631195590739/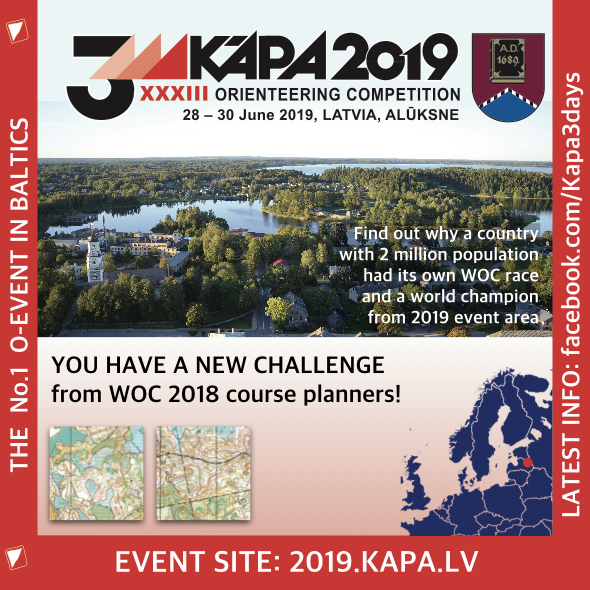 Event sponsor: Orienteering Adventure 2019. August 7th – 11th (Czech Republic)
Prize offered: Entry fee for two persons with accommodation in hotel Lenka in the event centre during the competitions (6th -11th of August). Value: 250 EUR, transferable to other persons. Note that the package is available only until the first entry deadline (April 30th 2019).
 Orienteering Adventure take place in the biggest mountains in Czech – The Giant Mountains. It is a national park nicknamed as "Tundra in the heart of Europe". You can expect clean mountain forest with poor path network, stone fields, a few rocks, one stage in poor visibility area, sprint in a mountain village, beer relay and even more. Read more here: http://www.o-adventure.cz (In English from early December)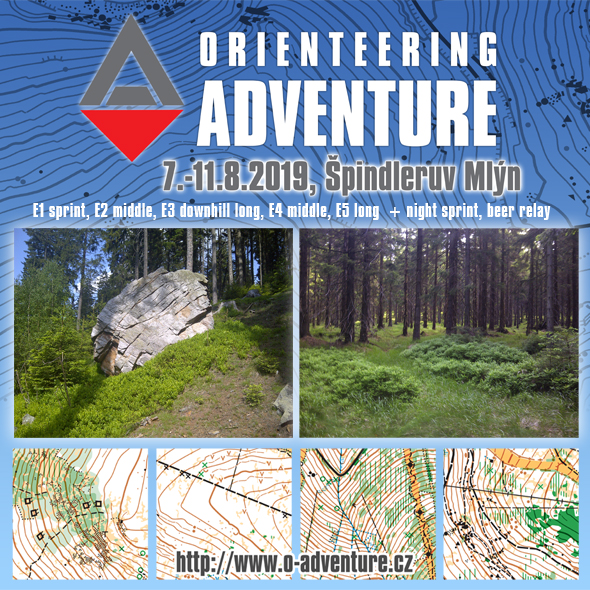 Event sponsor: Easter4 2019 – April 19th – 22th (Slovenia)
Prize offered: One package for 2 people – consisting of: Entry for the Easter4 competition in the beautiful Izola & Kras regions, Slovenia + accommodation in pension (B&B). Value about 250 EUR. Transferable to other persons.
After the 2018 edition on Cres island, in 2019 we go back to Slovenia. The race will be organized by the same team and quality standard as you might be used to from Lipica open, OOcup and Bubo cup. Excellent mixture of tough karst terrain and one Sprint stage, partly on newly mapped areas. Did you know that Swiss star Simona Aebersold took part in all 3 editions so far? More at easter4.com.