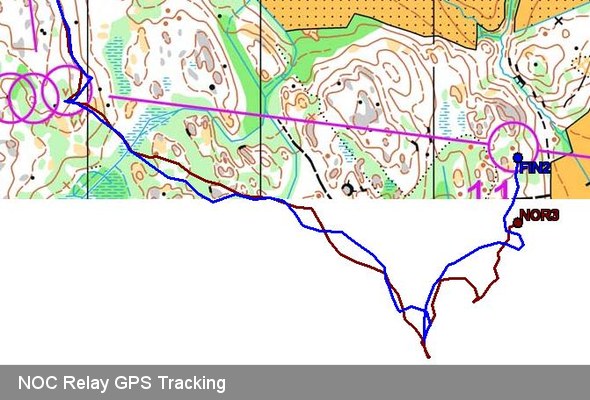 Following up the post on the mistakes from the NOC Long distance, we could not just ignore this huge mistake from the last leg in todays NOC Relay. Norway 3 and Finland 2 completely lost control on the way to the second last control – getting far off to the south (see above).
This years NOC Relay had short technical legs with a lot of gaffling, and the technical orienteering became very important. It you have not taken a look at the Tracking from the NOC Relay yet, I'd advice you to do so. In addition to the mistake above, you can see a lot of top-class orienteering – and also see how the top-orienteers make mistakes under pressure when pushing each other to high speed.
Using the links below, you can replay the complete last leg from start until finish, and get a feeling for the excitement in the relay:
Results Men
1 Sweden 1 SWE 1.31.21
2 Switzerland 1 SUI 1.32.45
3 Finland 1 FIN 1.32.56
4 France 1 FRA 1.34.36
5 Sweden 2 SWE 1.35.45
6 Czech Republic 1 CZE 1.35.56
Results Women
1 Sweden 1 SWE 1.31.39
2 Finland 1 FIN 1.33.03
3 Norway 1 NOR 1.33.13
4 Finland 2 FIN 1.36.26
5 Switzerland 1 SUI 1.36.40
6 Finland 3 FIN 1.39.45
Below you see all GPS Tracks from the mens last leg.