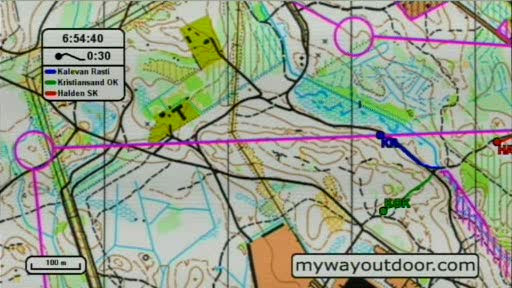 This route choice to the third last control – and Hubmanns higher speed – decided the Jukola relay after a long night of running and orienteering. What looked like an easy victory for Halden after Anders Nordbergs fantastic 3rd leg, turned into a thriller on the last leg with Thierry Gueorgiou (Kalevan Rasti), Daniel Hubmann (Kristiansand OK) and Emil Wingstedt (Halden SK) running head to head for the Jukola victory.
1. Kristiansand OK NOR 8:02:43
2. Kalevan Rasti FIN +0.23
3. Halden SK NOR +3:04
The ones keeping awake through all the night – following the WoO/UO LiveBlog – got a fantastic experience. We followed the excitement in the forest north of Mikkeli step by step – below you get some excerpts from the last leg. All images are screenshots from the Jukola web-TV service.
Daniel Hubmann – Kristiansand OK (winner)

– I felt really strong, and also in the forest I made no mistake. I had one difficult situation where I lost contact with Thierry, but then I got contact with him again.
– I knew that the last foour controls were more or less running, so I was looking forward to this. I had a good feeling.
Thierry Gueorgiou – Kalevan Rasti
– I had a good chance in the middle of the race, but then I did a big mistake. The last kilometers I was already quite a lot behind, and I had already lost.
– I felt quite well during the race, but I couldn't use the course to get away from Daniel because we had the same forking. Thus Daniel took the victory in the end.
The decisive moments of the last leg
From the start, Halden with Emil Wingstedt had a lead of more than 3 minutes. KOK (Daniel Hubmann) and Kalevan Rasti (Thierry Gueorgiou) crept closer meter by meter already from the start due to higher running speed. If all would run without mistakes – it looked like Emil would just manage to take the win.

Some tricky controls with forking – but Wingstedt keeps his head cool and the lead.

Then a small mistake from Wingstedt – and the lead goes down to two minutes.

Then a big mistake by Halden – the lead going down to one minute

Hubmann and Gueorgiou continue running with a slightly higher speed than Wingstedt – waiting for another mistake. Now down to less than a minute.


Then a long leg for which Wingstedt chooses to go left along roads – whereas Hubmann and Gueorgiou go direct. This proved to be a decisive moment ….

Suddenly they were all three together. And then Hubmann made a small mistake, and Gueorgiou was alone in the lead.

Gueorgiou kept the lead for one control only. I know a man who won't forget the 21st control in the 2009 Jukola for a year – at least…

They continue together all three, but Wingstedt can't keep up the speed. Soon they are only two together – and based on Gueorgiou's comments after the race, he was not on top of the situation. He takes another route than Hubmann to the third last control – looses 13 second – an Hubmann never gives those seconds back….

Below you can relive all of the excitement – all the way from the start of the Venla relay – until the end of the Jukola relay early this morning. Enjoy! And join us here at World of O for the next LiveBlog from a big orienteering event – you won't regret it!
Some statistics:
A total of 3025 unique readers pressed "watch now" during the LiveBlog
786 writers comments were published – 16 Twitter comments were published (provided by Kristiansand OK with runners comments right after the race)
168 images shown. 30 polls shown. 1 video played.