Today's leg in Route to Christmas is the longest so far. Yet again we visit Switzerland – the Swiss are among the very best both at using Routegadget and at sending suggestions about legs for Route to Christmas. It seems like it is no coincidence that Switzerland is the world's best orienteering nation these days. Today's route was provided by Andreas Kyburz.
– My club organized the TOM (Swiss Team Orienteering Championships) this November. There are 3 runners with only one SI card and you don't have to run together). I was course setter and tried to create some routechoices, Kyburz wrote in his email – accompanied by a really long leg including some analysis about route lengths and ascent for the possible routechoices.
– Although it was a team competition, all runners said that they were running the hole leg alone. That means they did not change the SI card, Kyburz explained.
Thus the leg can be treated as any normal orienteering leg. The leg is as usually first provided without routes – you may take a look at it and think about how you would attack this leg (if the image is too small, you may click on it to get it larger):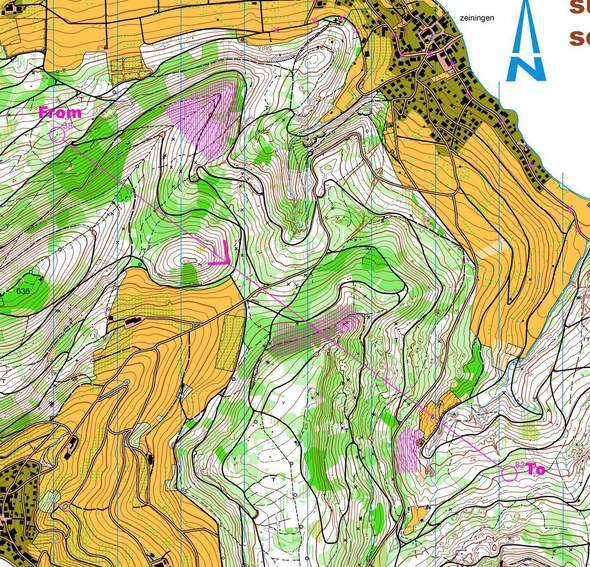 Webroute
Next you can draw your own route using the 'Webroute' below. Think through how you would attack this leg, and draw the route you would have made. Some comments about why you would choose a certain route are always nice for the other readers.
Then you can take a look at how the top runners solved this leg. Thanks to Kyburz for providing a map with routes and times of all the top runners.
– I was indeed also a bit surprised about the small time differences, Kyburz comments. – I think, that the runners had quite the same speed and the runners who were a bit "slower" (than the best) took good routechoices (e.g. Martin Hubmann and Florian Howald).
What do you think? You may also take a look at the route lengths below the routes of the top runners. Results are available here.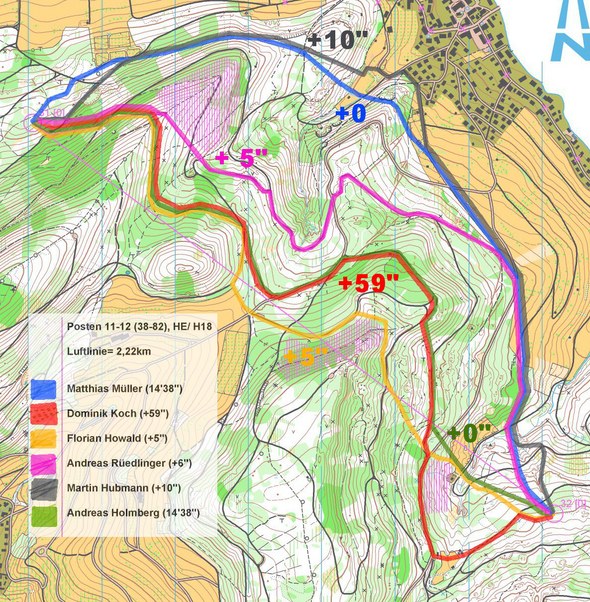 Finally, the course planner has provided us with some data about the length of each route – along with the ascent: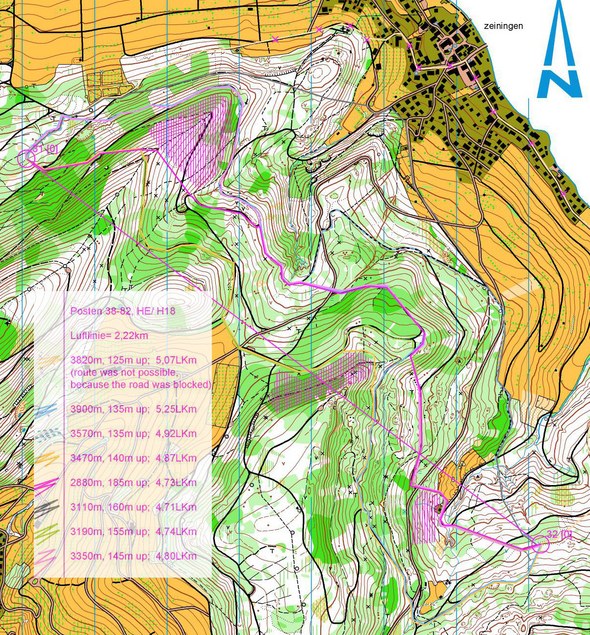 A density map will be updated here when enough people have drawn their choice: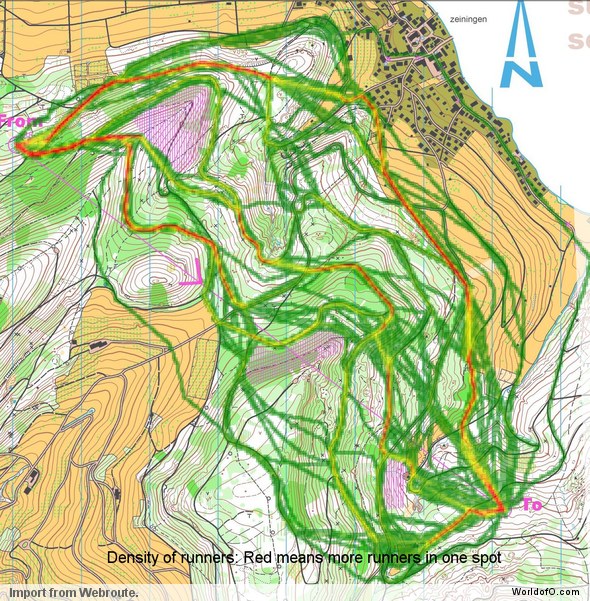 Complete map in Omaps.worldofo.com
You find the complete map from Martin Hubmann's team at omaps.worldofo.com at this location.
"Fantasy World Cup" for Cross Country Skiing: La Clusaz Mass-start
Now for something completely different! World of O's sister-site for cross country skiing, World of XC, is testing a Fantasy World Cup type competition where you are to try to predict the "Top 5″ in both the women's and men's class in the coming Cross Country Skiing World Cup race. You are invited to beta-test the WhoWins by dragging athletes from athlete-list on the left to your Top 5 list on the right below. This type of technical solution and scoring system is planned to be the basis for the Fantasy World Cup in Orienteering next year (more about the scoring system at the bottom of this page).
Race preview
The first mass-start event of the year – and the stage should normally be set for Petter Northug. Is his shape good enough in order to take the victory? To Norwegian journalists he said that he is not in top shape, but he does not have to be in top shape to win. A fight between Northug and Hellner is expected – but the Russians have been very strong lately, and Dario Cologna also wants to mix in ahead of Tour de Ski. And what about Markus Hellner and Lukas Bauer?
In the womens class, Bjørgen must be counted as the big favorite – probably the biggest favorite so far this year! She is skipping Tour de Ski, and wants to get her 42nd World Cup victory in this mass-start event (or 44th, depending on how you are counting). Other favorites among the women are Kowalczyk, Kalla and Follies. Saarinen might also mix in?
Some information about the race:
Start times: 13:15 CET for the women and 15:15 CET for the men
The course is not the greatest due to the snow conditions: It looks like each loop will be only 2.5 kilometers which the men will go 12(!) times – the women 6.


The German team is very thin: Axel Teichmann, Jens Filbrich, Franz Göring, Tom Reichel, Tobias Angerer, Evi Sachenbacher, Denise Herrmann and Nicole Fessel are all out on Saturday.
Kristin Størmer Steira is back after her injuries – can she fight for a place in the Top 5 again?
Petter Northug is back, but is said to have problems with the technique (Norwegian text)
Vincent Vittoz is still out with injury – very disappointed to not be able to race on homeground.
Astrid Jacobsen won her first World Cup victory on this distance (Norwegian text) – can she mix in on the Top 5? From her blog: – I did not really have a good day, but I managed to hang on to the tail of the field, and…