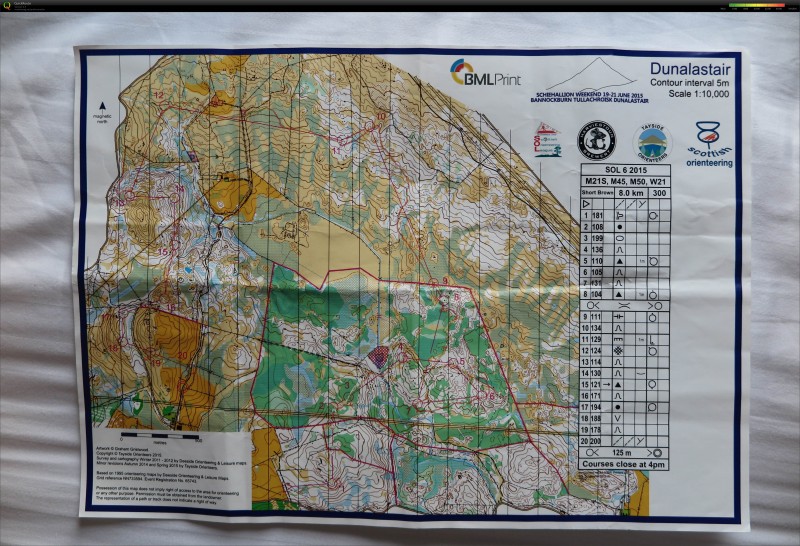 Graham Gristwood won his second straight victory in a tough long distance Sunday in Scotland in 92 minutes – Jessica Tullie won the women's race in 97(!) minutes. 
Whereas the middle and sprint races this weekend were counting for the World Ranking, the long distance was not, and therefore the start field was a bit thinner on Sunday's long. Still there were several good performances – especially in the men's class.
Update: See interesting comment from course setter about why the women's course was way too long here.
Note! The men's and women's elite courses were found at the time of writing – please add a comment below if you find the map and course online. The course above is for M45, but it gives you an indication of the terrain. Based on reports from the race, this terrain was probably tougher with respect to runnability than what the runners will meet at the WOC long distance.
Men's race
Graham Gristwood (FVO) won 2:12 minutes ahead of Hector Haines (INT) with Douglas Tullie (RR) in 3rd at 4:32. Graham Gristwood won 13 of 31 legs.
Bartosz Pawlak took the lead at the first control. The race lead then changed between Duncan Coombs (leading at the 2nd control, losing 1:43 at the 3rd control and falling down to 9th place), Timo Sild (leading from the 3rd to 4th control, losing 1:22 at the 5th control and falling down to 7th place), Edgars Bertuks (leading at the 5th control, losing 26 seconds and the lead at the 6th) and Douglas Tullie (leading at the 6th control) until Graham Gristwood took over the lead at control 7 of 31 controls and kept it until the finish.
Edgars Bertuks lost 4:25 to fastest split on the leg to control 10.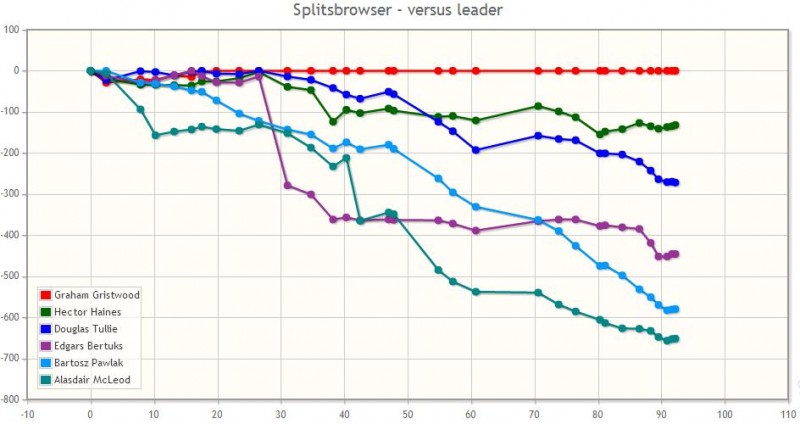 Women's race
Jessica Tullie (BASOC) won 2:50 minutes ahead of Fanni Gyurko (FVO) with Laura Robertson (Bendigo) in 3rd at 8:08. Fanni Gyurko took the lead at the first control and stayed in front until control 3 where she lost 33 seconds. Then the race lead changed between Laura Robertson (leading at the 4th control, losing 54 seconds at the 5th control and falling down to 4th place) before Jessica Tullie took over the lead at control 5 of 26 controls and kept it until the finish.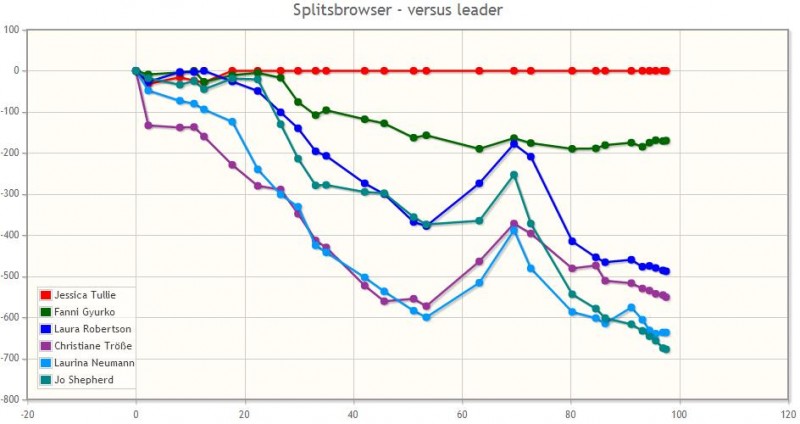 Results
Men
| | | | | |
| --- | --- | --- | --- | --- |
| 1. | Graham Gristwood | FVO | 92:13 | (+0:00) |
| 2. | Hector Haines | INT | 94:25 | (+2:12) |
| 3. | Douglas Tullie | RR | 96:45 | (+4:32) |
| 4. | Edgars Bertuks | TuMe | 99:39 | (+7:26) |
| 5. | Bartosz Pawlak | Poland | 101:53 | (+9:40) |
| 6. | Alasdair McLeod | CLYDE | 103:05 | (+10:52) |
| 7. | Bjarne Friedrichs | GER | 106:21 | (+14:08) |
| 8. | James Tullie | BASOC | 106:50 | (+14:37) |
| 9. | Duncan Coombs | AROS | 107:33 | (+15:20) |
| 10. | Bryan Keely | AUSTRIALIA | 111:08 | (+18:55) |
| 11. | Michal Olejnik | Poland | 111:50 | (+19:37) |
| 12. | Mark Nixon | FVO | 113:14 | (+21:01) |
| 13. | Philipp Müller | GER | 113:31 | (+21:18) |
| 14. | Richard Robinson | NOC | 114:34 | (+22:21) |
| 15. | Nick Barrable | SYO | 115:08 | (+22:55) |
Women
| | | | | |
| --- | --- | --- | --- | --- |
| 1. | Jessica Tullie | BASOC | 97:33 | (+0:00) |
| 2. | Fanni Gyurko | FVO | 100:23 | (+2:50) |
| 3. | Laura Robertson | Bendigo | 105:41 | (+8:08) |
| 4. | Christiane Tröße | GER | 106:44 | (+9:11) |
| 5. | Laurina Neumann | BENDIGO | 108:10 | (+10:37) |
| 6. | Jo Shepherd | Halden SK | 108:51 | (+11:18) |
| 7. | Paulina Faron | Poland | 109:34 | (+12:01) |
| 8. | Arntraut Götsch | GER | 112:25 | (+14:52) |
| 9. | Toni O'Donovan | OD | 117:54 | (+20:21) |
| 10. | Anne Kunzendorf | GER | 118:56 | (+21:23) |
| 11. | Rebecca Harding | ESOC | 119:01 | (+21:28) |
| 12. | Elo Saue | Estonia | 120:20 | (+22:47) |
| 13. | Kirsty Coombs | MAROC | 123:38 | (+26:05) |
| 14. | Sigrid Ruul | Estonia | 129:12 | (+31:39) |
| 15. | Kirsten Strain | AROS | 131:22 | (+33:49) |
Twitter
Victory in the UK Elite Orienteering League 2015! 2 wins this weekend. Great orienteering @FVOrienteers #scotland pic.twitter.com/HiCSNYtbMc

— Graham Gristwood (@grahamgristwood) June 21, 2015
Yesterday's map pic.twitter.com/FcmLxgFeyJ

— Graham Gristwood (@grahamgristwood) June 22, 2015