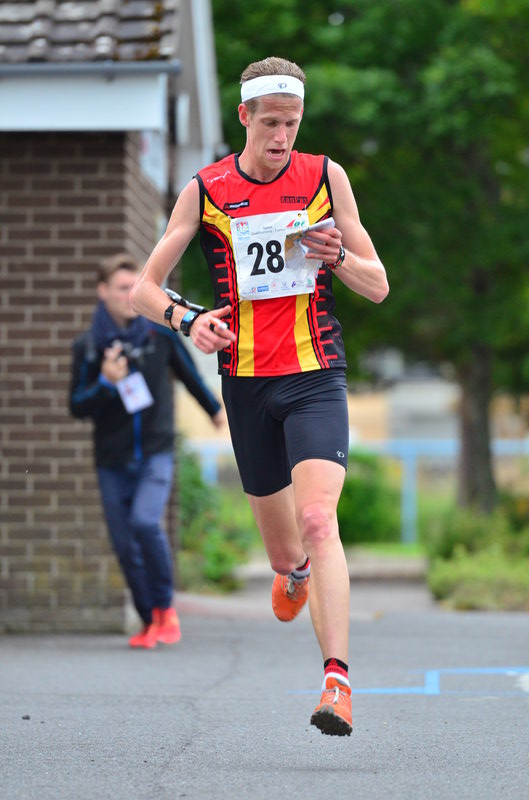 Yannick Michiels (Belgium) impressed with a 17 second win in Men's Heat 1 – Kris Jones (Great Britain), and Jerker Lysell (Sweden)/Mårten Boström (Finland) won the two other heats in the men's class. 
In the women's class Tove Alexandersson (Sweden) showed that her injury does not bother her much – with 23 seconds margin she won a clear victory in her heat. Other heat winners in the women's class were Maja Alm (Denmark) and Minna Kauppi (Finland).
All major favourites qualified for the finals – notably Lena Eliasson (Sweden), Venla Niemi (Finland) and Ida Næss Bjørgul (Norway) missed the cut in the women's class.
The World Championships continues with Sprint relay tomorrow (Saturday) and Sprint final on Sunday.  See all about the program and live services for further races here.
See below for all the 45 men and 45 women going to the final – 15 from each of the three heat for men and women qualified.
Ooops, not too many options left… #woc2015 #sprintQ pic.twitter.com/USb8wh5CSG

— bestik (@bestik_cz) July 31, 2015
Maps and GPS-tracking
Below are maps and GPS-tracking from the sprint qualification. The courses were described as "a lot of running and quite easy technically" – still many of the athletes stopped and were uncertain at the start of the long leg. World of O will come back with a look at the courses and route choices when the split times are ready later tonight/tomorrow morning.
Results
Men Heat 1
| | | | | | | | |
| --- | --- | --- | --- | --- | --- | --- | --- |
| 1 | Yannick Michiels | Belgium | 19:27:00 | 05:11 (2) | 11:10 (1) | 11:48 (1) | +00:00 |
| 2 | Andreas Kyburz | Switzerland | 19:09:00 | 05:18 (4) | 11:24 (2) | 12:05 (2) | +00:17 |
| 3 | Jonas Vytautas Gvildys | Lithuania | 19:38:00 | 05:15 (3) | 11:32 (6) | 12:11 (3) | +00:23 |
| 4 | Jonas Leandersson | Sweden | 19:34:00 | 05:10 (1) | 11:31 (4) | 12:13 (4) | +00:25 |
| = | Tue Lassen | Denmark | 19:12:00 | 05:30 (10) | 11:30 (3) | 12:13 (=) | +00:25 |
| 6 | Andreu Blanes | Spain | 19:22:00 | 05:26 (7) | 11:31 (4) | 12:14 (6) | +00:26 |
| 7 | Scott Fraser | Great Britain | 19:35:00 | 05:21 (6) | 11:39 (7) | 12:20 (7) | +00:32 |
| = | Lucas Basset | France | 19:25:00 | 05:26 (7) | 11:39 (7) | 12:20 (=) | +00:32 |
| 9 | Andreas Hougaard Boesen | Denmark | 19:39:00 | 05:19 (5) | 11:43 (9) | 12:28 (9) | +00:40 |
| 10 | Nicolas Simonin | Ireland | 19:30:00 | 05:32 (12) | 11:47 (10) | 12:31 (10) | +00:43 |
| 11 | Milos Nykodym | Czech Republic | 19:19:00 | 05:28 (9) | 11:52 (11) | 12:32 (11) | +00:44 |
| 12 | Robert Merl | Austria | 19:31:00 | 05:41 (18) | 11:54 (12) | 12:34 (12) | +00:46 |
| 13 | Riccardo Scalet | Italy | 19:26:00 | 05:49 (20) | 11:58 (14) | 12:39 (13) | +00:51 |
| = | Andris Jubelis | Latvia | 19:37:00 | 05:39 (16) | 11:56 (13) | 12:39 (=) | +00:51 |
| 15 | Hakon Jarvis Westergard | Norway | 19:01:00 | 05:48 (19) | 11:59 (15) | 12:41 (15) | +00:53 |
Men Heat 2
| | | | | | | | |
| --- | --- | --- | --- | --- | --- | --- | --- |
| 1 | Kristian Jones | Great Britain | 19:12:00 | 05:13 (1) | 10:59 (1) | 11:44 (1) | +00:00 |
| 2 | Oystein Kvaal Osterbo | Norway | 19:25:00 | 05:23 (2) | 11:09 (2) | 11:53 (2) | +00:09 |
| 3 | Martin Hubmann | Switzerland | 19:21:00 | 05:23 (2) | 11:13 (3) | 11:57 (3) | +00:13 |
| 4 | Soren Bobach | Denmark | 19:11:00 | 05:24 (4) | 11:13 (3) | 11:59 (4) | +00:15 |
| 5 | Martin Regborn | Sweden | 19:09:00 | 05:28 (5) | 11:13 (3) | 12:01 (5) | +00:17 |
| 6 | Severi Kymalainen | Finland | 19:14:00 | 05:29 (6) | 11:19 (6) | 12:09 (6) | +00:25 |
| 7 | Andrey Khramov | Russian Federation | 19:27:00 | 05:35 (8) | 11:28 (8) | 12:14 (7) | +00:30 |
| = | Piotr Parfianowicz | Poland | 19:17:00 | 05:31 (7) | 11:25 (7) | 12:14 (=) | +00:30 |
| 9 | Vojtech Kral | Czech Republic | 19:29:00 | 05:36 (10) | 11:30 (9) | 12:15 (9) | +00:31 |
| 10 | Frederic Tranchand | France | 19:35:00 | 05:35 (8) | 11:30 (9) | 12:18 (10) | +00:34 |
| 11 | Davis Dislers | Latvia | 19:13:00 | 05:46 (19) | 11:33 (11) | 12:22 (11) | +00:38 |
| 12 | Ivaylo Kamenarov | Bulgaria | 19:22:00 | 05:42 (13) | 11:44 (12) | 12:32 (12) | +00:48 |
| 13 | Giacomo Zagonel | Italy | 19:37:00 | 05:52 (21) | 11:47 (15) | 12:36 (13) | +00:52 |
| = | Kenny Kivikas | Estonia | 19:38:00 | 05:39 (12) | 11:46 (14) | 12:36 (=) | +00:52 |
| 15 | Helmut Gremmel | Austria | 19:01:00 | 05:38 (11) | 11:49 (16) | 12:38 (15) | +00:54 |
Men Heat 3
| | | | | | | | |
| --- | --- | --- | --- | --- | --- | --- | --- |
| 1 | Jerker Lysell | Sweden | 19:18:00 | 05:39 (1) | 11:44 (1) | 12:28 (1) | +00:00 |
| = | Marten B Bostrom | Finland | 19:29:00 | 05:48 (4) | 11:44 (1) | 12:28 (=) | +00:00 |
| 3 | Jan Petrzela | Czech Republic | 19:09:00 | 05:43 (2) | 11:47 (3) | 12:32 (3) | +00:04 |
| 4 | Daniel Hubmann | Switzerland | 19:35:00 | 05:55 (9) | 11:57 (4) | 12:43 (4) | +00:15 |
| 5 | Murray Strain | Great Britain | 19:26:00 | 05:55 (9) | 12:07 (5) | 12:54 (5) | +00:26 |
| 6 | Vincent Coupat | France | 19:01:00 | 05:55 (9) | 12:12 (6) | 12:56 (6) | +00:28 |
| 7 | Tim Robertson | New Zealand | 19:39:00 | 05:54 (8) | 12:13 (7) | 13:01 (7) | +00:33 |
| 8 | Gleb Tikhonov | Russian Federation | 19:12:00 | 05:52 (5) | 12:15 (8) | 13:05 (8) | +00:37 |
| 9 | Kiril Nikolov | Bulgaria | 19:36:00 | 06:01 (14) | 12:19 (9) | 13:06 (9) | +00:38 |
| 10 | Gabor Jozsa | Hungary | 19:07:00 | 05:46 (3) | 12:19 (9) | 13:07 (10) | +00:39 |
| = | Gaute Hallan Steiwer | Norway | 19:34:00 | 05:55 (9) | 12:23 (11) | 13:07 (=) | +00:39 |
| 12 | Vilius Aleliunas | Lithuania | 19:19:00 | 05:57 (13) | 12:25 (12) | 13:13 (12) | +00:45 |
| 13 | Jakob Edsen Ekhard | Denmark | 19:21:00 | 05:53 (7) | 12:28 (13) | 13:15 (13) | +00:47 |
| 14 | Arturs Paulins | Latvia | 19:16:00 | 06:03 (16) | 12:32 (14) | 13:16 (14) | +00:48 |
| 15 | Tomas Hendrickx | Belgium | 19:17:00 | 06:02 (15) | 12:33 (15) | 13:17 (15) | +00:49 |
Women Heat 1
| | | | | | | | |
| --- | --- | --- | --- | --- | --- | --- | --- |
| 1 | Maja Alm | Denmark | 18:13:00 | 05:58 (1) | 11:58 (1) | 12:44 (1) | +00:00 |
| 2 | Judith Wyder | Switzerland | 18:25:00 | 05:59 (2) | 12:07 (2) | 12:58 (2) | +00:14 |
| 3 | Sara Luescher | Switzerland | 18:06:00 | 06:09 (4) | 12:19 (3) | 13:03 (3) | +00:19 |
| 4 | Elise Egseth | Norway | 18:31:00 | 06:08 (3) | 12:24 (4) | 13:17 (4) | +00:33 |
| 5 | Hanny Allston | Australia | 18:28:00 | 06:19 (5) | 12:32 (5) | 13:21 (5) | +00:37 |
| 6 | Alison Crocker | United States | 18:33:00 | 06:21 (6) | 12:53 (6) | 13:40 (6) | +00:56 |
| 7 | Ursula Kadan | Austria | 18:34:00 | 06:33 (12) | 13:02 (7) | 13:48 (7) | +01:04 |
| 8 | Anastasia Rudnaya | Russian Federation | 18:19:00 | 06:23 (7) | 13:03 (8) | 13:52 (8) | +01:08 |
| 9 | Karolin Ohlsson | Sweden | 18:27:00 | 06:25 (8) | 13:05 (9) | 13:53 (9) | +01:09 |
| = | Shuangyan Hao | China | 18:23:00 | 06:27 (9) | 13:06 (10) | 13:53 (=) | +01:09 |
| 11 | Isia Basset | France | 18:20:00 | 06:28 (10) | 13:29 (11) | 14:18 (11) | +01:34 |
| 12 | Ewa Gwozdz | Poland | 18:29:00 | 06:39 (14) | 13:31 (12) | 14:20 (12) | +01:36 |
| 13 | Ruth Holmes | Great Britain | 18:30:00 | 06:29 (11) | 13:38 (13) | 14:27 (13) | +01:43 |
| 14 | Adela Indrakova | Czech Republic | 18:24:00 | 06:46 (16) | 13:40 (16) | 14:28 (14) | +01:44 |
| 15 | Imogene Scott | New Zealand | 18:08:00 | 06:41 (15) | 13:39 (15) | 14:29 (15) | +01:45 |
Women Heat 2
| | | | | | | | |
| --- | --- | --- | --- | --- | --- | --- | --- |
| 1 | Tove Alexandersson | Sweden | 18:10:00 | 06:10 (1) | 12:33 (1) | 13:31 (1) | +00:00 |
| 2 | Cecilie Friberg Klysner | Denmark | 18:24:00 | 06:29 (4) | 13:01 (2) | 13:54 (2) | +00:23 |
| 3 | Galina Vinogradova | Russian Federation | 18:27:00 | 06:29 (4) | 13:01 (2) | 13:55 (3) | +00:24 |
| 4 | Laura Robertson | New Zealand | 18:13:00 | 06:21 (2) | 13:01 (2) | 13:56 (4) | +00:25 |
| 5 | Nadiya Volynska | Ukraine | 18:22:00 | 06:33 (6) | 13:20 (5) | 14:14 (5) | +00:43 |
| 6 | Julia Gross | Switzerland | 18:16:00 | 06:41 (9) | 13:21 (6) | 14:15 (6) | +00:44 |
| 7 | Denisa Kosova | Czech Republic | 18:30:00 | 06:44 (10) | 13:24 (7) | 14:18 (7) | +00:47 |
| 8 | Gabija Razaityte | Lithuania | 18:34:00 | 06:28 (3) | 13:27 (8) | 14:21 (8) | +00:50 |
| 9 | Iwona Wicha | Poland | 18:09:00 | 06:47 (12) | 13:41 (9) | 14:32 (9) | +01:01 |
| 10 | Lia Patscheider | Italy | 18:19:00 | 06:35 (7) | 13:41 (9) | 14:33 (10) | +01:02 |
| 11 | Jenny Patana | Finland | 18:15:00 | 06:47 (12) | 13:47 (11) | 14:42 (11) | +01:11 |
| 12 | Lea Vercellotti | France | 18:28:00 | 06:44 (10) | 13:52 (12) | 14:50 (12) | +01:19 |
| 13 | Alice Leake | Great Britain | 18:03:00 | 06:37 (8) | 13:57 (13) | 14:54 (13) | +01:23 |
| 14 | Anna Nilsson Simkovics | Austria | 18:06:00 | 07:00 (18) | 14:09 (14) | 15:03 (14) | +01:32 |
| 15 | Mariana Moreira | Portugal | 18:32:00 | 06:58 (17) | 14:16 (15) | 15:15 (15) | +01:44 |
Women Heat 3
| | | | | | | | |
| --- | --- | --- | --- | --- | --- | --- | --- |
| 1 | Minna Kauppi | Finland | 18:32:00 | 06:43 (2) | 12:53 (2) | 13:45 (1) | +00:00 |
| 2 | Silje Ekroll Jahren | Norway | 18:20:00 | 06:42 (1) | 12:52 (1) | 13:47 (2) | +00:02 |
| 3 | Charlotte Ward | Great Britain | 18:16:00 | 06:46 (4) | 12:57 (3) | 13:49 (3) | +00:04 |
| 4 | Lizzie Ingham | New Zealand | 18:26:00 | 06:47 (5) | 13:05 (4) | 13:59 (4) | +00:14 |
| 5 | Svetlana Mironova | Russian Federation | 18:12:00 | 06:55 (7) | 13:12 (5) | 14:04 (5) | +00:19 |
| 6 | Rahel Friederich | Switzerland | 18:33:00 | 06:59 (8) | 13:18 (6) | 14:11 (6) | +00:26 |
| 7 | Jana Knapova | Czech Republic | 18:07:00 | 06:44 (3) | 13:25 (7) | 14:24 (7) | +00:39 |
| 8 | Evely Kaasiku | Estonia | 18:27:00 | 06:54 (6) | 13:43 (8) | 14:37 (8) | +00:52 |
| 9 | Fanni Gyurko | Hungary | 18:29:00 | 07:15 (13) | 13:51 (9) | 14:47 (9) | +01:02 |
| 10 | Antoniya Grigorova | Bulgaria | 18:03:00 | 07:14 (12) | 13:54 (10) | 14:49 (10) | +01:04 |
| 11 | Olha Panchenko | Ukraine | 18:31:00 | 07:11 (11) | 13:55 (11) | 14:50 (11) | +01:05 |
| 12 | Lauriane Beauvisage | France | 18:01:00 | 06:59 (8) | 14:06 (12) | 14:58 (12) | +01:13 |
| 13 | Anna Serrallonga Arques | Spain | 18:25:00 | 07:27 (16) | 14:08 (13) | 15:01 (13) | +01:16 |
| 14 | Laura Ramstein | Austria | 18:15:00 | 07:18 (14) | 14:10 (14) | 15:07 (14) | +01:22 |
| 15 | Rachel Effeney | Australia | 18:22:00 | 06:59 (8) | 14:10 (14) | 15:13 (15) | +01:28 |