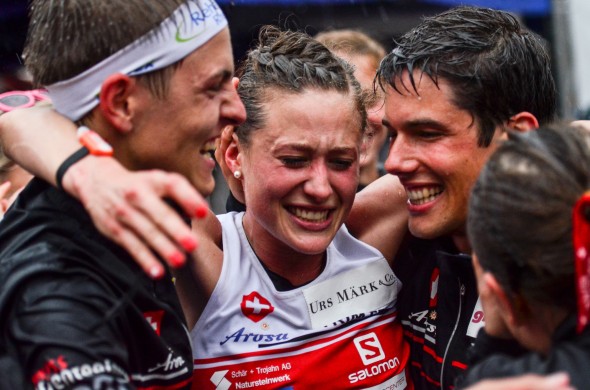 [Live from 19:05 CET] Switzerland and Denmark are the two big favourites in today's Sprint Relay in the World Orienteering Championships in Scotland. Switzerland  won the first ever WOC gold medal in Sprint Relay in Trento, Italy last year after a tight fight with Denmark.
The decision last year happened on the third leg where World Champion sprint from two days earlier Søren Bobach did a 10 second mistake, then had a long forking. With perfect races by Matthias Kyburz and Judith Wyder on the last two legs, it was an "easy job" for Switzerland to take home the first gold medal in Sprint Relay, even though Maja Alm did an excellent leg for Denmark. Russia finished second in Trento, while Sweden with a very unlucky Helena Jansson losing her shoe and running without shoe most of the way finished fourth.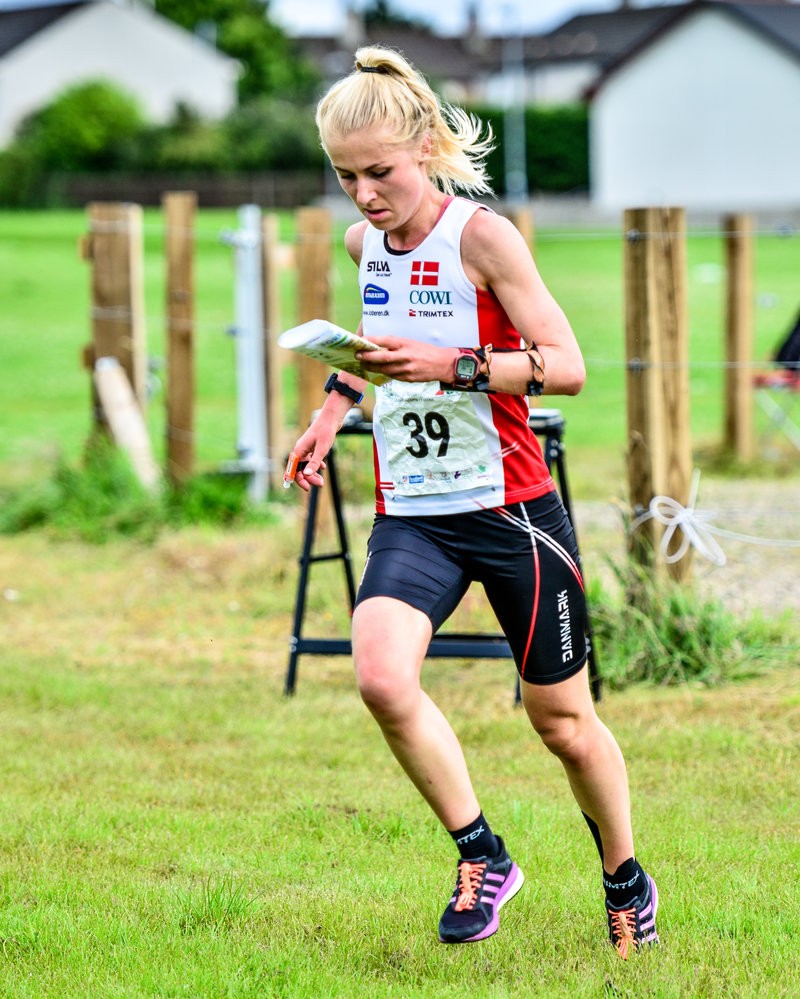 Maja Alm, impressed at the Sprint Qualification Friday
Same team as in 2014
Both Switzerland and Denmark have exactly the same team as last year. Switzerland with Rahel Friederich, Martin Hubmann, Matthias Kyburz and Judith Wyder (why change a winning team?) and Denmark with Emma Klingenberg, Tue Lassen, Søren Bobach and Maja Alm. All 8 runners have shown excellent shape, the only uncertain point is Denmark's Emma Klingenberg who did not run the individual sprint qualification due to an Achilles injury. However, the Danish coach assures that she is in top shape and will do an excellent job at the first leg of the Sprint Relay.
Russia finished third last year, and have nearly the same team as last year. Instead of Rudnaya on the first leg they have Riabkina. The other legs are again ran by Tikhonov, Khramov and Galina Vinogradova. A strong team which will again fight for the medals, but gold is probably too tough if not Denmark and Switzerland both do mistakes.
Sweden: Not topped team
Sweden has not topped its team at this year's Sprint relay. Due to injury Tove Alexandersson skips the Sprint relay to focus on the other races – and instead the team consists of Lilian Forsgren, Jerker Lysell, Jonas Leandersson and Karolin Ohlsson. Still a very strong team, but Alexandersson on the last leg could have meant another 15-20 seconds faster – which may be the difference between gold and another medal.
Outsiders
Great Britain finished 5th last year, and are definitely one of the outsiders for a medal. Still, they have not topped the team, especially on the men's side they miss some of their very best runners like Scott Fraser who focuses on tomorrow's sprint. Finland, Czech Republic, Austria and Norway are other outsiders.
Today's tip
1. Denmark
2. Switzerland
3. Norway*
*This is maybe a tip which looks like it comes a bit out of the blue, but the Norwegian women in the team are very strong, and the women are important in the Sprint relay with first and last legs
Seaside town of Nairn
The Sprint Relay will take place in the attractive seaside town of Nairn on the Moray Firth. Athletes will have to adapt their navigational style to both the complex streets of the old town and areas of parkland and sand dunes.