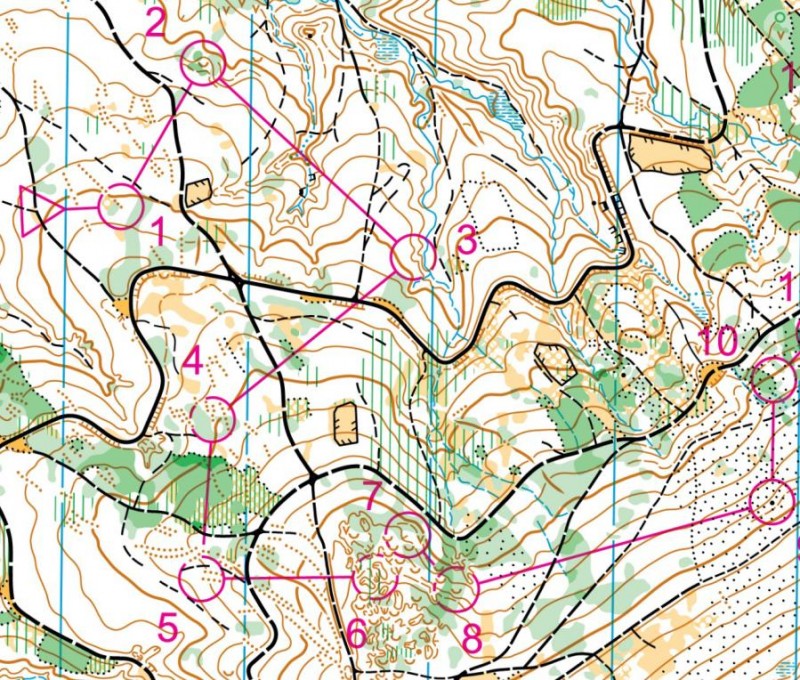 [Results updated – Ridefelt now in third] Helena Jansson (Sweden) and Olav Lundanes (Norway) were strongest when the World Cup started with a middle distance in Poland earlier today. Sweden and Norway had a strong day – taking 5 out of 6 podium places.
Note that the results were updated after the flower ceremony. This article is updated accordingly with official results. Instead of shared second place between Godager Kaas and Ridefelt, Godager Kaas is now in 2nd and Ridefelt in third.
---
Jansson and Alexandersson
Tt was difficult for everybody, and I know that even Tove has made mistakes (Jansson)
In the women's class the fight for victory was very close between Jansson and last year's overall World Cup winner, Swedish Tove Alexandersson. In the end Jansson was one second two seconds faster than Alexandersson – with a gap of nearly one and a half minute down to Svetlana Mironova in third. Finland had a good World Cup start with two runners in the top 5 – Merja Rananen in 4th and Venla Harju in 5th. Last year's sprint World Champion Maja Alm (Denmark) finished 6th.
– It was not a perfect race, and I had a feeling that I made far too many mistakes to win. But it was difficult for everybody, and I know that even Tove (Alexandersson) has made mistakes, Jansson commented after the race.
Norway and Sweden
In the men's class Norway and Sweden dominated with all Top 7 being from the two Scandinavian countries. Fastest of the day was Olav Lundanes (Norway) who won more than a minute ahead of Carl Godager Kaas (Norway) and Albin Ridefelt (Sweden) who shared the second place. Albin Ridefelt (Sweden) took the last place on the podium, 5 seconds behind Godager Kaas. Johan Runesson  and Gustav Bergmann (both Sweden) finished 4th and 5th, with Magne Dæhlie (Norway) in 6th.
The Swiss runners who have dominated the World Cup the last years had a bad day – Daniel Hubmann all the way down in 19th place – losing nearly 2 minutes at the 9th control – a tricky stone in a stony area (see map above).
The World Cup continues with sprint tomorrow (finals from 17:00 CET). For live services, see this preview article.
Video interview with Helena Jansson from the Swedish Orienteering Federation (Swedish language)
Maps and GPS-tracking
Maps from the race are included below:
WCup Middle Men Poland

» See map in omaps.worldofo.com
WCup Middle Women Poland

» See map in omaps.worldofo.com
GPS-tracking is also available here, but was mostly unavailable during the event and is still unavailable several hours after the event.
Results
Men
Women
Just too many mistakes at today World Cup race. Tomorrow is a new chance at the Sprint in Wroklaw! Keep on fighting! https://t.co/KqlbSitMqZ

— JudithWyder (@judithwyder) April 30, 2016
Not especially satisfied with todays race, but I'll take the 5th place without complaining. #WorldCup

— Gustav Bergman (@gustav_bergman) April 30, 2016
On my way to a 3rd place at first World Cup race in Poland, but got tired and didn't get the green areas to 3rd last and lost 4+min… 31th.

— Lina Strand (@lina_strand) April 30, 2016
Vet inte riktigt vad jag ska säga om dagens världscup medeldistans… revanschsugen är jag i… https://t.co/vvZd8CVdp7

— Anna Bachman (@BachmanAnna) April 30, 2016
A bad World Cup start with a 19 place only. Several mistakes, but the biggest one was to No 9, there I lost 1'50" https://t.co/ZscbeHKtGx

— Daniel Hubmann (@dhubmann) April 30, 2016