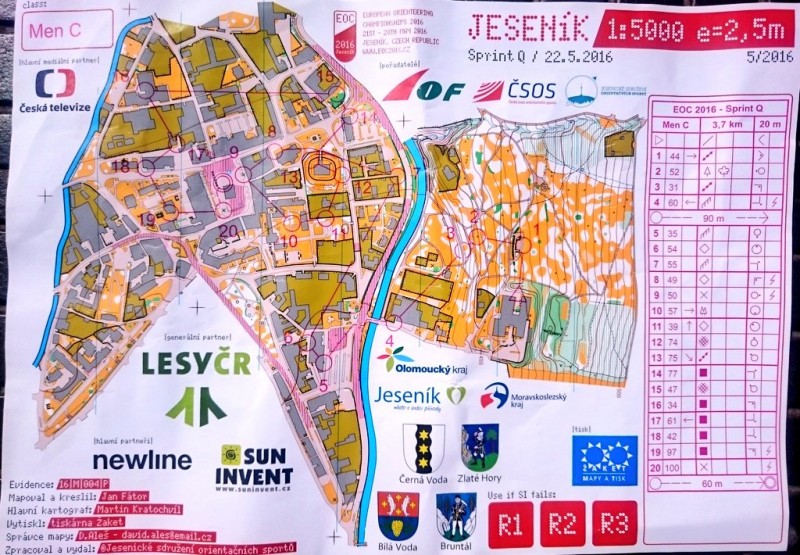 Martin Regborn (Sweden), Gustav Bergman (Sweden), Matthias Kyburz (Switzerland), Judith Wyder (Switzerland), Elena Roos (Switzerland) and Nadiya Volynska (Ukraine) won the qualification heats in today's European Championships Sprint Qualification.
The A-Finals start from 16:00 CET. See more information about how to follow the race live here.
Good qualifier, really looking forward to the final now! #eoc2016 pic.twitter.com/ggWtSeRI4O

— Gustav Bergman (@gustav_bergman) May 22, 2016
Results
The top 17 European runners from each of the three heats plus the non-European competitors ranked 17 or better qualify for the final. Below are unofficial results.
Map
Map via Øystein Kvål Østerbø on Twitter.
Solid Sprint Qual. 3rd, 8 sec behind M. Kyburz and 1 sec behind @J_Leandersson. Final 16.00. https://t.co/hREjhTwLSw pic.twitter.com/fip6RLxQjO

— Øystein K. Østerbø (@Kvaal_Osterbo) May 22, 2016
7th in the #EOC2016 sprint qualification – final tonight. My map with my routechoices: pic.twitter.com/j0hDcU0Yds

— Silje Ekroll Jahren (@ekrolljahren) May 22, 2016
Good & safe Sprint Qual this morning. Looking forward to this evenings Final with new challenges in store. pic.twitter.com/o64GSOLtlb

— Nicolas Simonin (@nick_simonin) May 22, 2016