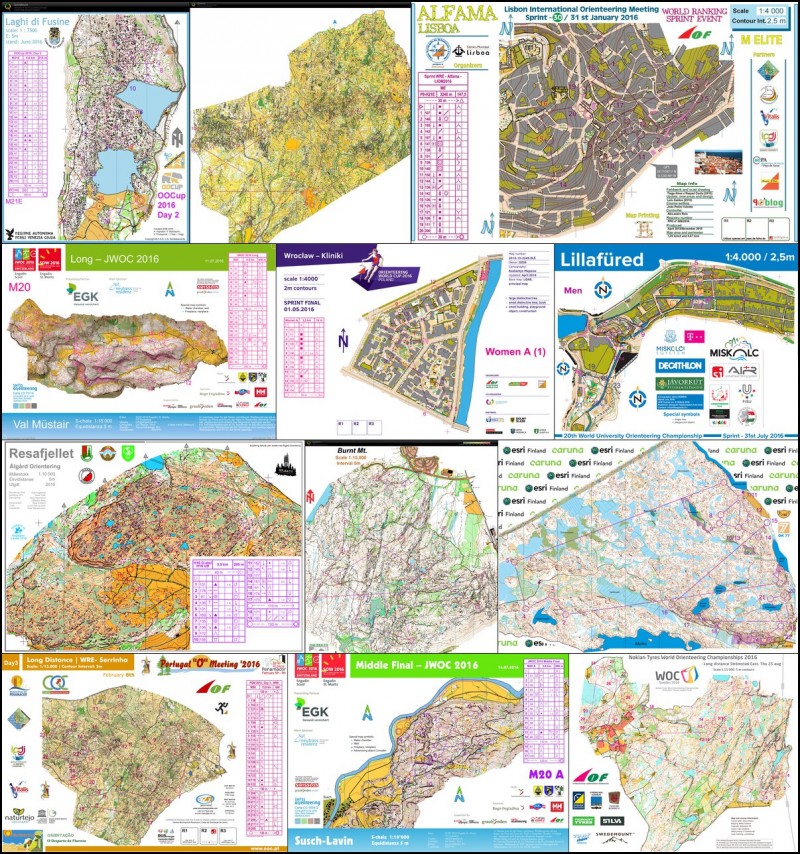 See the 12 courses leading the vote for "Course of the Year 2016″ here! There is now only one day left to vote! Prizes with a total value of more than 5.500 Euro to be won!
Monday November 28th at midnight CET is the last chance to vote for Course of the Year 2016!
Note! The voting does currently not work very well on mobile – there may also be issues in some older browsers with the voting process. Sorry to those of you with old browsers and on mobile, will prioritize this next time! 
Note 2! For courses in RouteGadget you need to actually open RouteGadget to see the course – the slideshow does only show the map.
Voting is done by setting up your "Top 5 List" based on the nominated maps. Based on all the submitted "Top 5 Lists", the best course in 2016 is found using a simple formula: For each 1st spot in a "Top 5 List", a course gets 100 points, 70 points for each 2nd spot, 50 points for each 3rd spot, 30 points for each 4th spot and 10 points for each 5th spot.
Voting closes Monday November 28th
Voting is open from Tuesday November 22nd until Monday November 28th. When voting you will notice that it is not easy to set up a "Top 5 List", as none of the courses are perfect and there are a lot of courses to choose from! Still – do your best, and help the courses and course-setters you think deserve it towards the top! Please take a look at our sponsor prizes below – with a total value of more than 5.500 Euro – before voting – as you can choose which one you'd want to win when voting.
---
Rules
The following rules are given for "The course of the Year 2016″.
The course must have been run in competition or training in 2016 (an exeption for courses in December 2015 as they were not covered in last year's contest)
Suggestions are submitted as a comment – including link to the map with course in a quality which is good enough for the readers to understand the course and the challenges involved. Please add information about location/date if that is not clear from the link provided. Also include which sponsor prize you are interested in if you win.
You must give a reason for why you think this course deserves to be named "The course of the Year 2016″ (or why it is the best course you run/set this year). All reasons are valid. Examples can for example be "varied orienteering challenges", "extremely technical orienteering", "high fun-factor", "fantastic map", "spectacular orienteering", "fantastic nature" – a combination of these – or a totally different reason. To get all the way to the top you should probably have a combination of reasons…
The course may be any discipline – e.g. a long distance, a middle distance, a sprint distance. It may also be a technical training course – like e.g. a corridor orienteering exercise.
There will be a voting process among the readers of "World of O" in order to name "The course of the year 2016″. This is your second chance to win sponsor prizes!
---
Prizes from our Sponsors
Prizes from our Sponsors always makes it more fun! There will be a prize for the first one suggesting the course which ends up becoming "The course of the Year 2016″, and prizes drawn among the ones suggesting and voting. All prizes are transferable to other persons (you don't have to travel yourself).
Event sponsor: MOC Training Camp. March 4th – 12th 2017
Prize offered: Package for 2 people consisting of accommodation in half board and entry fee for MOC Training Camp and MOC Championship 4th-12th March 2017. Value 1440 Euro. Transferrable to other persons.
More information: 5  days of training camp with head coaches Janne Salmi and and Jaroslav Kacmarcik – IOF will test new formulas of sprint! MOC Championship will be organized in two UNESCO sites, Archeological Park of Paestum and Royal Residence of Caserta Park! See Bulletin MOC camp and Bulletin MOC Championship.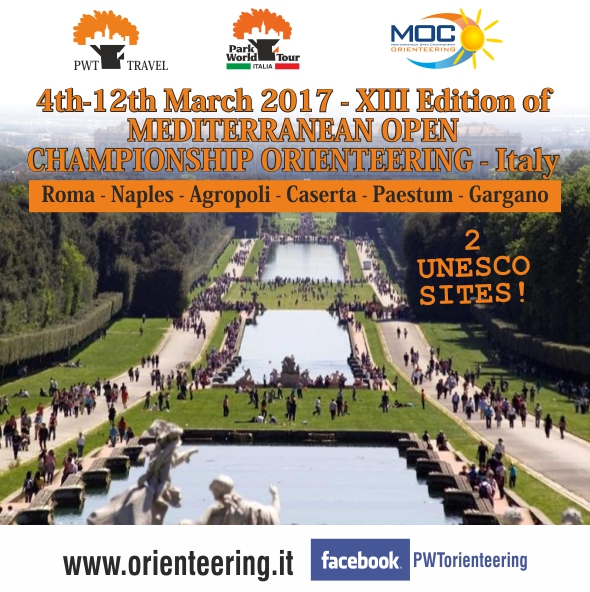 Event sponsor: Fin5 2017. July 10th – 15th 2017
Prize offered: The traditional Fin5 Orienteering week offers one free Family package; participation for the whole Fin5 orienteering week includes max five starts for 2 adults and 1-3 children (age 16 or under) in competition series or in open courses. Transferable to other persons. Total value up to 645 euros.
More information: Welcome to Tampere, Finland to enjoy the Fin5 Orienteering Week arranged at the same time with the Junior World Orienteering Championships 2017! Competition areas and arenas for Fin5 will be the same as for the JWOC-races. Fin5 offers you orienteering along high class tracks at three different terrains. Two forest orienteering terrains are located within 30 minutes driving distance from Tampere center. Sprint arena is in the city center.  The largest inland city in Nordic countries offers versatile accommodation options and lots of activities during your visit. More information: 2017.fin5.fi.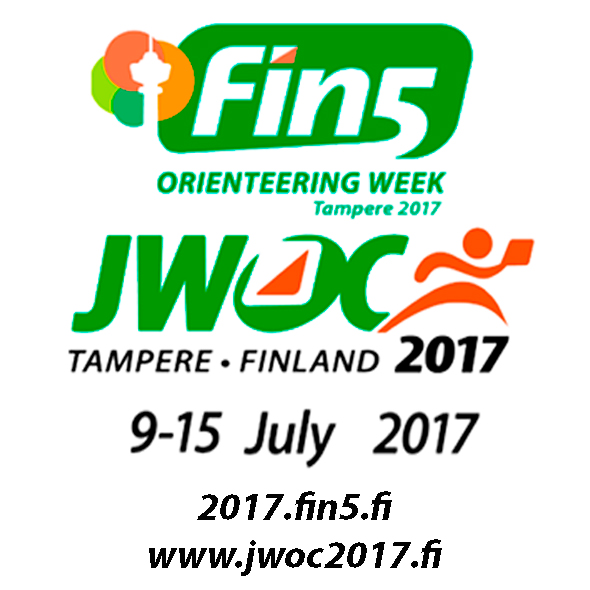 Event sponsor: Estonian Orienteering Week 2017. July 1st – July 8th 2017
Prize offered: Estonian Orienteering Week package for 2 persons consisting of entries to all 6 races (with the maximum value of 240 Euro) and hostel accommodation in Tartu for July 1st – 8th (value of 350 Euro). The package will be completed with WOC 2017 souvenirs. Total value about 600 Euros.Transferable to other persons.
More information: Estonian Orienteering Week is the spectator race for the Nokian Tyres World Orienteering Championships 2017 taking place in beautiful Tartu and Southern Estonia. Estonian Orienteering Week allows you to enjoy your own races and be a spectator in the World Championships. Tartu, the WOC 2017 host town is the home of culture and good flavours with many historical landmarks and outdoor cafés. Southern Estonia is characterized by rolling hills, deep forests, blue lakes and quiant towns with old churches, manors and castle ruins. Welcome to Estonia! Read more at woc2017.ee/eow.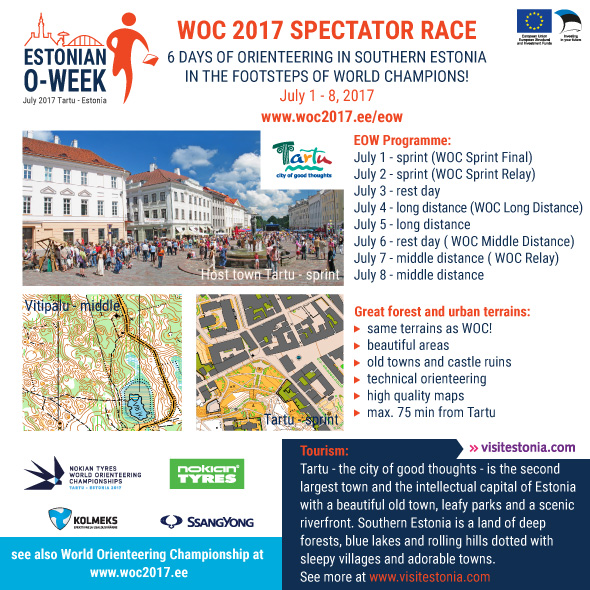 Software sponsor: OCAD Orienteering 12
Prize offered: One licence for the software "OCAD Orienteering 12″.  Value about 590 Euro. Transferable to other person (before activation).
More information: OCAD 12 Orienteering – Perfect to Produce Orienteering Maps. This edition is dedicated for orienteering map making with a step-by-step wizard for analyzing of LiDAR data, mobile geodata capturing, smart editing and drawing tools, generalization tools, desktop publishing, course setting and much more. Read more at ocad.com.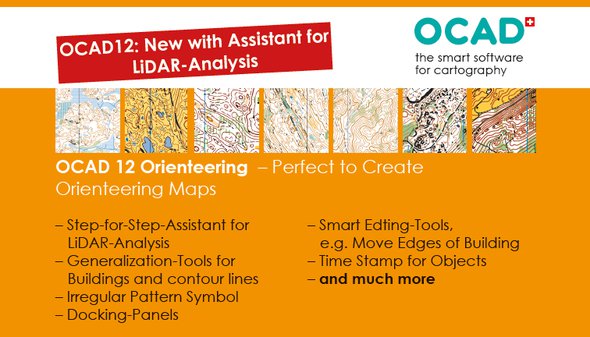 Event sponsor: Antalya Orienteering Festival 2017. October 29th October – November 5th 2017
Prize offered: One big Antalya Orienteering Festival package for one person: Accommodation + Entry for all 5 races + All Transfers. Value about 500 Euro. Transferable to other person.
Antalya Orienteering Festival will be held for the 3rd time in Antalya, Turkey. We provide 5 different terrains and challenging courses, good maps and good weather for orienteering holiday.  See more at www.antalyaofest.com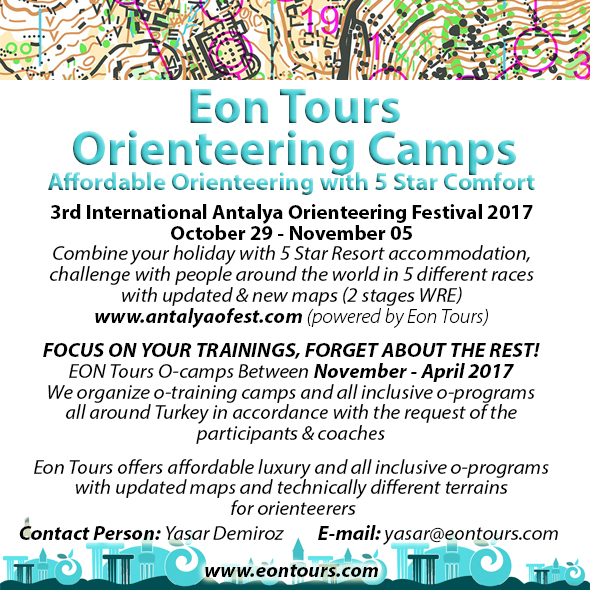 Event sponsor: Bergen Sprint Camp 2017. February 10th – 12th 2017
Prize offered: Package for 2 people consisting of free start for all 4 high quality sprint competitions and accommodation for 2 persons for 2 nights February 10th – 12th 2017.  Value about 450 Euro. Transferable to other persons.
More information: For the 7th time, BSC is held in the city center of Bergen, Norway – established as one of the best sprint weekends organized, with several top WOC runners using it as part of their preparations. We provide all participants with challenging courses, good maps and interesting analysis of the sessions – hoping to improve the sprint orienteering technique for everyone. See more at Sprint-Camp.blogspot.no – including all courses and analysis from previous editions of BSC.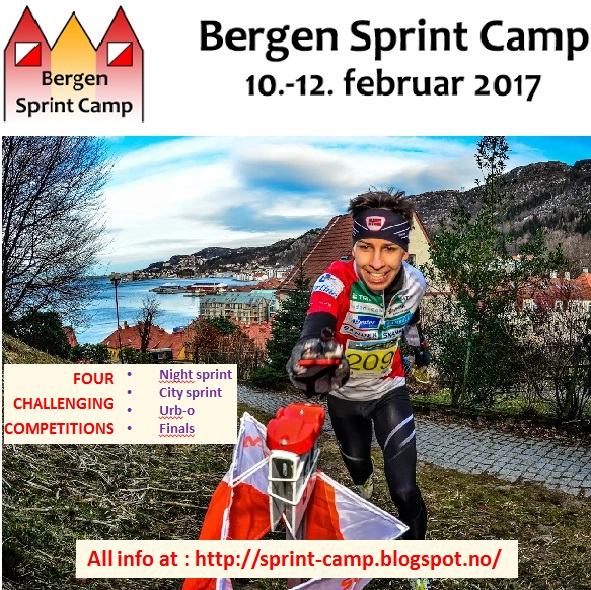 Software sponsor: Virtual-O
Prize offered: 10 licenses of Virtual-O Founder's Edition with exclusive content. Transferable to other persons until you activate the license key on Steam. Value about 400 Euro in total.
More information: Try the new generation of orienteering simulator, and spend your next training in the virtual forest. Coming soon to Steam Early Access. More information at virtualo.org.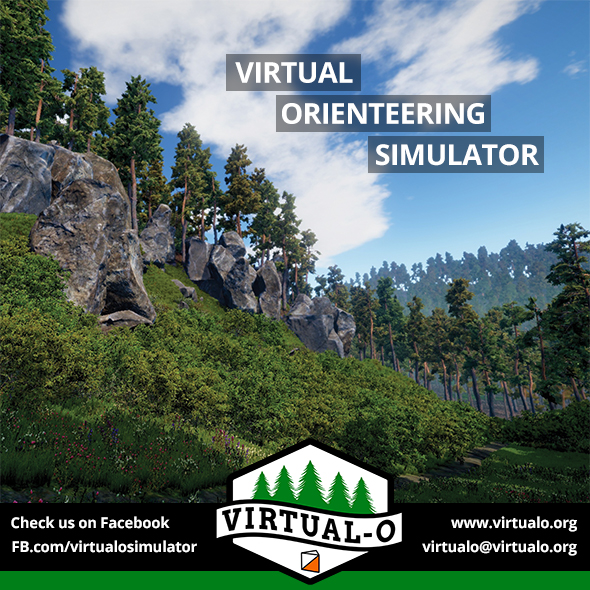 Event sponsor: Portugal "O" Meeting 2017. February 25th – 28th 2017
Prize offered: 3 packages – each for 2 persons – transferable to other person. Consisting of entry to complete 4 day Portugal "O" Meeting 2017 – 2 model event + 4 official races + 1 Urban Night (Middle, Urban Nigth, Long, Middle-WRE, Long). Value about 330 EUR.
More information: The Portugal "O" Meeting is a foot orienteering event, integrated in IOF's World Ranking (IOF WRE) and in the Portuguese Orienteering Federation's Cup. As in 2011 the POM 2017 is back to Alentejo where it merges with our event, North Alentejano "O" Meeting. Three neighbor Counties with excellent conditions for Tourism and Sports of Nature (Portalegre, Alter do Chão and Crato) join hands and work together to create an unforgettable event. Read more at pom.pt.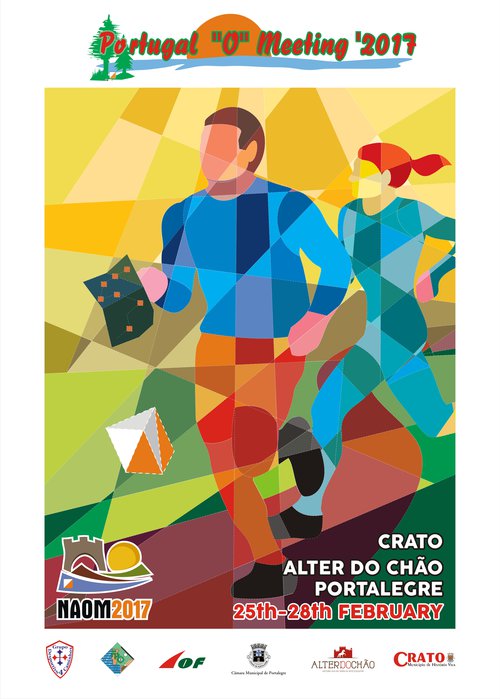 Event sponsor: Easter4 2017. April 14th – 17th 2017
Prize offered: 2 packages – for 2 people – consisting of: Entry for the Easter4 competition in Slovenia + 3 training maps each + 4 nights accommodation in hostel. Value about 250 Euro. Transferable to other persons.
Slovenia will be the place to be in Easter 2017. The new Easter4 race was a success in 2016 – and is again organized with the same high quality maps and courses as you are used to from OOCup, Lipica Open and Bubo Cup. Late easter in 2017 means even better conditions. More at easter4.com.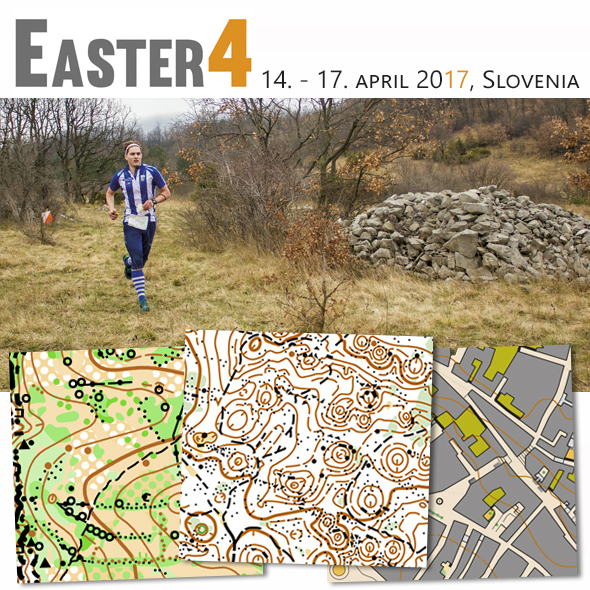 Event sponsor: Kainuu Orienteering Week. July 25th – 30th 2017
Prize offered: 2 packages, each consisting of 2 free participations for the whole week in any class at Kainuu Orienteering week 2017 (competition or open). Total value up to 250 Euro. Transferable to other persons.
More information: Kainuu Orienteering Week is one of the Finlands's biggest orienteering week and the worlds' second oldest orienteering week, as it has been held annually since the year 1966. Kainuu O-Week is held in the Kainuu region of Finland and traditionally the event is held in the beginning of July. In 2017 Kainuu Orienteering Week will celebrate the 50th anniversary week and it will be held exceptionally in the end of July. Come to enjoy the orienteering and holiday week for the whole family in the great sceneries and terrains and pure and beautiful nature of Kainuu region in Finland. First entry period will be closed on 30th of november 2016. For more information see www.rastiviikko.fi.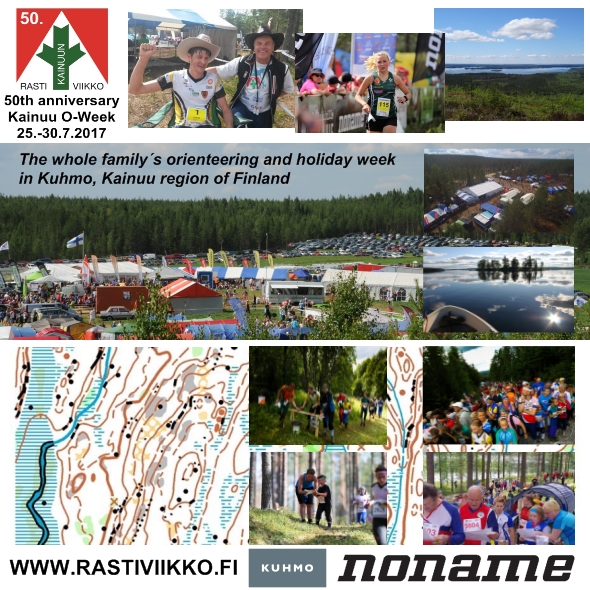 Event sponsor: Bubo Cup. August 1st – August 4th 2017
Prize offered: 2 packages, each for 2 people consisting of entries for all 4 days of Bubo Cup 2017, Bubo Cup event T-shirt and training map for each. Value about 250 Euro. Transferable to other persons.
More information: If you want to combine beach holidays under the Croatian sun on the island Cres with technical orienteering, Bubo cup is the perfect choice for you. Surprisingly enough you find very interesting orienteering here – partly Karst and partly the famous olive groves. Events are organized with early starts from 8 AM due to the heat – thus if not all of your family are orienteering enthusiasts, you can still have most of the day together at the beach. Read more at bubocup.com.