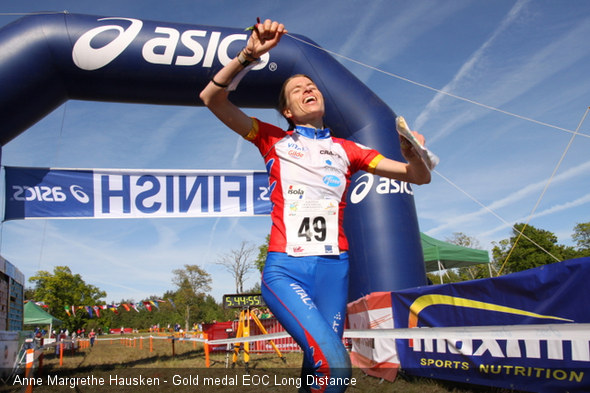 Gold medals went to Anne Margrethe Hausken (NOR) and Dmitriy Tsvetkov (RUS) in todays EOC over the Long distance. Today Hausken impressed everybody by taking her second Gold medal in this years EOC at the Long Distance in Ventspils, Latvia. Dmitriy Tsvetkov's Gold medal was a very surprising one – as he has no previous top 20 positions in the senior category in WOC, EOC or World Cup races – although he has a Gold medal in JWOC in 2003.

Strong finish
Hausken (Photo: ) secured her second Gold medal at this years EOC through a very strong finish. After around 50 minutes running she was in third spot – nearly a minute behind Tatiana Riabkina (RUS), with also Emma Engstrand (SWE) a few seconds faster. However, nobody could keep up with Hausken's speed in the last part of the course – and thus Hausken could celebrate a new Gold medal!
Gold for Tsvetkov!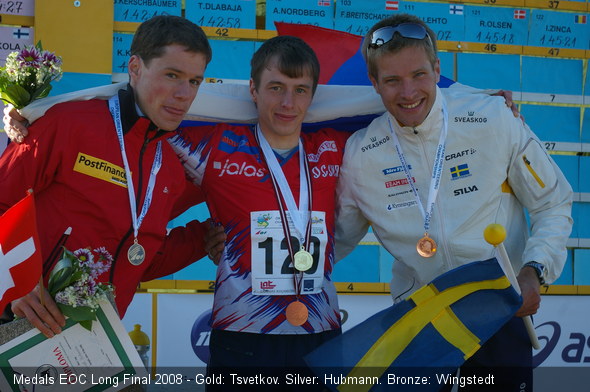 Many packs in the mens class
From the splits, it is clear that Tsvetkov caught up with Roman Efimov (RUS) starting 4 minutes ahead of Tsvetkov at control number 11 – and that the two were together at most of the rest of the course. However, at that point Tsvetkov had run a very good race – Tsvetkov was actually in 2nd position already at control number 10! The two Russions later caught up with Nikolov (control 15) and Mihalkin (control 22).
The following analysis by Martin Lerjen posted as a comment in the World of O article "Grouping at EOC Long Qualification" is very interesting in this regard:
At the Mens Top Ten today… (me looking at the results)

1. Tsvetkov: Together with Efimov (10.) since 11th control, together with Nikolov since 15th control, with Mihalkin since 22nd Control.
2. Hubmann: First contact with Johannson (5.) at the 8th control, running togehter with Johannson from the 16th control
3. Wingstedt: Some not very cooperative contacts with Wickholm. Together with Lucan (14.) from the 13th control (but Lucan always behind)
4. Merz: Ran the whole thing alone
5. Johannson: catched up by Hubmann at 16th
6. Rollier: Ran the whole thing alone
7. Bertuks: Together with Schneider (23.) from the 19th
8. Weltzien: Contacts with Troeng from the 12th, together with Troeng from 16th to 25th
9. Ikonen: with Öhlund (23.) 3rd to 6th control, and 16th to 19th, else alone.
10. Efimov, see Tsvetkov (1.)

Some comments to this:
1) 16th control is at the middle of the race, if two runners catch up there, they are running half the race together
2) I doubt that the competition is fair. See the case of Merz, Rollier and Wingsted (somehow) all considered running alone: Tsvetkov makes the difference from the moment he runs with Efimov. Hubmann and Johannson make the difference from the moment they run together.

So.I have nothing against Tsvetkov, he is the winner. Let's just put some effort in avoiding that amount of mutual influencing among the top ten of a Championchip.

————— Second comment – also by Martin Lerjen ———————

The Ranking of Longest mutual influence* during todays long distance final:

1. Olson & Haldin 84 Min.
2. Smola & Millinger 64 Min.
3. Kerschbaumer & Letho 63.5 Min.
4. Tsvetkov & Efimov 53 Min.
5. Wingstedt & Lucan 51 Min.
6. Teich & Karklins 46 Min.
7. Tsvetkov & Efimov & Nikolov 45 Min.
8. Hubmann & Johansson 42 Min.
9. Prochazka & Mrazek & Breitschädel 37 Min.
10.Osterbo & Teich & Karklins 36 Min.
11.Lakanen & Lundanes 35 Min.
12.Schneider & Bertuks 34 Min.
13.Bortnik & Dlabaja 32 Min.
13.Gristwood & Kostylev 32 Min.
13.Troeng & Weltzien 32 Min.
16.Smola & Osterbo & Teich & Millinger & Karklins 31 Min.
17. Tsetkov & Efimov & Nikolov & Mihalkin 20 Min.
18.Krumins & Haldin & Olsen 10 Min.
19.Johnson & Schneider 8 Min.
…
…
No Ranked: Skjeset, Tervo, Lind, Sadeckas, Merz, Rollier, Ikonen, Norberg, Kärner and others.

*Punching every control not more than 15 seconds apart
Statements
Some statements and personal Blog entries from the Long Final (will be updated):
Results
Men EOC Long 2008
1 Tsvetkov,Dmitriy RUS 1:29:12
2 Hubmann,Daniel SUI 1:29:45
3 Wingstedt,Emil SWE 1:29:46
4 Merz,Matthias SUI 1:31:00
5 Johansson,Martin Per SWE 1:31:42
6 Rollier,Baptiste SUI 1:32:31

Women EOC Long 2008
1 Hausken,Anne Margrethe NOR 1:08:55
2 Ryabkina,Tatiana RUS 1:09:48
3 Engstrand,Emma SWE 1:10:33
4 Novikova,Yulia RUS 1:11:19
5 Johansson,Sofie SWE 1:11:48
6 Rantanen,Merja FIN 1:13:16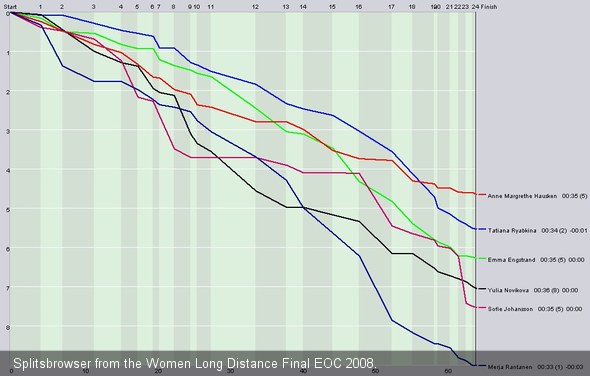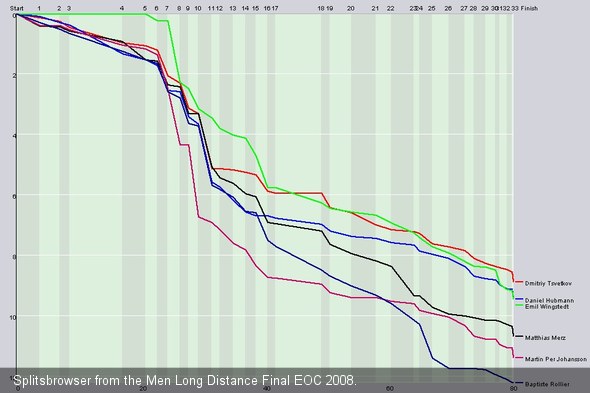 Map with course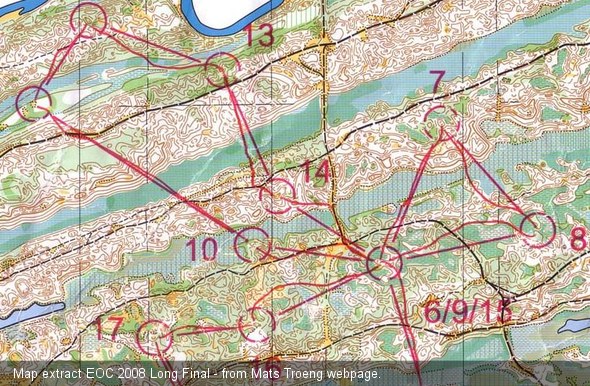 – One of the best and most varied Long distance courses I have run. Nice terrain and interesting orienteering all the way, is Mats Troeng's comment about this years EOC Long Distance Final. Above you see a map extract of the butterfly part of the course.
We will come back with routechoice analysis of the single legs of the course later – for now enjoy the map of Mats Troeng.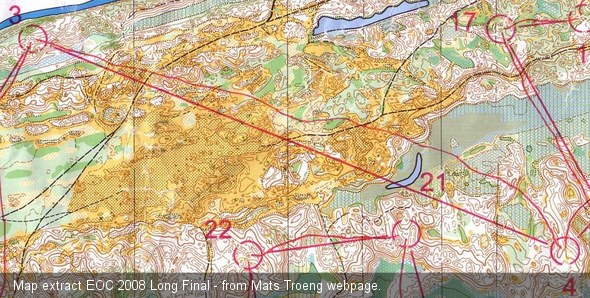 Video
Video provided by the organizers will be included here when it is available.
Photo: Jānis Urtāns and Daiga Brakmane" – Official EOC2008 photographers.