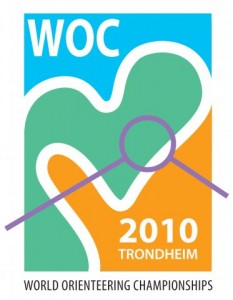 The World Orienteering Championships start Sunday morning 09:00 CET with Sprint qualification. Impressive coverage with live video, GPS-tracking and live results for the championships is promised by the organizers (somewhat less coverage for qualifications than for finals, though). The first WOC final where medals are awarded starts already Sunday from 13:40 CET in the afternoon.
The championships continues through the coming week – the last competition being the Relay next Sunday. All individual events are also World Cup events. Below you find the key information you need in order to follow WOC 2010 in Trondheim, Norway. This page is planned to be updated with key information during WOC.
Latest updates:
Program WOC 2010
Sunday August 8th, Sprint Qual and Final. Qual: 09:00 CET Women. 10:00 CET Men. Final: 13:40 CET Women. 14:40 CET Men
Monday August 9th: 14:00 CET – Middle Distance qualification
Tuesday August 10th: 16:00 CET – Long Distance qualification
Thursday August 12th, Long Distance final. 13:00 CET – Women. 14:50 CET – Men
Saturday August 14th: Middle Distance final. 12:40 CET – Women. 14:15 CET – Men
Sunday August 15th: Relay. 11:30 CET – Women. 13:15 CET – Men
See more details about exact program for each competition at the bottom of this page – including exact start times for each category. 15 runners qualify from each heat in the qualifications for all disciplines.
Team leaders meeting is each evening at 19:00 CET. Expect startlists for the Quals to be available no sooner than that time the day before the event. Sprint Qual is Sverresborg, Sprint Final from Trondheim Town Square, Long and Middle Qualification are from Jervskogen Ski Centre, and all other races are from Granåsen Ski Centre.
Live coverage
The WOC organizers have a very good set of live services – it should be a delight to follow the WOC races from at home, at work or on your mobile phone. The live services consist of:
GPS Tracking of runners (Paid service, for the finals. Limited tracking also available from Middle Q / Long Q)
Arena TV streaming (Paid service, for the finals)
Arena Audio streaming
Online Results – preliminary results
LiveBlog (cooperation between WorldofO.com and WOC 2010, see embedded below)
Live Mobile Phone Portal
The link to the live centre will be available from Saturday.
Price for tracking and streaming is NOK 90,- (approx Euro 11.30), which gives you access to all four finals/relay in one package – thus quite affordable.
Fantasy World Cup
Remember to submit your team to the Fantasy World Cup 2010. All WOC finals are part of the World Cup, and 10 of the 13 World Cup events count in the overall Fantasy World Cup. The World of O Ranking Sprint for men and women is a good starting point for setting up your team for WOC Sprint.
WOC Sprint, Sunday August 7th
Qualification


The terain is mostly gently sloping terrain. Partly some steep hills. Vegetation: A mixture of open cultivated land, park terrain, urban areas and forested areas (combination of pine and birch wood). Runnability ranging from good to very good. Visibility is mostly good, but reduced in some dense areas. Urban areas and forested areas with a network of paths.
Final


The terain is mostly flat but the hillside between city centre and Kristiansten Fort is steep. Vegetation is 50% urban areas and 50% park terrain. Runnability and visibility is very good. Developed network of city streets and paths.
WOC Middle
Qualification, Mon August 9th


The terrain is moderately steep to steep hills. Vegetation consists of coniferous and deciduous forest. Runnability is ostly good ; the marches have good runnability. Visibility is good, but limited in dense areas. Very few paths and roads.
Final, Sat August 13th


The terain is as for qualification, except there are some areas with few paths and roads, and other areas with developed network of paths and forest roads.
The course is in two parts, and the competitors need to exchange map for the last part of the course. The exchange takes place when passing the arena.
WOC Long, Tue August 10th (Qual), Thur August 12th (Final)


Terrain qualification: Same as middle Q. Final: Same as middle F. The course is in two parts, and the competitors need to exchange map for the last part of the course. The exchange takes place when passing the arena.
WOC Relay, Sunday August 15th

Terrain is same as Middle Final/Long Final.
Some interesting information
A forking system will be used in the Long Distance Final.
In the Long Distance and Middle Distance Finals there will be map exchange,
Start interval for Long Distance Final will be 2 minutes, according to the 2009 Rules (the new rules state 3 minutes start interval).
15 runners qualify from each heat in the qualifications (sprint, middle, long)
LiveBlog for WOC 2010
There will be a LiveBlog during all of WOC in a cooperation between WorldofO.com and the WOC organizers in Trondheim. Again I will need help for moderating from some of you readers out there, and this time I'll have the pleasure of giving out WOC 2010 Buffs to people helping with the moderation (please contact me by email at jan@kocbach.net as soon as possible, limited number). I will be reporting live from the arena/forest via mobile phone. All Tweets from Eliteorienteers go directly into the LiveBlog.
To all WOC participants: Please consider opening up a Twitter account at Twitter.com, and send an email to jan@kocbach.net with your account name – and tell us about your WOC experiences before/after each race. It takes less than 10 minutes to set up – and less than a minute for each Tweet. I'll be in Trondheim and am willing to help if you need it…
Results WOC 2009