Posted by Jan Kocbach, 19 Dec 2014@8:00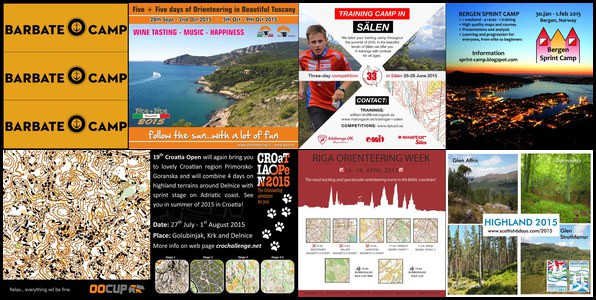 Check here if you won any of the prizes worth nearly 4000 Euros in total in your voting for "The Orienteering Achievement of 2014″! 8 great sponsors – nearly 4000 votes! Even if you did not win – please support the sponsors and see if the races and services they offer is something for you.
Sponsors for the Orienteering Achievement of 2014 are Five+Five days Tuscany 2015 (Italy), Sun-o Barbate Training Camp 2015 (Spain), Riga Orienteering Week 2015 (Latvia), Scottish O-Week 2015 (Scotland), Bergen Sprint Camp 2015 (Norway), OOCup 2015 (Slovenia), Croatia Open 2015 (Croatia) and Sälen 3+3 2015 (Sweden). See who won which prize in the sponsor section below.
More about the "Orienteering Achievement of 2014″ here:
In addition some websites who helped spread the news about the poll have been awarded with free ads. Check at the bottom of this page if your website took home one of those prizes!
Thanks to sponsors and voters
Before announcing the prize winners, I would like to thank all of you for voting – in total nearly 4000 unique votes were given this year – making the results very representative for the orienteering community. We would also like to thank the sponsors warmly for sponsoring "The Orienteering Achievement of 2014″. Thanks to the sponsors World of O was able to draw lucky prize winners among those who voted in this years election.
Prize winners will be contacted by e-mail (but please contact Jan at jan@kocbach.net if you are listed as a winner but did not receive an email).
---
Event sponsor: Five + Five Days Tuscany 2015. 28th Sept – 2nd Oct 2015 or 5th – 9th Oct 2015
Prize offered: 1 package for 2 people for one week (7 nights) with accommodation BB formula, entry to the races including transport from/to races/event centre for Five + Five Days Tuscany 2015. To be chosen between one of the 2 weeks: 28th Sept – 2nd Oct 2015 or 5th – 9th Oct 2015. Value about 1400 Euro. Transferable to other person.
Follow the Sun in Italy and make your summer longer. Five days of orienteering in beautiful Tuscany. Read more at www.orienteering.it,  www.facebook.com/pwtorienteering and www.pwt.no.

Winner: Guillermo Castro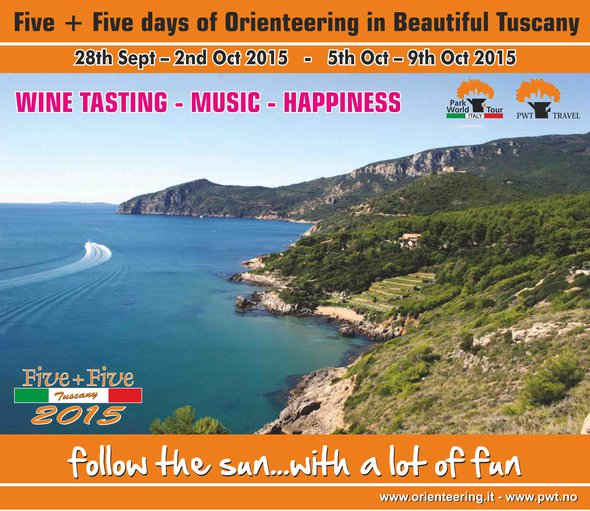 ---
Training camp sponsor: Big Sun-o Barbate training package 2015
Prize offered: Training Package for 2 persons (transferable to other persons), worth ca. 500 Euro,including 7 nights in Apartamentos Canos de Meca / Barbate and a 16 map O-package, for endless training at the Barbate-O-Camp.
Sun-o offers orienteering camp packages in South of Europe, combining high quality terrains and varied O-maps, in regions with rich culture and sunny climate. More info at sun-o.com.

Winner: Desmond Franssen

---
Event sponsor: Riga Orienteering week 2015. April 14th – 19th 2015.
Prize offered: Package for two people consisting of: Paid entry to Riga Cup model event, Riga Cup races, paid accommodation for two in hotel from Friday to Monday (3 nights). Value about 250 euro. Transferable to other persons.
Riga Orienteering Week will be a memorable event with 4 training events from Tuesday to Friday and two day competition Riga Cup on weekend. We offer you to combine Riga as an architectural, artistic and cultural destination with an unforgettable week-long orienteering adventure in an exclusive sand dune terrain, provided to you by a professional team of organizers of orienteering events "Magnets" with 45 years of experience. Behold, experience, enjoy! More information at magnets.lv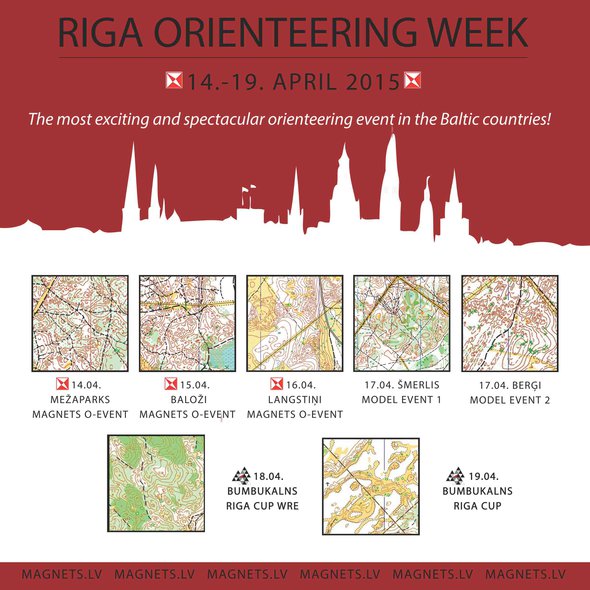 ---
Event sponsor: Scottish 6 Days 2015 (Highland 2015). August 2nd – 8th 2015
Prize offered: A package of two free entries to the Scottish 6 Days (Highland 2015) along with O-tops from the merchandise range and a copy of the book A Few Surplus Maps. Value about 400 euro. Transferable to other person.
Highland 2015 will be staged over the period 2nd to 8th August 2015, with the opportunity to spectate at the World Orienteering Championships and run on the same terrain including Darnaway and Glen Affric. For further information visit www.scottish6days.com/2015 The event centre is in Inverness, a perfect base for exploring the lochs and mountains, beaches and castles that are a feature of this area.

Winner: Barbra Zebrowska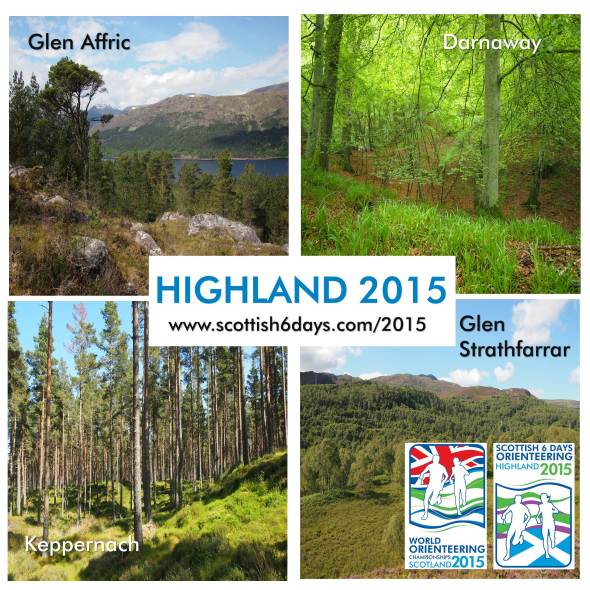 ---
Event sponsor: Croatia Open 2015. 27th July – 1st August 2015
Prize offered: Entry for Croatia open + accommodation at sport hall/camping + training maps for 4 persons! Value about 350 Euro. Transferable to other persons.
This 5-day orienteering event will again bring you to the Croatian mountains around Delnice, while the sprint stage will take place at the island of Krk. See you in Croatia from 27th July – 1st August 2015! More information at crochallenge.net/croatia-open-2015

Winner: Harri Luchsinger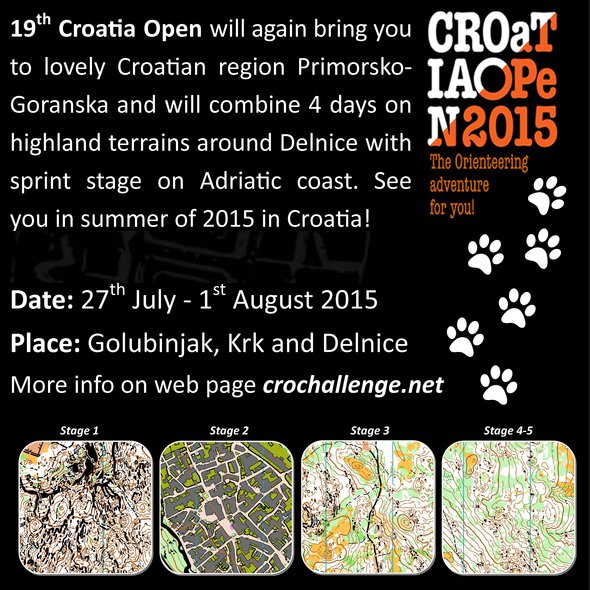 ---
Event sponsor: Bergen Sprint Camp – January 30th – February 1st 2015
Prize offered: 2 packages – each consisting of 2 complete Bergen Sprint Camp packages: Entry for all 4 races + training Friday morning + Saturday evening program consisting of presentations and dinner. Value about 375 Euro. Transferable to other persons.
For the 6th time in a row, BSC is held in the city center of Bergen, Norway. We provide all participants with challenging courses, good maps and interesting analysis of the sessions – hoping to improve the sprint orienteering technique for everyone. See more at Sprint-Camp.blogspot.no – including all courses and analysis from previous editions of BSC.

Winners: Mads Larsen and Henny Bidstrup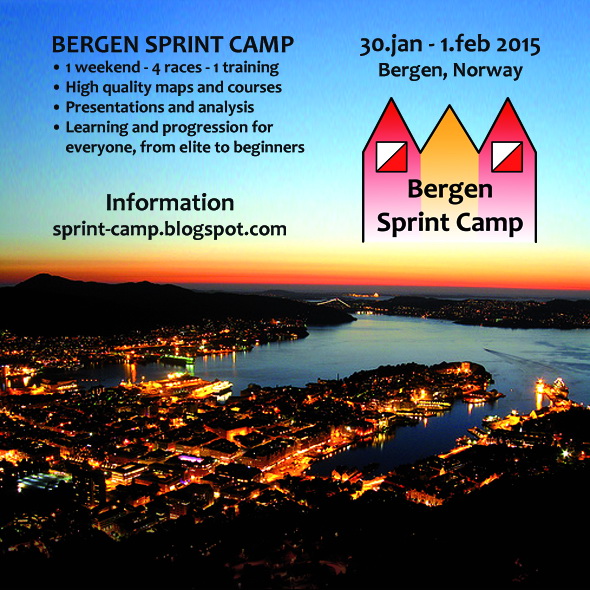 ---
Event sponsor: OOCup 2015. 25th – 29th July 2015
Prize offered: 2 packages – each for 2 people – consisting of: The complete 5 days OOCup competition + small Slovenia training package consisting of up to 3 training maps. Value up to 300 euro. Transferable to other persons.
OOCup is a 5 Day orienteering event organized annually in Slovenia. The event is famous for its Karst orienteering and excellent combination of orienteering and holidays. More at oocup.com.

Winners: Clive Allen and Wolfgang Pötsch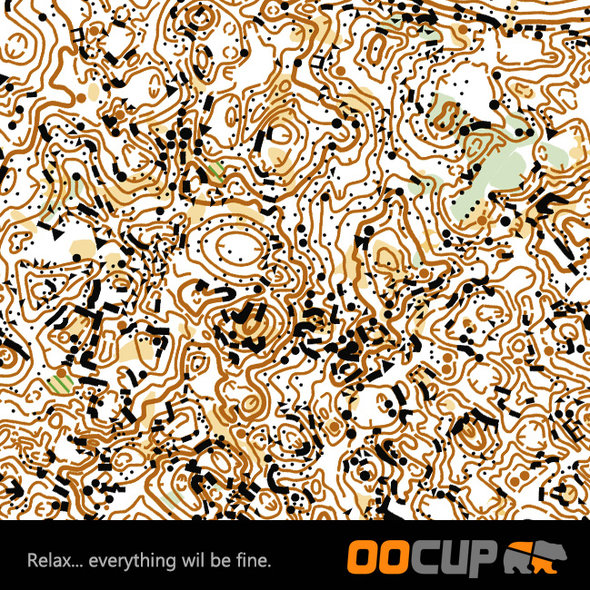 ---
Event sponsor: 3+3 Training & Race package 2015
Prize offered: Big 6-person "3+3 Training & Race Package" (3 competitions and 5 training maps for each person). Value about 450 Euro. Transferable to other persons.
In the beautiful terrain of Sälen we offer great trainings with controls in the forest for all ages. Prepare for O-Ringen 2016! More info at www.malungsok.se/traningar-i-salen.

Winner: Daniel Berg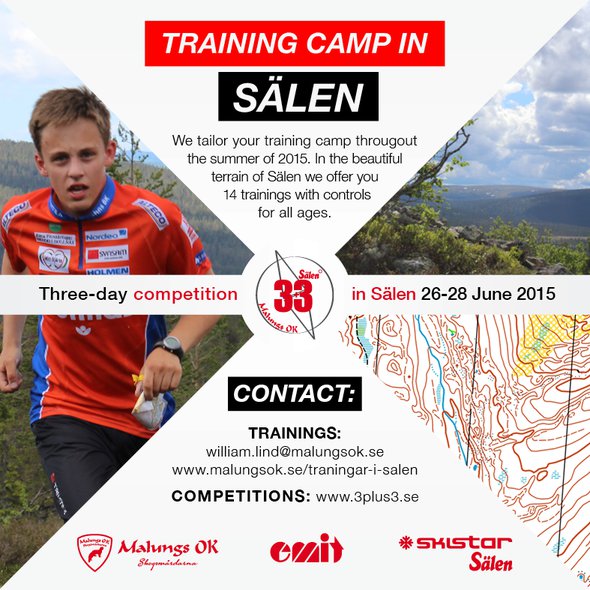 ---
Pages linking to the poll
Pages linking to the poll for "Orienteering Achievement of the Year are important for spreading the news about the great achievement of the nominies. This year as always some prizes are drawn among the websites linking:
AndyBary.com
OL-Sport.at
British Orienteering
Each of these pages have the right to get a free "Sponsored Link" for a month at World of O for an orienteering related race/product/cause. Please contact Jan Kocbach at jan@kocbach.net for more information.