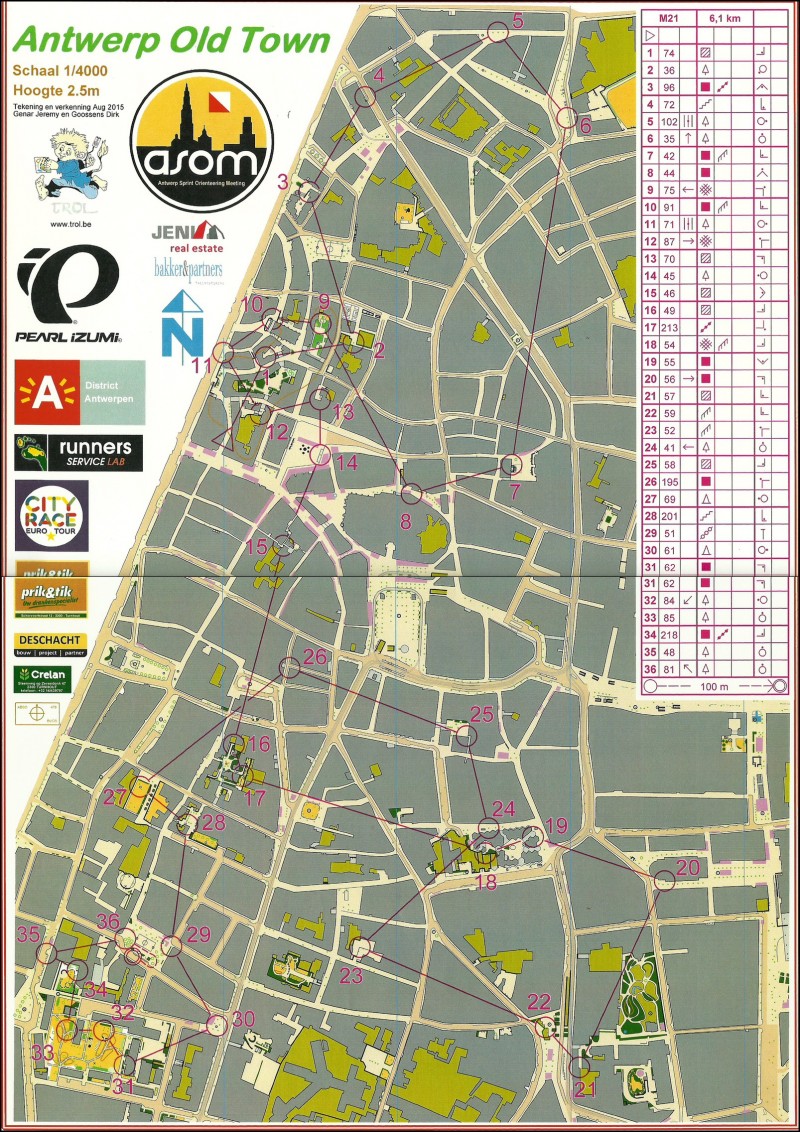 [With maps and results] Sprint stars Yannick Michiels (Belgium) and Galina Vinogradova (Russia) won the first edition of the Antwerp Sprint Orienteering Meeting in Antwerp, Belgium this weekend with strong start fields.
The ASOM 2015 event included two sprint races on Saturday in the 'Luchtbal' area. On Sunday the elite classes ran an urban middle distance race in the city center of Antwerp (see map above). With prize money of a total of 2000 Euro for the elite classes (500 Euro for winner in men/women elite overall, respectively), the organisation tried and succeeded to attract several top orienteers.
Three victories for Michiels and Vinogradova
The two biggest favourites – Yannick Michiels and Galina Vinogradova  did nothing wrong in the first edition of ASOM. Each won all three races – and with that clear overall victories. Norwegian silver medalists from the World Orienteering Championships Sprint Relay Øystein Kvaal Østerbø and Elise Egseth were closest – Kvaal Østerbø finishing second in all three races and Egseth finishing second in two of three races.
City Race Euro Tour
The urban middle distance race was also the first race in the 2015 edition of the City Race Euro Tour. The European City Race Euro Tour is a league of Orienteering Events in major European Cities. The idea is to bring orienteers on all levels into the cities, offering a touristic approach to Orienteering city races. The City Race Euro Tour continues with races in London and Porto later this month.
Maps
ASOM 2015 offered two regular sprint races and one urban middle distance race. Maps & courses from the men's race:
Results Overall
Women
1. Galina VINOGRADOVA (RUS)
2. Elise Egseth (NOR)
3. Lone Karin BROCHMANN (NOR)
4. Kristine FJELLANGER (NOR)
5. Alice Leake (GBR)
Men
1. Yannick Michiels (BEL)
2. Øystein Kvaal ØSTERBØ (NOR)
3. Tim Robertson (NZL)
4. Tristan Bloemen (BEL)
5. Antonio MARTÍNEZ PÉREZ (ESP)
Results Sprint 1
Women
Men
Results Sprint 2
Women
Men
Results Urban Middle
Women
Men
Full results: