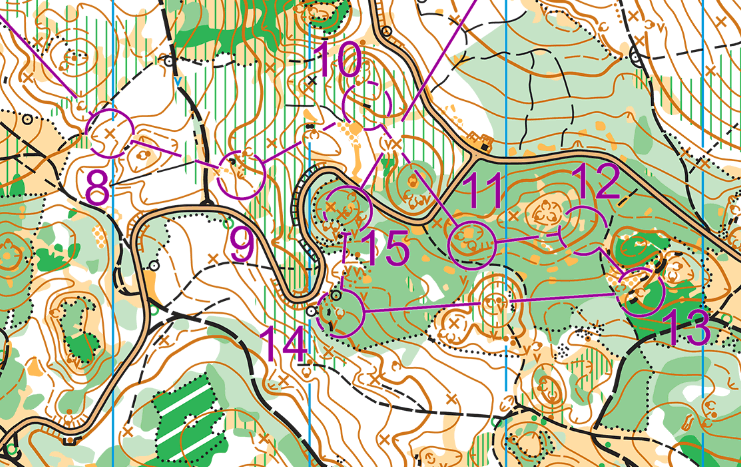 Sweden dominated both the Relay and the Middle distance at the World Orienteering University Championships in Hungary with four Gold medals of four possible, while Great Britain took a popular Gold medal at the Sprint Relay ahead of Czech Republic and Norway. Oskar Sjögren and Lilian Forsgren were the Swedish Gold medal winners at the Middle distance.
In the men's relay Sweden won 3 minutes ahead of Switzerland with Finland another half minute behind. In the women's relay Czech Republic was closest to Sweden, 1 minute behind, with Norway in third another 5 minutes behind.
The championships has offered very interesting and varied orienteering with good courses and high level on the competitors. Sweden shows yet again that they have many runners on very high level. Great Britain has shown excellent results in the Sprint – especially on the men's side. It is also good to see several strong juniors competing in the top at WUOC – one of them Finnish Junior World Champion Long distance Anna Haataja who took the Gold medal also at WUOC Long distance.
See also the first article form the championships: WUOC Sprint & Long: Maps and Results. Kris Jones (GBR) and Denisa Kosova (CZE) won the sprint and Rassmus Andersson (SWE) and Anna Haataja (FIN)  won the long distance at the World University Orienteering Championships (WUOC) in Miskolc, Hungary.
GPS Animation
The below GPS animation shows part of the medal fight in the men's relay. Here the Czech 2nd team which chased close to Sweden makes a big mistake, making the rest of the leg easy for Sweden' Runesson. Finland runs well to the spectator control and passes in second ahead of Switzerland and Czech Republic's first team.
And the second part of the medal fight: Here on the last loop Switzerland secures the silver ahead of Finland after both Switzerland, Finland and Czech Republic made quite big mistakes on this last loop.
Maps & GPS-tracking
WUOC Middle Men

» See map in omaps.worldofo.com
WUOC Middle Women

» See map in omaps.worldofo.com
WUOC Relay Women leg 1

» See map in omaps.worldofo.com
WUOC Relay Women leg 2

» See map in omaps.worldofo.com
WUOC Relay Women leg 3

» See map in omaps.worldofo.com
WUOC Relay Men leg 1

» See map in omaps.worldofo.com
WUOC Relay Men leg 2

» See map in omaps.worldofo.com
WUOC Relay Men leg 3

» See map in omaps.worldofo.com
WUOC Sprint Relay, leg 1 (16.45 CET)

» See map in omaps.worldofo.com
WUOC Sprint Relay, leg 2 (17.00 CET)

» See map in omaps.worldofo.com
WUOC Sprint Relay, leg 3 (17.15 CET)

» See map in omaps.worldofo.com
WUOC Sprint Relay, leg 4 (17.30 CET)

» See map in omaps.worldofo.com
Results Middle
Men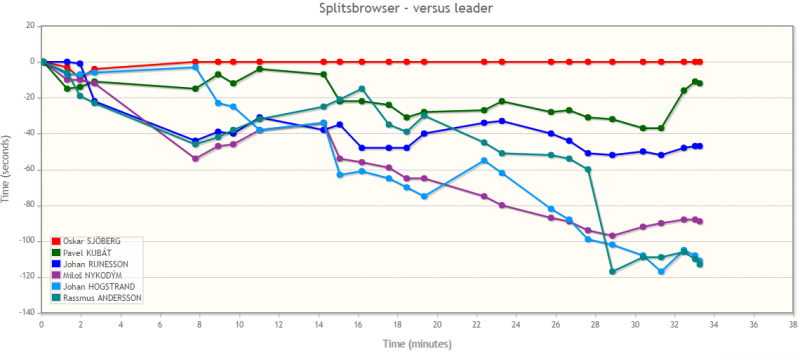 | | | | | |
| --- | --- | --- | --- | --- |
| 1. | Oskar SJÖBERG | Sweden | 33:11 | (+0:00) |
| 2. | Pavel KUBÁT | Czech Republic | 33:23 | (+0:12) |
| 3. | Johan RUNESSON | Sweden | 33:58 | (+0:47) |
| 4. | Miloš NYKODÝM | Czech Republic | 34:40 | (+1:29) |
| 5. | Johan HOGSTRAND | Sweden | 35:02 | (+1:51) |
| 6. | Rassmus ANDERSSON | Sweden | 35:04 | (+1:53) |
| 7. | Nikita STEPANOV | Russian Federation | 35:38 | (+2:27) |
| 8. | Máté BAUMHOLCZER | Hungary | 35:43 | (+2:32) |
| 9. | Jo Forseth INDGAARD | Norway | 36:07 | (+2:56) |
| 10. | Jan PETRŽELA | Czech Republic | 36:21 | (+3:10) |
| 11. | Sami HÄMÄLÄINEN | Finland | 36:46 | (+3:35) |
| 12. | Christoph MEIER | Switzerland | 36:48 | (+3:37) |
| 13. | William Jonathan GARDNER | United Kingdom | 36:58 | (+3:47) |
| 14. | Kaspar HÄGLER | Switzerland | 37:04 | (+3:53) |
| 15. | Sven HELLMÜLLER | Switzerland | 37:16 | (+4:05) |
| 16. | Jon Aukrust OSMOEN | Norway | 37:28 | (+4:17) |
| 17. | Tonis LAUGESAAR | Estonia | 37:34 | (+4:23) |
| 18. | Raido MITT | Estonia | 37:38 | (+4:27) |
| 19. | Jakob Ekhard EDSEN | Denmark | 37:42 | (+4:31) |
| 19. | Arturs PAULINS | Latvia | 37:42 | (+4:31) |
Women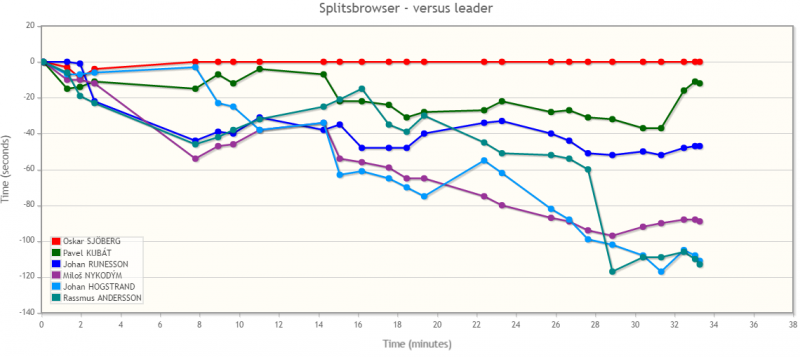 | | | | | |
| --- | --- | --- | --- | --- |
| 1. | Lilian FORSGREN | Sweden | 32:12 | (+0:00) |
| 2. | Andrine BENJAMINSEN | Norway | 32:18 | (+0:06) |
| 3. | Denisa KOSOVÁ | Czech Republic | 34:24 | (+2:12) |
| 4. | Amilia BJORKLUND | Sweden | 34:28 | (+2:16) |
| 5. | Kerstin ULLMANN | Switzerland | 34:47 | (+2:35) |
| 6. | Miia NIITTYNEN | Finland | 34:53 | (+2:41) |
| 7. | Adéla INDRÁKOVÁ | Czech Republic | 35:17 | (+3:05) |
| 8. | Anja ARBTER | Austria | 35:30 | (+3:18) |
| 9. | Sandra GROSBERGA | Latvia | 36:11 | (+3:59) |
| 10. | Anna HAATAJA | Finland | 36:16 | (+4:04) |
| 11. | Maelle BEAUVIR | France | 36:25 | (+4:13) |
| 12. | Ewa GWOZDZ | Poland | 36:29 | (+4:17) |
| 13. | Elin MANSSON | Sweden | 37:10 | (+4:58) |
| 14. | Marina GARCÍA CASTRO | Spain | 37:36 | (+5:24) |
| 15. | Csenge VINICZAI | Hungary | 38:01 | (+5:49) |
| 16. | Evely KAASIKU | Estonia | 38:07 | (+5:55) |
| 17. | Olena FEDOROVA | Ukraine | 38:17 | (+6:05) |
| 18. | Sina TOMMER | Switzerland | 38:21 | (+6:09) |
| 19. | Lucy Jane BUTT | United Kingdom | 38:34 | (+6:22) |
| 20. | Laura JOONAS | Estonia | 38:36 | (+6:24) |
| 20. | Barbora HRUSKOVÁ | Czech Republic | 38:36 | (+6:24) |
Results Relay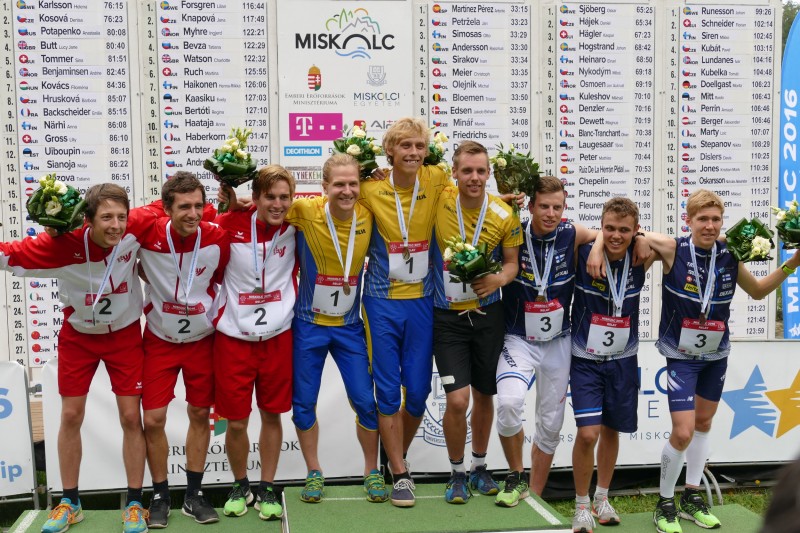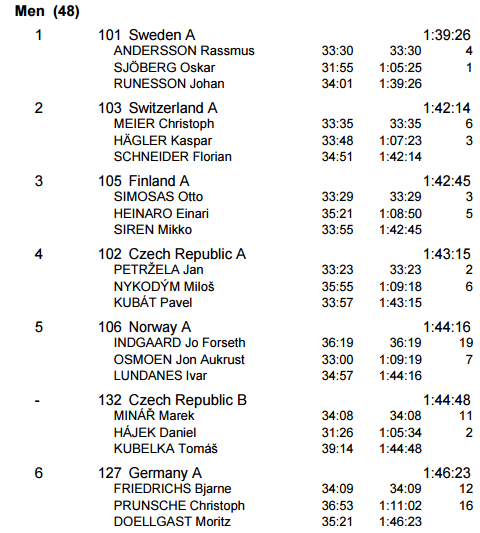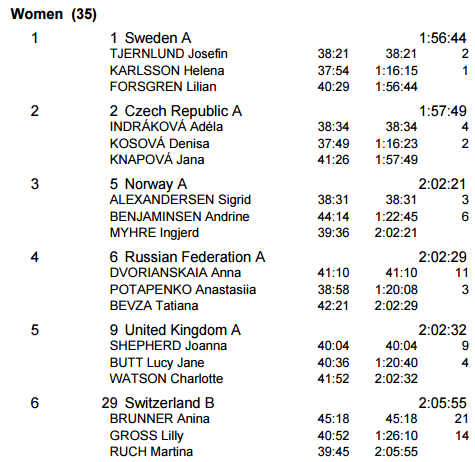 Results Sprint Relay