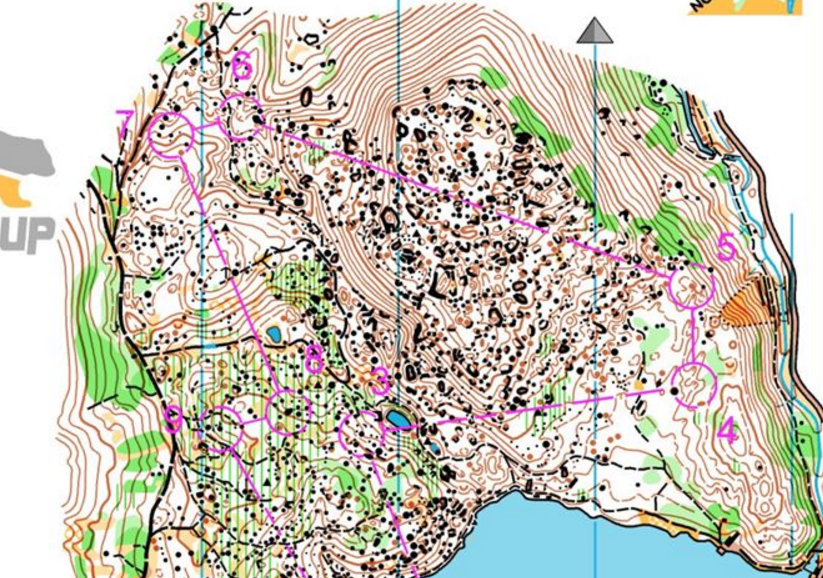 Today's events in the Summer-O 2016 series are the two companion events OOCup 2016 and Bubo Cup 2016. OOCup 2016 was a five day event organized in three(!) different countries; Slovenia, Italy and Austria with nearly 2000 competitors. Bubo Cup  a smaller companion race (around 500 competitors) organized on the island Cres in Croatia by the same organizers.
Both races offered quite unique technical terrain – with lots of orienteering difficulties and also quite variable runnability. The elite classes at OOCup were won by WOC runners from Czech Republic and New Zealand – with Jan Prochazka winning the men's class ahead of Baptiste Rollier and Lizzie Ingham winning the women's class ahead of Marttiina Joensuu.
The Summer-O 2016 series
About the Summer-O 2016 series: Traveling to new places and experience orienteering in new terrain is one of the highlights of the summer holidays for many orienteers – both orienteers on high level and hobby orienteers. The "Summer-O 2016″ series takes a quick look at some of the summer orienteering races of 2016. Sometimes it may just be a map with a course, sometimes several maps, sometimes results, sometimes comments, sometimes GPS-tracking or animations. 
Maps
See below for some maps from the events
OOCup
Bubo Cup
Location
OOCup stage 1 (Austria)
OOCup stage 2&3 (Italy)
OOCup stage 4&5 (Slovenia)
Bubo Cup (Croatia)
Animations
Links
Links:
Selected Results
Men Elite OOCup
| | | | | | | | | | | | | | | | | | | | | | | |
| --- | --- | --- | --- | --- | --- | --- | --- | --- | --- | --- | --- | --- | --- | --- | --- | --- | --- | --- | --- | --- | --- | --- |
| 1. | Jan Procházka | M21E | SK Praga | CZE | | 56:17 | (1) | | 36:52 | (1) | | 60:44 | (2) | | 38:24 | (1) | | 58:04 | (1) | | 250:21 | |
| 2. | Baptiste Rollier | M21E | Kalevan Rasti | FIN | | 63:03 | (2) | | 45:56 | (8) | | 58:33 | (1) | | 39:56 | (2) | | 63:31 | (4) | | 270:59 | +20:38 |
| 3. | Martin Janata | M21E | OOB Kotlarka Praha | CZE | | 65:27 | (5) | | 43:19 | (4) | | 73:35 | (16) | | 43:37 | (5) | | 64:20 | (6) | | 290:18 | +39:57 |
| 4. | Leif Bader | M21E | OK Kare | SWE | | 70:43 | (14) | | 46:22 | (11) | | 68:34 | (7) | | 45:26 | (11) | | 64:16 | (5) | | 295:21 | +45:00 |
| 5. | Flavio Poltéra | M21E | Quack OK | SUI | | 67:23 | (6) | | 50:48 | (19) | | 65:58 | (4) | | 47:23 | (14) | | 64:46 | (8) | | 296:18 | +45:57 |
| 6. | Ondrej Piják | M21E | KOBRA Bratislava | SVK | | 77:44 | (21) | | 44:20 | (6) | | 68:41 | (8) | | 44:01 | (7) | | 67:44 | (12) | | 302:30 | +52:09 |
| 7. | Kuba Drągowski | M21E | OK! SPORT | POL | | 70:01 | (13) | | 47:20 | (13) | | 71:45 | (11) | | 48:23 | (17) | | 65:08 | (9) | | 302:37 | +52:16 |
| 8. | Fredrik Eliasson | M21E | Halden SK | NOR | | 72:11 | (16) | | 53:32 | (27) | | 64:57 | (3) | | 51:14 | (24) | | 61:54 | (2) | | 303:48 | +53:27 |
| 9. | Jarno Parkkinen | M21E | | | | 65:05 | (4) | | 50:09 | (18) | | 77:04 | (24) | | 49:10 | (20) | | 66:38 | (10) | | 308:06 | +57:45 |
| 10. | Petr Zverina | M21E | OK Lokomotiva Pardubice | CZE | | 67:25 | (7) | | 45:16 | (7) | | 79:13 | (26) | | 48:24 | (18) | | 71:09 | (15) | | 311:27 | +61:06 |
Women Elite OOCup
| | | | | | | | | | | | | | | | | | | | | | | |
| --- | --- | --- | --- | --- | --- | --- | --- | --- | --- | --- | --- | --- | --- | --- | --- | --- | --- | --- | --- | --- | --- | --- |
| 1. | Lizzie Ingham | W21E | Halden SK | NOR | | 63:12 | (2) | | 38:37 | (1) | | 61:08 | (1) | | 44:29 | (1) | | 62:57 | (3) | | 270:23 | |
| 2. | Marttiina Joensuu | W21E | SK Pohjantähti | FIN | | 66:49 | (3) | | 40:23 | (2) | | 64:36 | (2) | | 51:26 | (7) | | 59:09 | (1) | | 282:23 | +12:00 |
| 3. | Ina Westerlund | W21E | OK77 | FIN | | 57:42 | (1) | | 43:13 | (6) | | 71:48 | (6) | | 45:18 | (2) | | 67:13 | (7) | | 285:14 | +14:51 |
| 4. | Kim Baxter | W21E | South Yorkshire Orienteers | GBR | | 69:29 | (5) | | 45:47 | (10) | | 65:13 | (3) | | 47:33 | (3) | | 63:53 | (4) | | 291:55 | +21:32 |
| 5. | Kristýna Kolínová | W21E | OOB Kotlarka Praha | CZE | | 70:00 | (7) | | 44:34 | (9) | | 69:27 | (5) | | 48:52 | (6) | | 72:14 | (15) | | 305:07 | +34:44 |
| 6. | Paula Iso-markku | W21E | Kalevan Rasti | FIN | | 69:47 | (6) | | 40:41 | (3) | | 81:31 | (20) | | 57:13 | (16) | | 61:35 | (2) | | 310:47 | +40:24 |
| 7. | Barbora Vyhnálková | W21E | OB Říčany | CZE | | 78:20 | (14) | | 42:29 | (4) | | 68:18 | (4) | | 54:50 | (11) | | 69:36 | (10) | | 313:33 | +43:10 |
| 8. | Rachael Rothman | W21E | South Yorkshire Orienteers | GBR | | 83:09 | (18) | | 48:55 | (14) | | 73:21 | (8) | | 47:53 | (4) | | 70:08 | (11) | | 323:26 | +53:03 |
| 9. | Laura Leijola | W21E | Hiidenkiertäjät | FIN | | 75:48 | (11) | | 49:42 | (17) | | 74:56 | (13) | | 52:11 | (8) | | 71:34 | (14) | | 324:11 | +53:48 |
| 10. | Lenka Mechlova | W21E | OK Slavia Hradec Kralove | CZE | | 75:25 | (10) | | 50:17 | (18) | | 73:48 | (9) | | 53:13 | (9) | | 71:33 | (13) | | 324:16 | +53:53 |
Men Elite Bubo Cup
| | | | | | | | | | | | | | | | | | | | |
| --- | --- | --- | --- | --- | --- | --- | --- | --- | --- | --- | --- | --- | --- | --- | --- | --- | --- | --- | --- |
| 1. | Petr Horvát | M21E | Magnus Orienteering | CZE | | 39:29 | (1) | | 59:40 | (4) | | 21:30 | (2) | | 38:24 | (1) | | 159:03 | |
| 2. | Ondrej Piják | M21E | KOBRA Bratislava | SVK | | 40:52 | (4) | | 58:11 | (2) | | 20:51 | (1) | | 40:31 | (2) | | 160:25 | +01:22 |
| 3. | Martin Janata | M21E | OOB Kotlarka Praha | CZE | | 39:57 | (2) | | 56:09 | (1) | | 24:13 | (5) | | 41:56 | (3) | | 162:15 | +03:12 |
| 4. | Jernej Zorman | M21E | Orientacijski klub Komenda | SLO | | 40:28 | (3) | | 59:04 | (3) | | 22:16 | (3) | | 42:01 | (4) | | 163:49 | +04:46 |
| 5. | Jan Kolín | M21E | OOB Kotlarka Praha | CZE | | 46:33 | (5) | | 63:47 | (5) | | 23:39 | (4) | | 58:40 | (5) | | 192:39 | +33:36 |
Women Elite Bubo Cup
| | | | | | | | | | | | | | | | | | | | |
| --- | --- | --- | --- | --- | --- | --- | --- | --- | --- | --- | --- | --- | --- | --- | --- | --- | --- | --- | --- |
| 1. | Janka Macinská | W21E | ARDF team Slovakia | SVK | | 44:05 | (3) | | 55:29 | (1) | | 21:09 | (1) | | 43:11 | (4) | | 163:54 | |
| 2. | Rachael Rothman | W21E | South Yorkshire Orienteers | GBR | | 43:35 | (2) | | 57:30 | (4) | | 21:55 | (2) | | 41:15 | (1) | | 164:15 | +00:21 |
| 3. | Kim Baxter | W21E | South Yorkshire Orienteers | GBR | | 49:02 | (7) | | 56:44 | (2) | | 22:42 | (4) | | 41:24 | (2) | | 169:52 | +05:58 |
| 4. | Claire Ward | W21E | West Yorkshire Orienteers | GBR | | 44:30 | (4) | | 57:14 | (3) | | 25:38 | (6) | | 42:37 | (3) | | 169:59 | +06:05 |
| 5. | Kristýna Kolínová | W21E | OOB Kotlarka Praha | CZE | | 44:49 | (5) | | 69:42 | (8) | | 23:28 | (5) | | 46:15 | (5) | | 184:14 | +20:20 |